Repairs underway at Kibworth Harcourt Mill
This summer, repair works began at our historic windmill in Leicestershire, returning it to working order for the first time since the 1930s. The programme of repairs is being carried out by Dorothea Restorations.
During the summer the scaffolding was put in place round the mill with viewing platforms for inspection of the mills different floors.
Next was the task of removing the outer weatherboarding to look at the inner older original wider boards. This was done and we were pleased to find no really major concerns.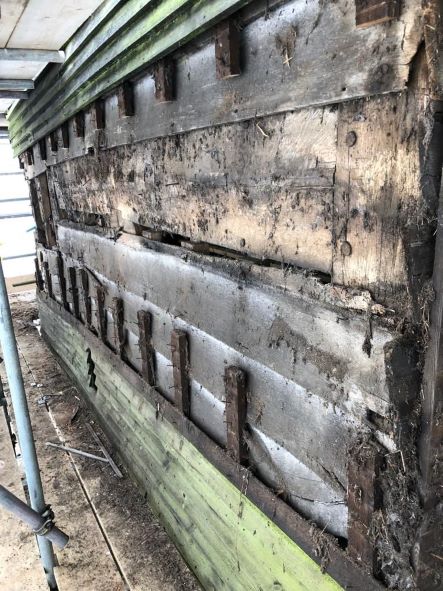 Tarred weatherboard at Kibworth. Credit: Luke Bonwick
One interesting feature was the older boards on the front of the mill were originally tarred at the end of the mills working life, whereas the rest of the mill body was painted white. Possibly this was to help with keeping the mill watertight facing into the wind, but also greasing of the windshaft bearing could lead to grease dripping down the front of the mill and on a white surface would soon show up.
During August the metal frame to lift the mill was carefully made up and installed and the lift successfully done by the millwrights, with no damage to the mill itself.
The buck was only lifted up by a total of six inches to free the sheers from the waist of the post, which should allow the buck to turn again. The pintle on top of the post is seven inches tall so it did not come out of the socket in the crown tree completely.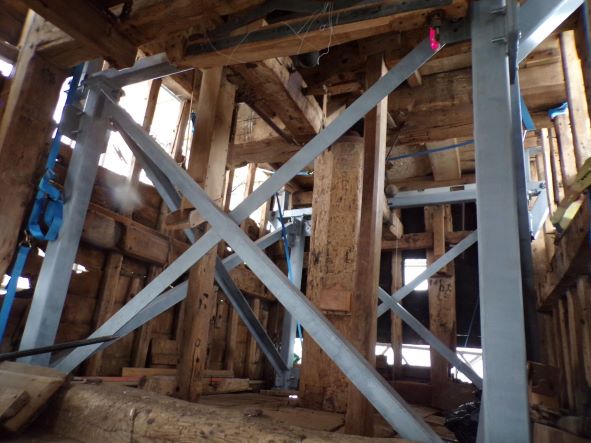 Lifting the frame in the mill to lift the buck.Credit: Dorothea Restorations
It was interesting to see that the mill still retained the early type of all-wood pintle and inverted pot bearing at the top of the main post. This needs to be checked carefully and any work to it done before lowering the mill back.
The making of the sails is also in progress at Dorothea Restoration's workshop.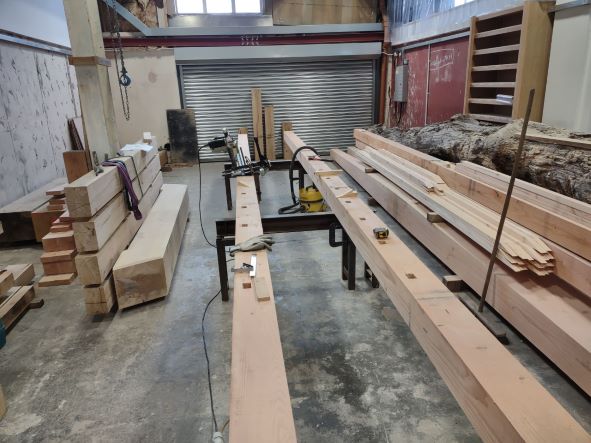 Sail making for Kibworth. Credit: Dorothea Restorations
Sign up for our email newsletter