The SPAB believes that the best way to learn traditional building skills is through hands-on experience. The working parties offer a unique opportunity to learn from some of the country's leading craftspeople in a relaxed setting. Every year the SPAB puts its advice and expertise into practice at a building in need and it has become an increasingly popular event, attracting volunteers ranging from heritage and architectural professionals, to those with an informed amateur interest in buildings and history. For one week they are united in their efforts to help a specific building. The working party is a sociable and fun way to learn more about building conservation.
We occasionally offer smaller-scale working parties with our regional groups or if we hear of a building which needs emergency repairs. If you're interested in our hands-on volunteering opportunities, be the first to know and subscribe to our practical volunteering mailing list.
Past Working Parties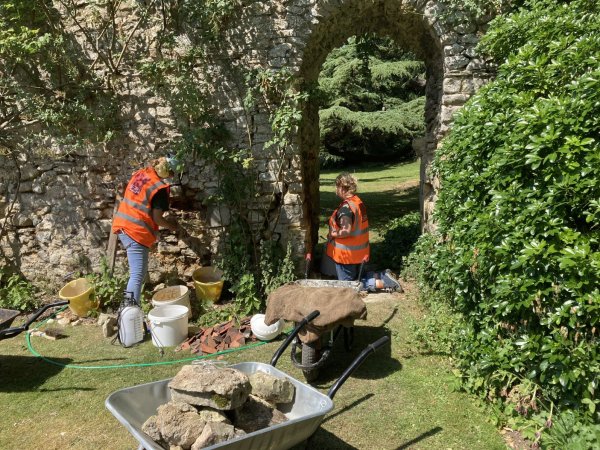 Boxley Abbey and St Andrew's Chapel, Maidstone, Kent
July 2022 saw 98 volunteers, specialists and staff gather to help repair our Old House Project and Boxley Abbey next door. We camped, barbecued, worked hard and volunteers had a wealth of activities to try including: gauged brick repairs; traditional timber hewing; carpentry repairs; archaeology; photogrammetry; high-level rope access; stonework repairs; and learnt how to make lime mortar. A big thank you to everyone involved for making it such a brilliant week!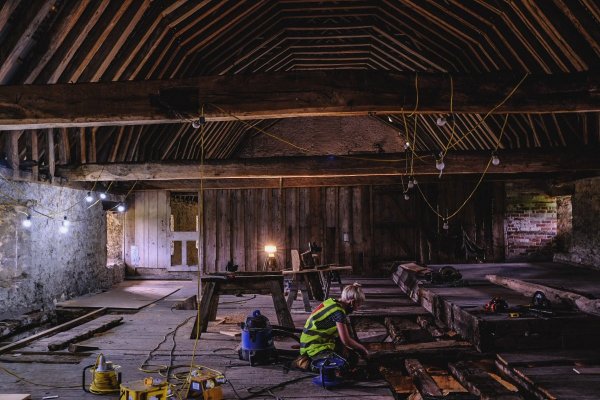 Boxley Abbey and St Andrew's Chapel, Maidstone, Kent
2021 was our third year at Boxley Abbey, a former Cistercian monastic complex near Maidstone. The site is close to our own Old House Project, so volunteers worked across both sites to carry out some much-needed repair and maintenance. We carried out timber repairs to the floor of a medieval barn, dug deeper into the archaeology of the two sites, and tested some local septaria in our lime kiln.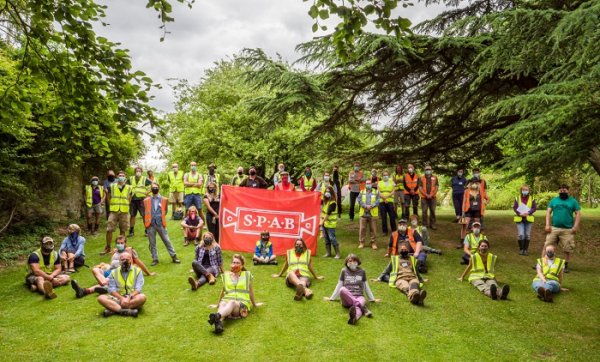 Boxley Abbey and St Andrew's Chapel, Maidstone, Kent
In July 2020 volunteers and experts gathered to repair St Andrews, our Old House Project and neighbouring Boxley Abbey in Kent. With special safety and social distancing measures, attendees carried out a wide range of activities including roof repairs, lime burning in our own field kiln, 3D laser scanning, archaeological surveys and gauged brickwork repairs.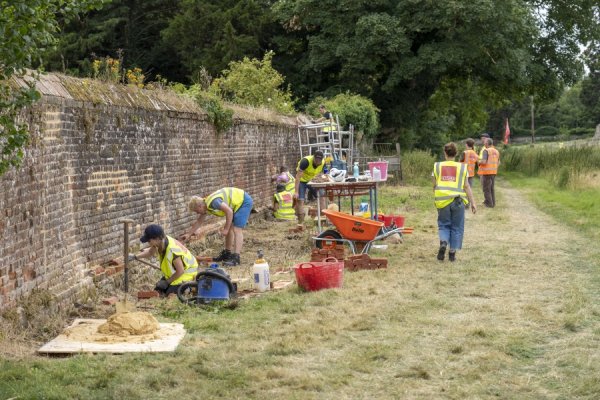 Boxley Abbey, Maidstone, Kent
In summer 2019 over 70 volunteers and specialists gathered to carry out repairs to what was once a Cistercian abbey complex, as well as initial archaeology work at our Old House Project at St Andrew's. For the first time we built a field kiln and burnt local stone ourselves for making lime mortar.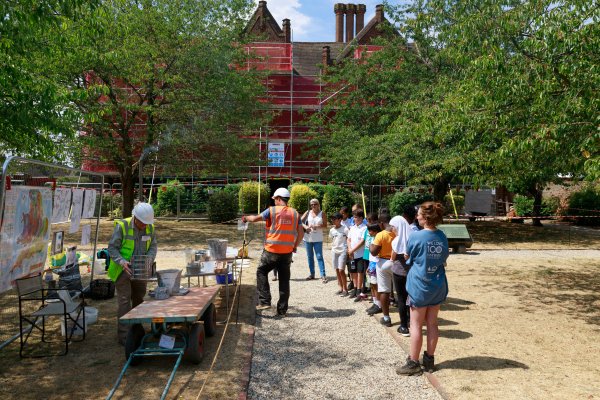 Eastbury Manor House, Barking
In July 2018 up to a hundred volunteers and experts attended our working party at this Elizabethan manor house in East London. The event was in partnership with the London Borough of Barking and Dagenham, and was part of a project which celebrated the 100th anniversary of Eastbury Manor being saved from demolition - in part by the SPAB - and then acquired for the nation by the National Trust.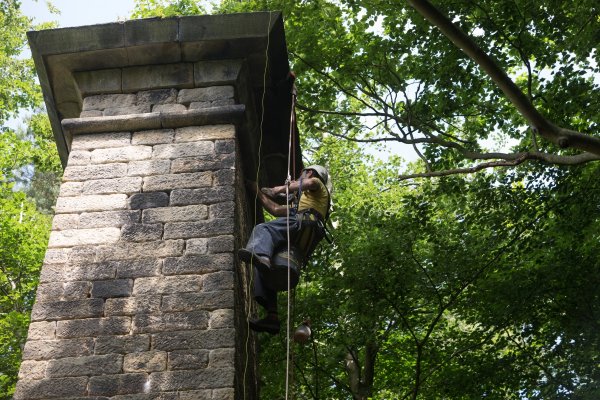 Lumsdale Mills Site, nr Matlock, Derbyshire
The SPAB's 2017 Working Party saw over 100 volunteers head to the beautiful valley of Lumsdale, Derbyshire to carry out detailed conservation work to stabilise and protect the ruined mills there. The work ensured that there will be no further deterioration of the fabric, making the valley safer for visitors and preserving the buildings for future generations.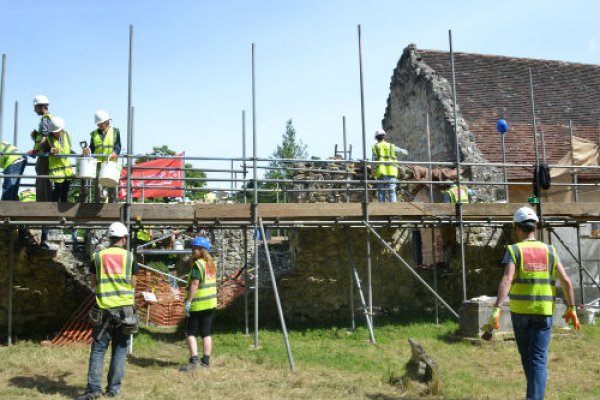 Greatham Old Church, near Liss, Hampshire
In 2016 we returned to Greatham in Hampshire, the site of our Working Party from 1993-2001. Built in 1262, the Old Church in Greatham fell into disuse after the dedication of the new church in 1875. SPAB staff, skilled craftspeople and enthusiastic volunteers spent a week consolidating stonework, repointing, limewashing the chancel and applying a grassy soft capping to the semi-ruined structure.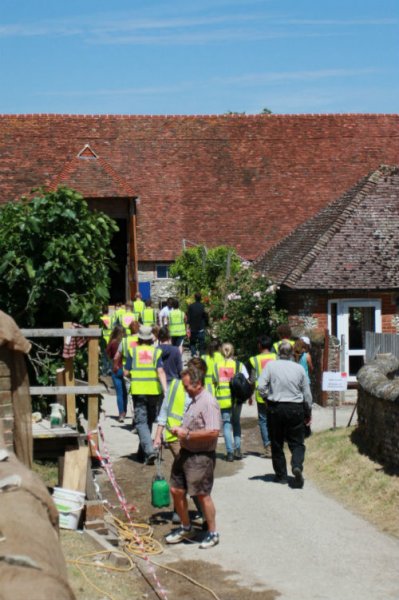 Sullington Manor Farm, Pulborough, Sussex
The SPAB's 2015 Working Party at Sullington Manor, a Saxon farmstead nestled in the South Downs, West Sussex, was our most complex and ambitious project to date. In July over 150 volunteers and experts carried out repairs to seven buildings across five days.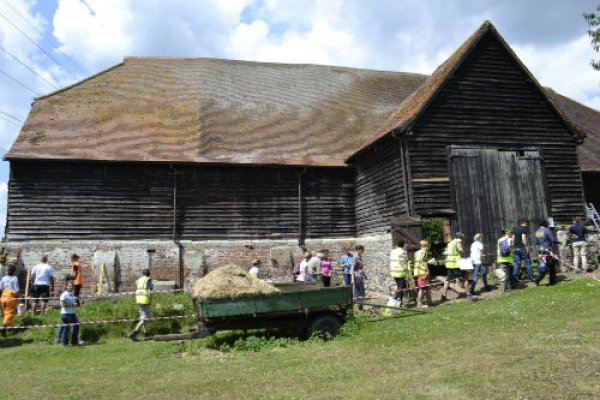 Croxley Great Barn, Rickmansorth, Hertfordshire
In 2014 the SPAB returned to 14th-century Croxley Great Barn for a second year of conservation and repair work. The project was part funded by a Heritage Lottery Fund Sharing Heritage Grant of £4100. The team of 50 strong conservation experts and enthusiasts enjoyed scorching weather and a great social experience while working on this medieval gem.