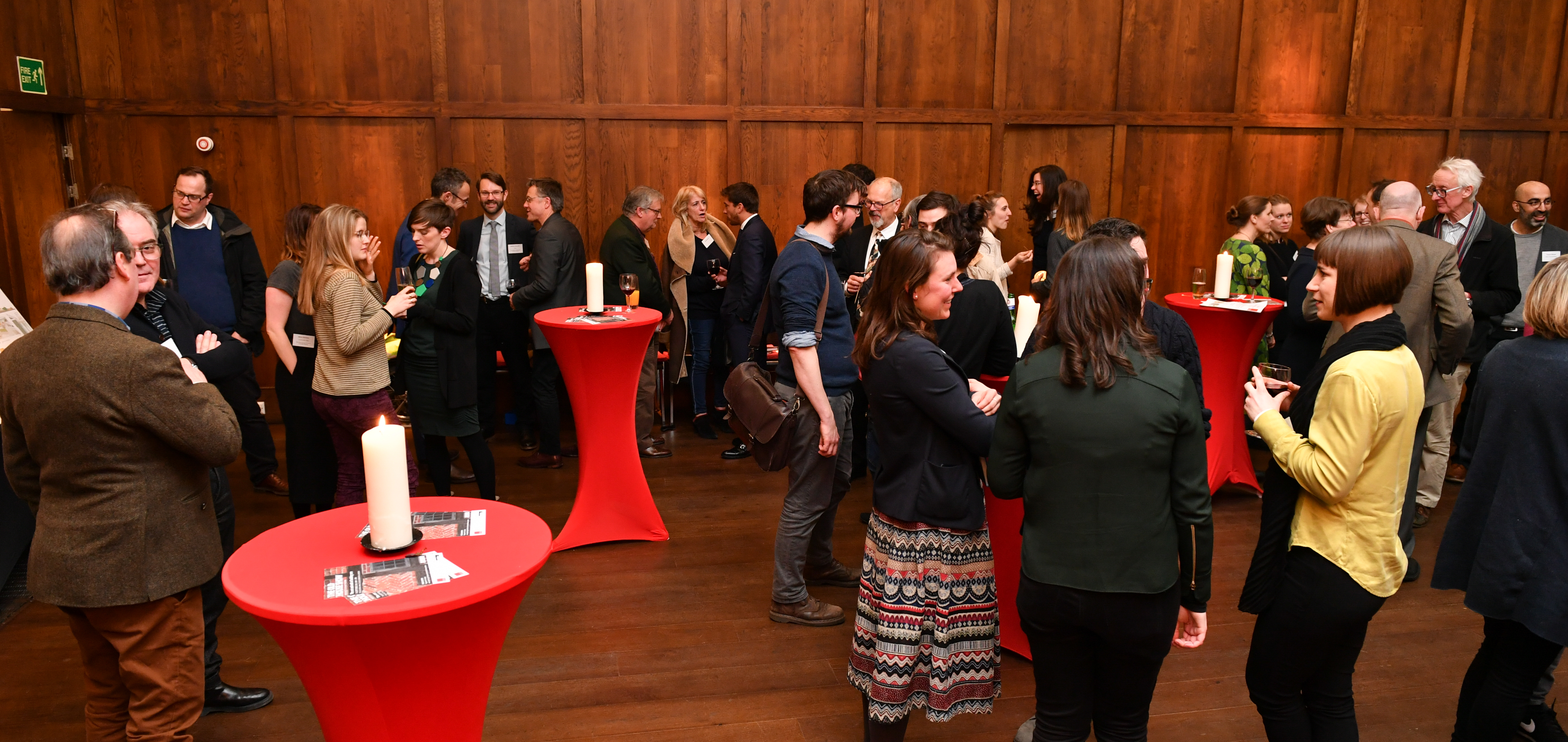 Corporate partners
We are working to develop lasting relationships with companies who are excited about the work that we do and where we feel that a positive contribution to both brands can be made.
By associating with the SPAB we can offer your firm a number of exciting sponsorship opportunities, including major events and publications; a platform to speak to our audiences; and benefits for your staff and clients. As a SPAB Corporate Partner we can also help you to meet your companies CSR aspirations.
We will work with you to create a unique partnership package that meets the needs of your firm. To find out more please contact Kate Streeter, development and marketing manager.
Corporate supporters
From just £153 per year
Bring all the benefits of SPAB membership to your employees, in the knowledge that you are enhancing your employment offer, providing them with valuable access to professional development and publicly lending your organisation's support to the work of the SPAB.
Our Corporate Supporters are like minded charities, small companies and large firms who are an active part of the building conservation sector. We can help you to offer SPAB membership as a benefit to you and your employees. You don't have to be a big firm to take part, we recognise that many providers of building conservation skills are small organisations. Just three memberships is all you need to get started. As a thank you we will list your organisation's name on our website and those offering more than three memberships to their staff will qualify for a discount.  
Benefits of Becoming a Corporate Supporter:
Three or more named memberships for your staff or clients
Your business name listed on our website 
Access to our digital Supporters Badge for use in your social media 
The opportunity to apply to be a suggested supplier in our Technical Database
First notice of sponsorship opportunities 
Each of your named members will receive:
Our quarterly SPAB Magazine, a must-read for those who love old buildings
Access to our online list of historic properties for sale and website Members Area
Visits and events in your local area via our regional groups
Priority booking for selected SPAB courses
Discounted tickets to our Spring and Autumn lecture series
Deals and offers from other organisations
How your membership helps old buildings:
Our members are an integral part of the SPAB. As well as championing old buildings and the SPAB Approach, your membership helps us to:
Offer free, impartial advice via our technical advice line and online Knowledge Base
Carry out casework, responding to applications for alterations to listed buildings across England and Wales
Campaign for at risk buildings and promote skills and training within the sector
Train the next generation of professionals to care for old buildings
Carry out hands-on repairs to old buildings at our working parties and through the Old House Project
If you would like more information, or to offer more than three staff memberships, please complete the enquiry form and a member of our development team will be in touch to discuss further.
If you are an educational institution or training provider, you may find our educational membership a better fit for your needs. 
Our Corporate Partners 
Cobble Tales, Architectural Tours of Edinburgh 
Our Corporate Donors
Owlsworth IJP
Our Corporate Supporters
A & K Woodgate Ltd
Alexander Maltby Ltd
All4Walls
ASBC Heritage & Conservation Specialists
Ash Contracting Ltd
Atkins Walters & Webster Ltd
Associacio Greta
Between Time Ltd
Bosence Associates
Bruton Street Management
Charles Heritage Fire Protection Specialists Ltd
Cornice London Ltd
Damp Surveys Ltd
Delaney Marling Partnership Ltd
Earl Kendrick Associates (South) Ltd
The Edward James Foundation Ltd
Edwards Genesis
EFL Ltd
Finnwood Specialist Roofing Contractors
Fowler Architecture and Planning 
Frank Holmes Ltd
The Friends of Abingdon Abbey Buildings Trust
Gorey Fitzwarren Property Management Services Ltd
Halsall Lloyd Partnership LLP
Heritage Architecture Ltd
Heritage Testing Ltd
HETAS Ltd
Historic and Listed UK Ltd
Hutton & Rostron Environmental Investigations Ltd
Jack Badger Ltd
James Clague Architects
Janus Conservation
J H Consultinging Architects Ltd
Julian Harrap Architects LLP
Kierson
Kingsman Ltd
K.T. Preservation
The Land Trust
Lilstone Limited
Lime Heritage Group Ltd
LIMERICH Ltd
Lime Unique
Longleat Estate 
Manifest Design Workshop Ltd
Mathias Restoration Ltd
McCrory Holdings
Meadow & Mayfair Ltd
National Trust for Scotland
Newell Woodworks
Partrick Properties Ltd
Paye Stone & Restoration 
Pestridge Construction Ltd
Pierra Ltd
Player Roberts Bell Architects Ltd
Quantum Survey and Project Management Ltd
Ramsec Ltd
Restore London Ltd
Rooff Ltd
Rose of Jericho Ltd
Scozia Venetian
Somnisamida S.L.
Stick in the Mud Conservation
Structural Repair Solutions Ltd
Sussex Surveyors
Sykes & Son Ltd
Tose Smith LLP
Weldon Stone Enterprises Ltd
Wraxhall Builders
We would like to thank all our Corporate Supporters for their contribution to the SPAB. Working with professionals is central to our ability to ensure a positive future for our built heritage. Their support helps us to spread the SPAB message and provides vital funding for our work. Please be aware that membership of the Corporate Partners or Supporters group does not constitute endorsement by the SPAB of products or services.  If you would like assistance with sourcing contractors please call our free Technical Helpline for advice. 
Sign up for our email newsletter