From the archive: St Oswald's Church, Grasmere
St Oswald's Church, Grasmere in Cumbria dates from the 14th century and has an arcade and roof of circa 1562 and 17th century. The west tower is castellated and has a sloping wall (batter). The mostly original interior is distinctive, comprising two naves divided by a two-tier arcade where the upper arches stand on the apex of the lower ones. The church is Grade I listed.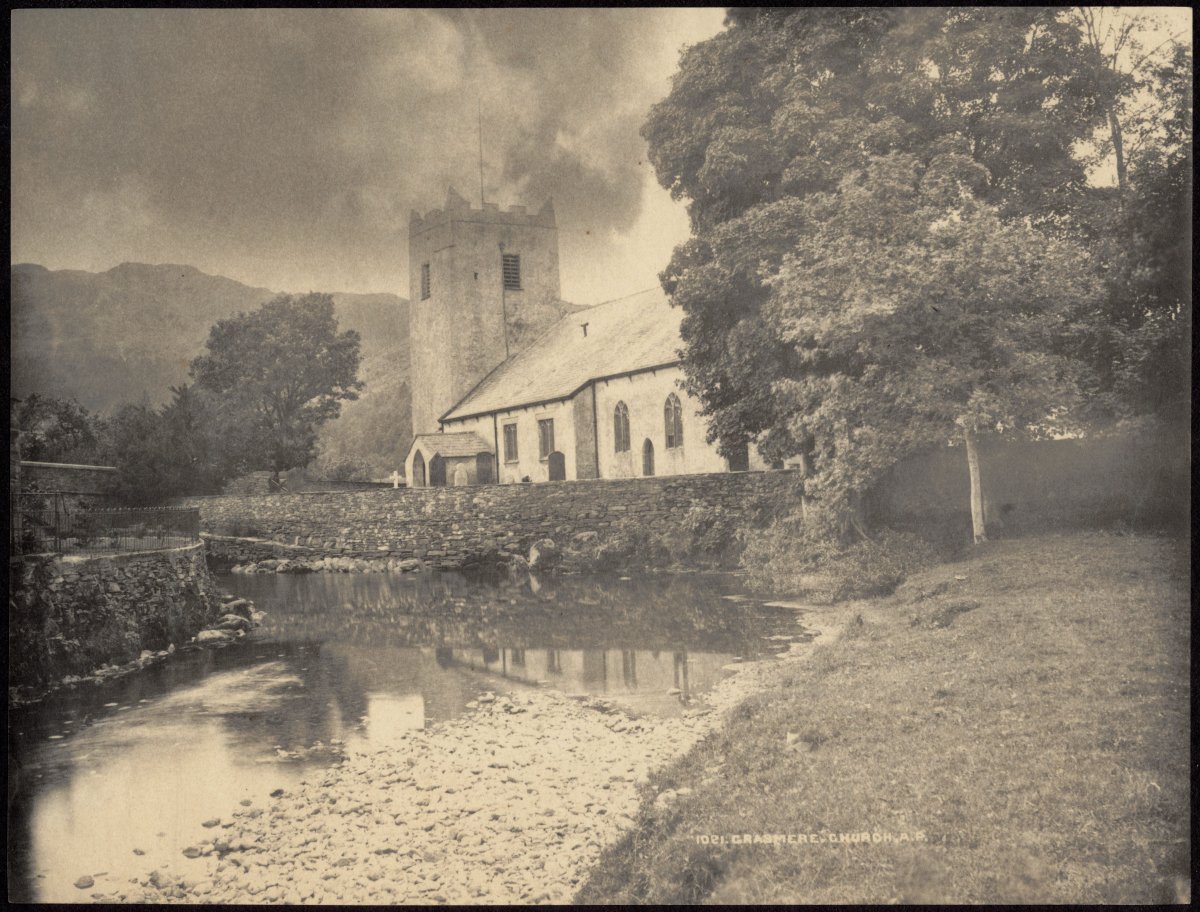 The SPAB's attention was first drawn to St Oswald's Church in 1879 when it was made aware of proposed changes to its interior in order to accommodate more worshippers - this work was not carried out. A few years later, in 1891, the rector and churchwardens decided to remove the 'dilapidated' rough-cast (lime render) from the church tower and repoint the stones in cement. The SPAB was alerted to this by Chaplain Stopford A. Brooke – who was also instrumental in raising funds to purchase Dove Cottage at Grasmere where William Wordsworth lived between1800-1808. Both Brooke and Thackeray Turner, Secretary of the SPAB, wrote to local and national newspapers to oppose these works to the tower. Turner wrote to the Westmorland Gazette explaining that the use of plaster on the outside of buildings was not a new innovation that should be reversed, but rather that plaster had been used for centuries to protect stone against the weather. He commented that "because the plaster is beautiful as well as useful … I sincerely hope that the rector and churchwardens will reconsider the question, and allow the tower of their church to remain as it is at present". (Letter to Westmorland Times, 11 April 1891). Sadly, the rough-cast was removed, which resulted in damp so severe that in 1921 the church was given a cementitious pebble dash render which survived until 2010 before it began to delaminate in places.
The latest project to conserve the church is this year's winner of the SPAB John Betjeman Award. The Award honours the memory of church enthusiast and SPAB committee member Sir John Betjeman and is made for outstanding repairs to the fabric of places of worship in England and Wales. The project at St Oswald's involved removing the cement render and ribbon pointing from the tower which was used in the 1890s and 1920s and replacing it with hot-lime mortar. The church tower was also re-roofed.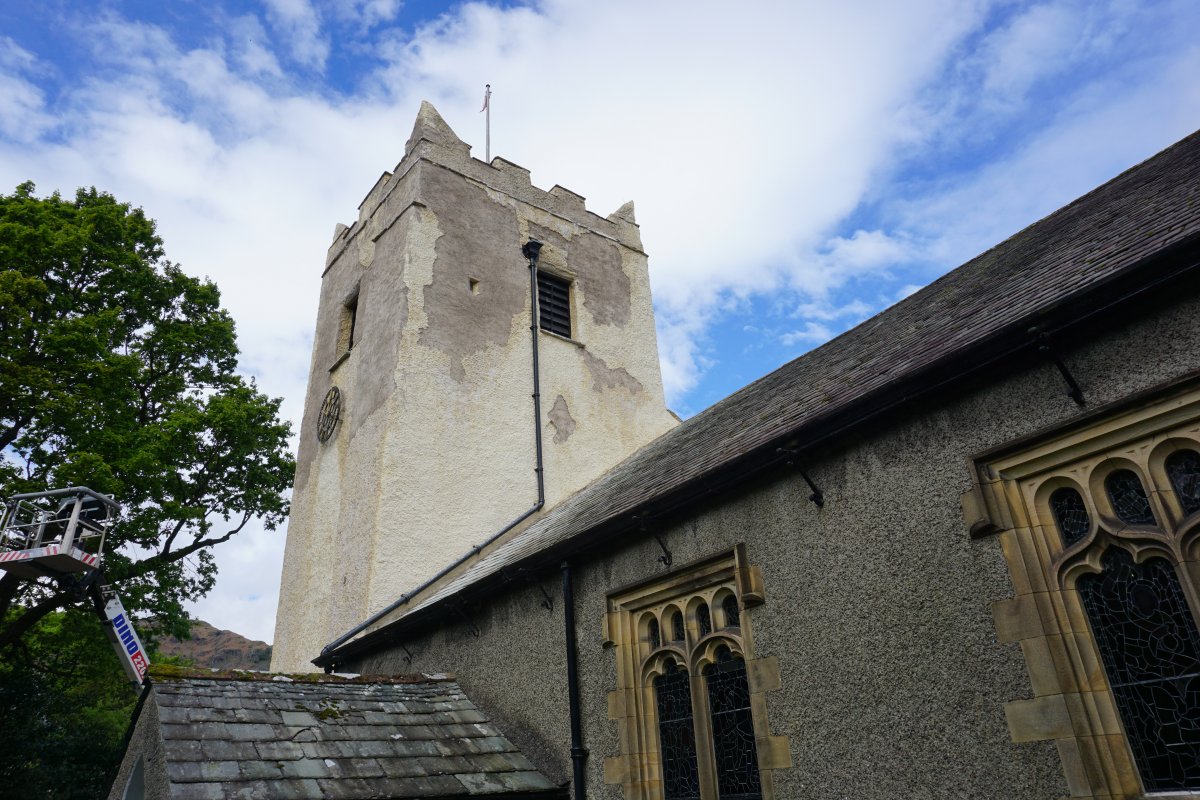 Grasmere is well known for its association with William Wordsworth, who is buried at St Oswald's, where there is also a monument to him by Thomas Woolner, with an epitaph by John Keble. But the SPAB archive case file for the church has revealed an association with another famous writer, Beatrix Potter. 
In 1918, Mr Tristram, an authority on ancient wall paintings, suggested to the SPAB that mural paintings might possibly exist under the limewash surface of the plaster of Grasmere church. In 1926, Beatrix Potter – who was a long-standing SPAB member – was asked by A. R. Powys, the SPAB Secretary, to visit the church to report on any recent works carried out there and to see if there was any evidence of wall paintings. Potter, signing the letter with her married name, Beatrix Heelis, wrote a wonderful account of her visit:
"I think it is very old plaster because it is uneven. There is no sign of replastering in patches (which would have revealed painting); so painting may exist….  I was by myself and I did investigate a little with my thumb nail."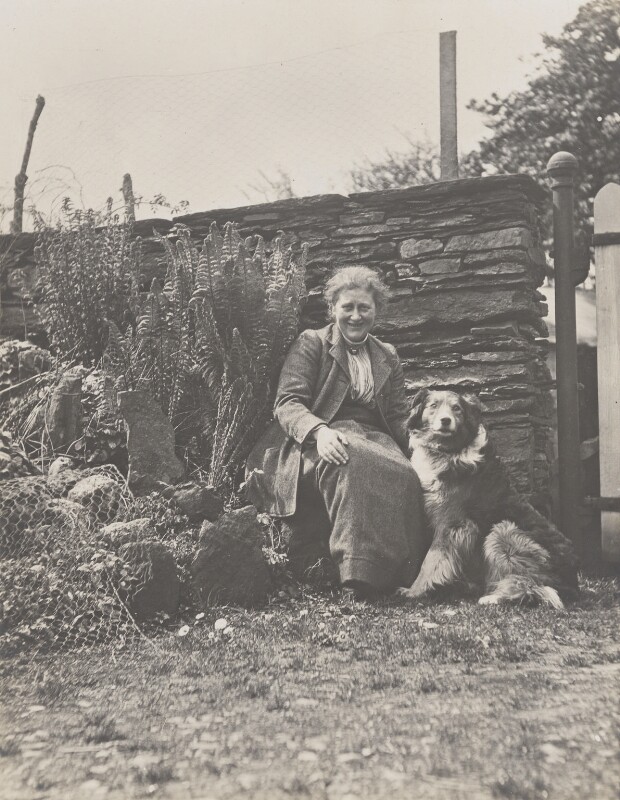 She goes on to say that "when I was a child I used to watch for hours on summer mornings a green calico blind which I was not allowed to draw up. That blind held numberless pictures; and when I stared at the uneven plaster in Grasmere church this morning, I saw pictures – figures – angel heads – trees – But they were nothing; especially after comparing the symmetrical patterns at Hawkshead on my way back". Assuming that she walked from home to Sawrey from Grasmere via Hawkshead church, the journey would have been a 5 hour round trip (or 46 mins by car).
Beatrix Potter was a member of the SPAB from 1925. As well as visiting Grasmere church on our behalf, it was due to Potter's generosity that the SPAB's Scholarship programme 
relaunched after WWII. She wrote to the SPAB Secretary in November 1939:
Dear Sir,
I have had an unexpected cheque for £70.14.0. for an infringement of copyright.
I had been thinking when I read you last report (also when I was ill in hospital) – what a fine idea that is of special training in practical work – for young architects. May I give £70 anonymously to the fund?
It is a misfortune – a perplexing minor tragedy – that experience goes out like the snuff of a candle.
The young are apt to think us old ones conceited – and the old are apt to think the same of the younger generation.
I learnt from an old mason Thomas Sandford of Hannakin, Hawkshead but mainly by my own mistakes.
Your Mr Weir must have been invaluable.
A link between handicraft knowledge and architecture, the old cottage builders were master masons – that's why the modern villa-cottage has no root in the ground – not in the north anyhow.
I remain Sir, yrs sincerely
H B Heelis
The SPAB is so grateful to her, and to all the benefactors and supporters who help ensure that its mission and vision, the principles of which were set out by William Morris in 1877, are achieved.
Our Scholars have been caring for Britain's heritage with sensitivity and skill since the 1930s. Help us inspire a new generation and ensure the future of building conservation. £61 can fund a Scholar a day. Donate to the 2020 Scholarship fund. 
Read more about our John Betjeman Award.
Images
Banner: letter from Beatrix Heelix to SPAB Secretary. 1926. SPAB archive. 
Top: MLA. Grasmere Church (St. Oswald's Church). 1840. Web. ark.digitalcommonwealth.org/ark:/50959/b8515x25v Accessed 30 Aug 2019.
Middle: The church tower undergoing repairs in 2018. Credit: Rachel Morley.
Bottom right: Beatrix Potter by Charles G.Y. King, vintage snapshot print, May 1913, NPG P1826 © National Portrait Gallery, London
Sign up for our email newsletter