From the archive: Raglan Castle
An impressive castle destroyed in the Civil War which later became a tourist attraction. We were consulted in the 1920s about repairs to the semi-ruined structure. 
Raglan Castle is a late medieval castle in Monmouthshire, Wales. Building work began under Sir William ap Thomas in 1432, who was knighted after fighting in the Battle of Agincourt in 1415 and became known as Y Marchog glas o Went - 'the blue knight of Gwent'. 
in 1492 the castle was inherited by Elizabeth Somerset and her husband was Sir Charles. The Somersets were a leading political family under Henry VII and Henry VIII, and generations  extended and adapted the fortified castle into a magnificent house with one of the finest Renaissance gardens in Britain. But loyalty to the crown also proved to be its undoing.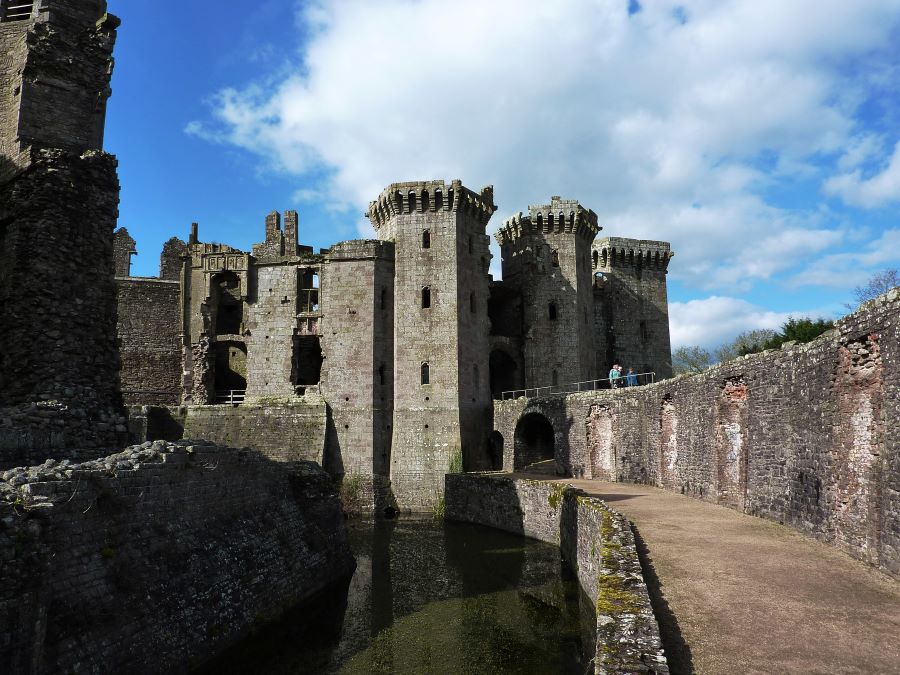 The castle in recent times. Credit: CC BY 3.0 / Adrian Farwell
After one of the longest sieges of the English Civil War, Raglan – the last castle to hold out for the King – fell to Parliamentary forces and was largely destroyed.
What remained was left to deteriorate until 1756 when Henry Somerset, the 5th Duke, opened the castle as a tourist attraction. There were attempts to repair the building in the 1820s. What was once the Great Hall was temporarily re-roofed and the architect Jeffrey Wyattville was employed to reinstate the Grand Staircase.  
In 1928 the owner, the Duke of Beaufort, consulted the SPAB regarding repairs needed at Raglan Castle.  Photos from our archive show parts of the area of the building known as the Drawing Room were in danger of collapse and after the work was completed.

Damage to the great window in 1928 before repairs. The top of the window was collapsing and a small arch in the lower half had fallen. Credit: SPAB archive.  

Workers repaired the top of the window and reinstated the lower arch.  Credit: SPAB archive.  

After of the wall tops which were protected and strengthened. Credit: SPAB archive.  
The castle remained in the Somerset family until 1938 when Henry Somerset, the 10th Duke of Beaufort, entrusted its guardianship to the Commissioner of Works, and the castle became a permanent tourist attraction. It is now a Grade I listed building and Scheduled Monument in the care of Cadw.
Find out more and how to visit the castle on Cadw's website. 
The SPAB archive contains over 20,000 historic casework files, drawings and photographs. Search the online catalogue. 
Sign up for our email newsletter