Building in focus: The Thomas Morton Hall, Leith
For Valentine's Day we thought we'd explore buildings we love, or which inspire romance. SPAB development officer, Laura Calder, writes about the Thomas Morton Hall in Leith, where she got married.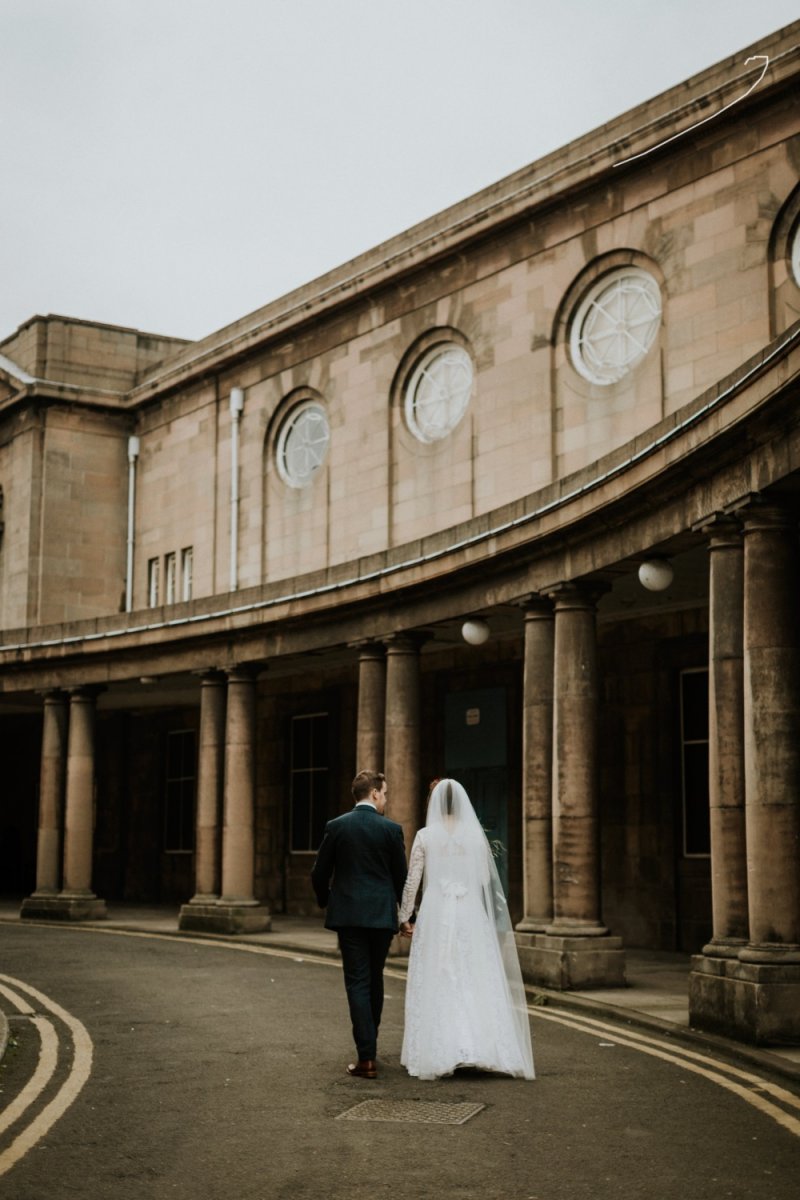 When Jamie and I got engaged we immediately knew we wanted to get married in Scotland. Despite both of us being natives of the North East of England, we are also children of Scottish parents and our roots have always bound us to "North of the Border".
Planning a wedding can be challenging but we set off with a simple vision of wanting a contemporary ceremony that differed from the traditional, tried and tested blueprint, which had never appealed to us. We therefore set off on a five-day tour of Scotland with my parents in tow, in search of a venue that both championed Scotland and allowed us to add our own personal style to the day.
After resisting my Mum's tartan-smothered dream of a wedding in a castle on the banks of Loch Lomond (never going to happen), I initially got a little carried away myself and had grand visions of shipping 100 guests up to a remote coastal bothy in the North of Scotland (don't ask). However, after many miles travelled and the occasional teary moment (mostly from my Mum's reaction to the state of some of the venues' toilets) we finally landed on the Thomas Morton Hall in Leith, Edinburgh. Edinburgh has been home to both our extended families for hundreds of years and so it became clear that Edinburgh was the only place that made sense for our wedding.
The Thomas Morton Hall in Leith has an unassuming facade, blending into the typically grey, sandstone buildings of Edinburgh. What grandeur it holds can be lost to the less keen-eyed, as it's tucked away, hiding just behind the Leith Registrar's Office. The hall is connected to the Leith Theatre, which was opened in 1932, gifted to the people of Leith from the people of Edinburgh, following the Burgh of Leith's incorporation into Edinburgh. Having suffered bomb damage in 1941, the main auditorium sat derelict for two decades until it was reopened in 1961 where it became a home for the local community to enjoy opera, political rallies, sporting events, the Edinburgh International Festival and many concerts.  Unfortunately in 1988 the venue fell on hard times and closed indefinitely, that was until Leith Theatre Action Group, stopped the sale of the theatre for residential development in 2004 and, following years of hard work, the charity was granted a lease by the Edinburgh Council, where it now functions once again as a centre for the local community.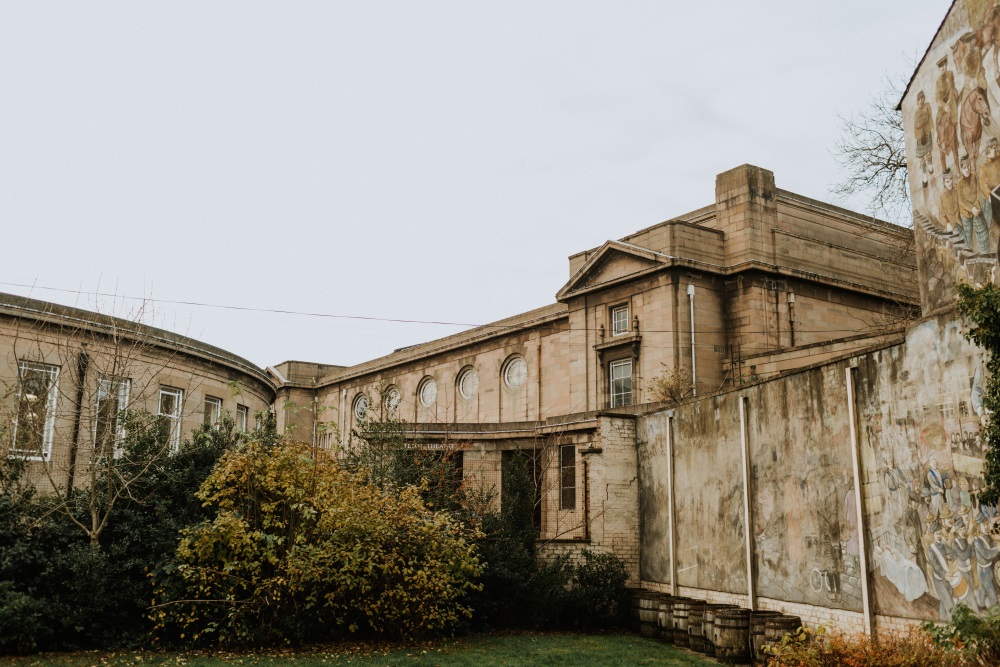 As a SPAB employee it's safe to say that I love old buildings, my admiration isn't necessarily just the fine lime pointing (although, the appreciation is growing), I love to envisage the shadows of people who've moulded the fabric of the building and the surrounding area. As you enter the hall, you initially walk through the original ticket booths and you're immediately whisked back to a different time. It's at this point that the romance of the building really took hold of me and Jamie. You then enter the beautiful, art deco vestibule with marbled pillars and a grand stairwell. This would be the stage for our marriage ceremony and the exchanging of the vows. We married on a crisp sunny day in December and the winter flora we opted for really enhanced the entrance hall, with the winter roses and fir wrapped bannisters really making a statement.
Either side of the hallway is the main theatre (which was still derelict at the time of our wedding, but did make for some great photos) and the Thomas Morton Hall. The hall offers a combination of both simplicity and decadence, a reminder of a time when public buildings were commissioned both for practicality but also to provide a community with a scenic focal point to be proud of. The ornate, domed ceiling sits atop of a typical village style hall. This venue was therefore perfect for our wedding as we were able to intricately decorate the entire room with hand crafted paper decorations (that took me 12 months to make!)  and intimate lighting that really brought the room to life. All we needed now was 100 merry guests (the kegs of local beer and bottles of whisky helped with that), some amazing food and a Ceilidh band to get people jigging the night away, much as they would no doubt have done in 1932.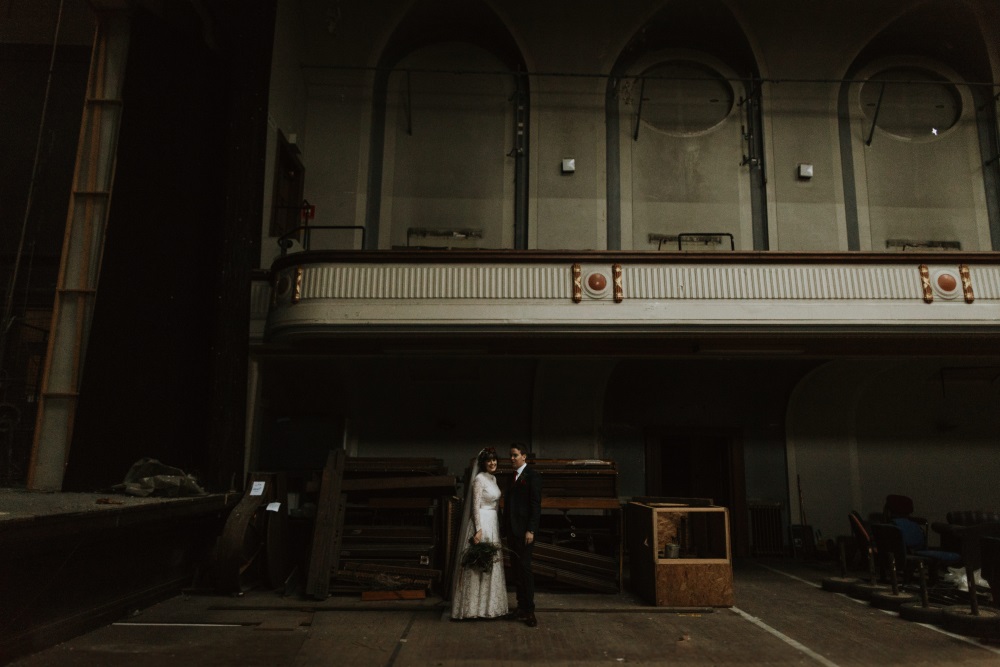 For those looking for an alternative to stately homes and castles, I would really encourage you to seek out the forgotten buildings. The venues that very existence is to bring communities together to be entertained, educated and united. If it were not for the hard-working people of the Leith Theatre Trust, this incredible collection of buildings would have been forgotten about and no doubt the land cleared for alternative uses.  
Photos: The Curries
Sign up for our email newsletter