From the archive: sketches by George Robertson
Lying on a shelf in our archives is a heavy and crumbling album, safe but until recently overlooked. It contains more than a hundred drawings, labelled 'Sketches by Mr George Robertson', mostly dated from the 1780s, nearly a century before the SPAB was founded. So who was he and why do we have his work?

The album is in need of repair. Credit: SPAB.
Opening the creaking pages it's immediately clear that the drawings could sometimes be of startling interest to modern conservationists. Not only did they show famous historic structures before photography and in a state long predating Victorian restoration, but also topographical views offering valuable evidence of the past.
 
St Wilfrid's Church, Nottinghamshire by George Robertson. Credit: SPAB archive
Robertson was born in London in 1747. After studying at Shipley's Academy he won premiums for the Society of Arts in 1760/1. In 1774 he accompanied his patron William Beckford of Somerley to Jamaica and his painted landscapes of the island were later engraved, some of which you can see in the British Museum. 
In the 1780s, in the last decade of his life, Robertson seems to have been drawing for engravings. Possibly the sketches represent work intended as book illustrations. The subjects within relate to journeys across the south of England and into the Midlands. Romantically picturesque but ruinous survivals are depicted, such as Battle Abbey in Kent and Eltham Palace (then a barn) to the south of London. At Oxford, a sketch of the Castle and Prison shows the site immediately before significant 18th century reform and rebuilding. These views shed new light on their subjects, from an age before photography.

Robertson's drawing of Eltham Palace, 1786. Credit: SPAB archive.
Most notable among the sketches, though, is a series from Shropshire. Robertson was a man in the right place at the right time who, despite his interest in landscapes and romantic scenes, also drew grittier subjects from the rapidly evolving industrial landscape of the later 18th century.

A smelting house, Coalbrookdale by George Robertson. Credit: SPAB archive.
His view of the Iron Bridge, in its earliest years is reasonably well known among industrial archaeologists, from a published engraving. The sketches, though, include not only preliminary sketches of the bridge but also show the raw industrial landscape. Most notable is a view of production within the Coalbrookdale ironworks, a unique glimpse into the industrial revolution as it happened.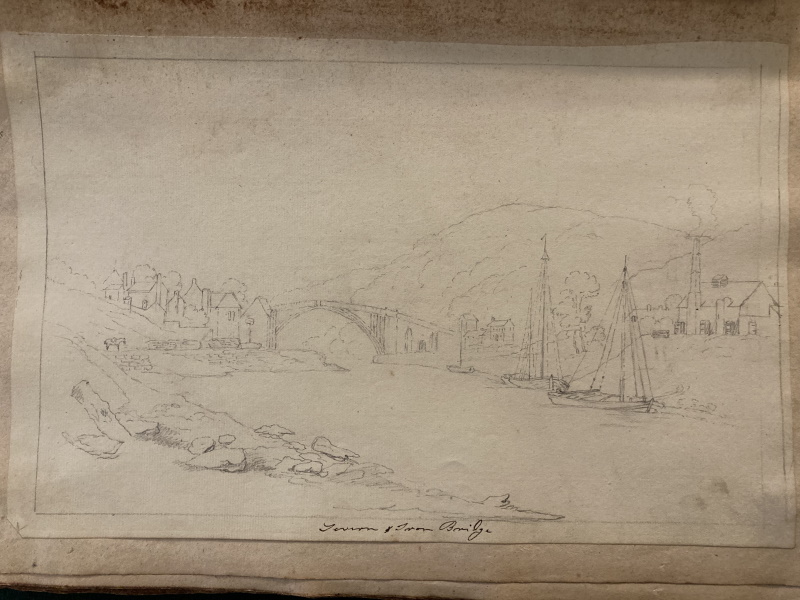 The original sketch of Coalbrookdale by George Robertson. Credit: SPAB archive.

A View of the Iron Bridge, in Coalbrook DALE, SHROPSHIRE, Taken from the bottom of LINCOLN HILL (1788) engraved by Francis Grisham after George Robertson. Jeremy Norman/CC BY-SA 4.0
When Robertson died in 1788, aged less than 40, his obituary stated that he was "Eccentric and had oddties" and though he was "cheerful and good natured" this was noted as being at times when he was free from the pains that evidently dogged his life from early years. Robertson's portrait by John Franics Rigaud shows Robertson sketching a landscape, looking older than his 26 years - perhaps a reflection of his chronic illness.

Portrait by John Francis Rigaud, 1742–1810, French, active in Britain (from 1771), landscape by George Robertson, 1749–1788, British, George Robertson, 1776, Oil on canvas, Yale Center for British Art, Paul Mellon Collection, B1981.25.165. https://collections.britishart.yale.edu/catalog/tms:676
From research by SPAB Director, Matthew Slocombe.
The SPAB archive is one of the oldest collections of material wholly dedicated to buildings conservation.  Read more about our archive and search the online catalogue.
Sign up for our email newsletter