From the archive: Grinling Gibbons
To mark 300 years since the death of the 'incomparable' sculptor and wood carver Grinling Gibbons, we looked in our archive to explore the relationship between the SPAB and the buildings where his work can be enjoyed today. 
St Mary's Abchurch, City of London
After the 12th-century church was destroyed in the Great Fire of 1666, the current church was built by Sir Christopher Wren between 1681 and 1686 and is one of the least altered of Wren's churches. Its grand lime wood reredos is by Grinling Gibbons. After the Reformation, patronage of the church was granted to Corpus Christi, Cambridge. In 1892, the SPAB was concerned that the College had asked for living to be merged with that of St Clement's Eastcheap and that St Mary's would be destroyed. SPAB volunteer, draughtsman and watercolour painter, Philip Norman (1842–1931), wrote to the Master of the College, The Rev E H Perowne: 
On the religious side of the question however it is not the duty of my Society to enlarge, but I am asked earnestly to draw your attention to the fact that the interior of St Mary Abchurch is one of the interesting examples in existence of the work of Sir Christopher Wren, who, whatever may have been his shortcomings was a man of genius and our greatest protestant architects. 
The church is in excellent condition, to destroy it would be an act of vandalism of the worst kind which we earnestly hope with all our heart you will oppose to the utmost.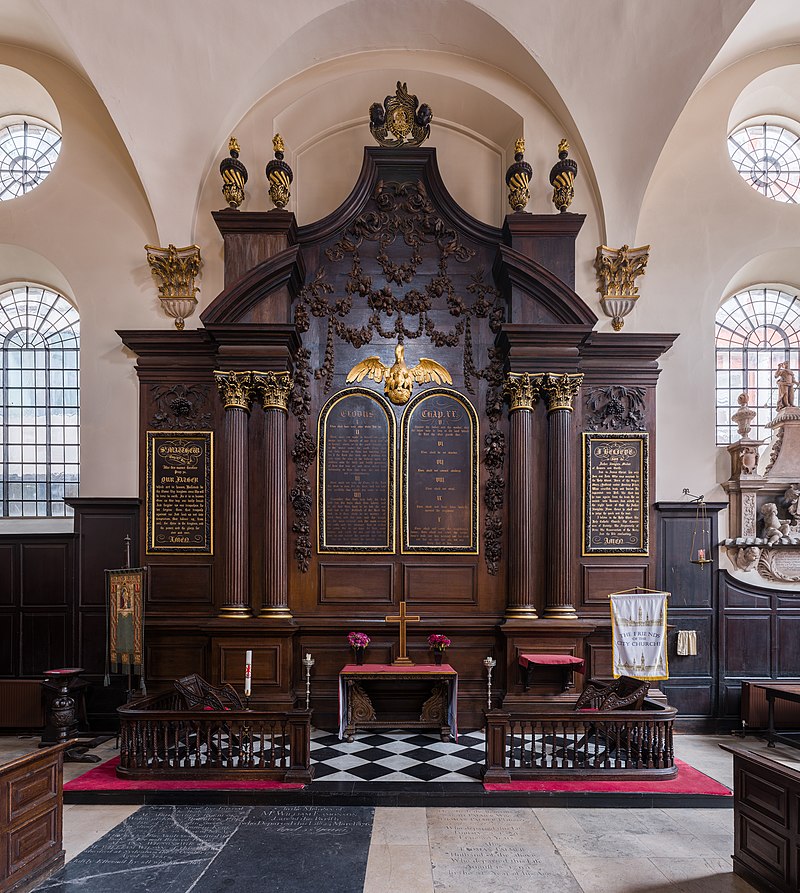 The Gibbons reredos at St Mary Abchurch / CC BY-SA 3.0 / c Diliff
The Wren Library, Trinity College, Cambridge
The famous library has panelled walls with projecting bookcases crowned with wooden busts carved by Grinling Gibbons and a full-length marble figure of Charles Seymour also by Gibbons. In 1969, the library hosted the SPAB Repair Course, an introduction to building conservation which we have run since 1951. The architects overseeing the repair work in the late 1969s were Donald W Insall and Associates – Donald Insall was a SPAB Scholar in 1950.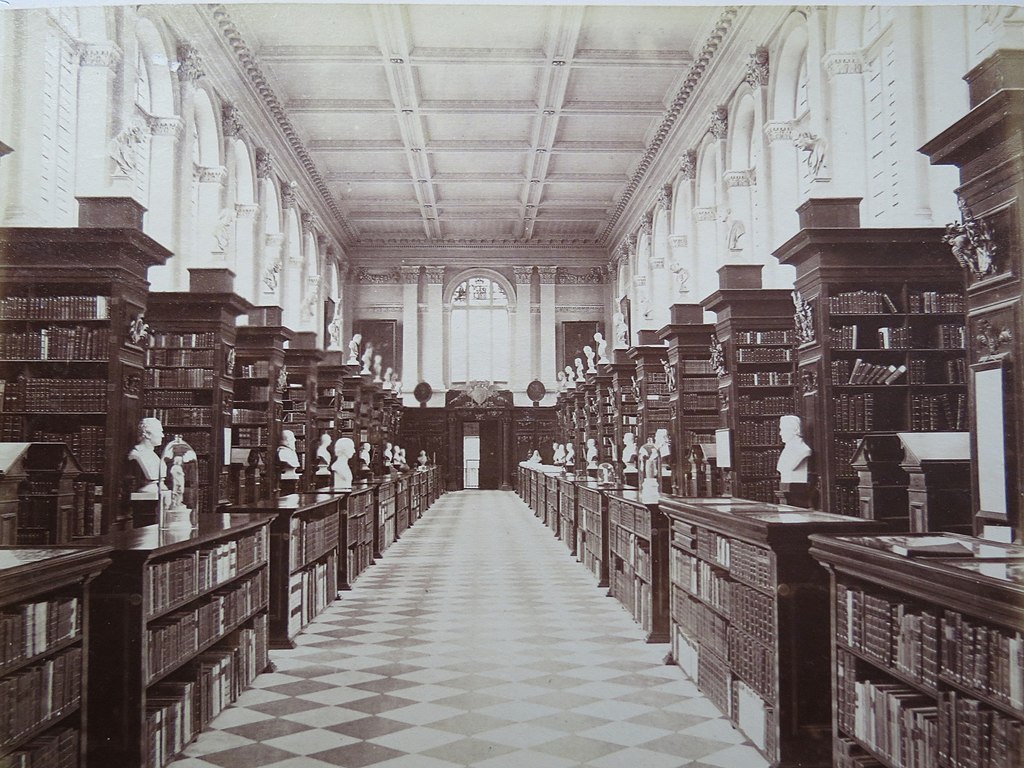 The Wren library in the early 20th century / public domain
Hampton Court Palace
On 31 March 1986, a fire broke out at Hampton Court Palace that severely damaged large parts of the William III King's State Apartments. These had been designed by Christopher Wren and included carvings by Gibbons. We visited the site after the fire and offered advice, and craftspeople associated with the SPAB were involved with the work to repair and restore the Apartments to Wren's design. One press cutting in our archive file shows conservator Torquil McNeilage, who would become a SPAB Fellow in 1992, cleaning one of the fire damaged carvings. 
    
Left: damage after the fire at Hampton Court. Right: conservator Torquil McNeilage at work on repairs. Credit: SPAB archive
Who was Grinling Gibbons?
Gibbons was born in Rotterdam in the Netherlands on 4 April 1648, and came to England along with many other craftsmen and artists whose skills were required after the Great Fire of London in 1666. Interestingly, instead of staying in London, Gibbons went to Yorkshire where his earliest surviving work is at Fairfax House in York. It is a high relief sculpture of King David based on a painting by Peter Candid (1548-1628) which Gibbons would have seen as an engraving. 

Portrait of Grinling Gibbons by Sir Godfrey Kneller / public domain
Gibbons was discovered by the famous diarist John Evelyn (1620-1706) and was introduced by him to the King Charles II. Evelyn's diary entry for 18 January 1671 reads: 
This day I first acquainted his Majesty with that incomparable young man, Gibbon, whom I had lately met with in an obscure place by mere accident, as I was walking near a poor solitary thatched house, in a field in our parish, near Sayes Court… I asked if I might enter; he opened the door civilly to me, and I saw him about such a work as for the curiosity of handling, drawing, and studious exactness, I never had before seen in all my travels… I asked if he was unwilling to be made known to some great man, for that I believed it might turn to his profit; he answered, he was yet but a beginner, but would not be sorry to sell off that piece; on demanding the price, he said £100. In good earnest, the very frame was worth the money, there being nothing in nature so tender and delicate as the flowers and festoons about it, and yet the work was very strong; in the piece was more than one hundred figures of men, etc. I found he was likewise musical, and very civil, sober, and discreet in his discourse…
Of this young artist, together with my manner of finding him out, I acquainted the King, and begged that he would give me leave to bring him and his work to Whitehall, for that I would adventure my reputation with his Majesty that he had never seen anything approach it, and that he would be exceedingly pleased, and employ him. The King said he would himself go see him. This was the first notice his Majesty ever had of Mr. Gibbon. 

Some of Gibbons' carving in the Wren library. Credit: SPAB archive
The Grinling Gibbons Society has a year of events celebrating his tercentenary. Find out more on their website. The deadline for an early bird discount and applications for bursaries for our autumn Repair of Old Buildings Course is on 13 September. Find out more and book your place.
Sign up for our email newsletter