Postcards from home: East Ham, London
SPAB volunteer Keri Dearmer explores the wealth of history near her home in East London.
I moved to my little Edwardian flat in East Ham nearly two years ago. I will confess that the area was of no particular interest to me then; its location on the District line and reasonable (for London) prices were far more important. Lockdown has changed that, and I am now proud to call myself an East Hammer. Let me tell you why.
Situated two tube stops (if that still means anything to anyone) east of West Ham – East Ham was first documented as Hamme in 958 and was known as Est Hammes by 1250. Ham means 'land in the riverbend,' so East Ham is thought to mean 'eastern riverside land'.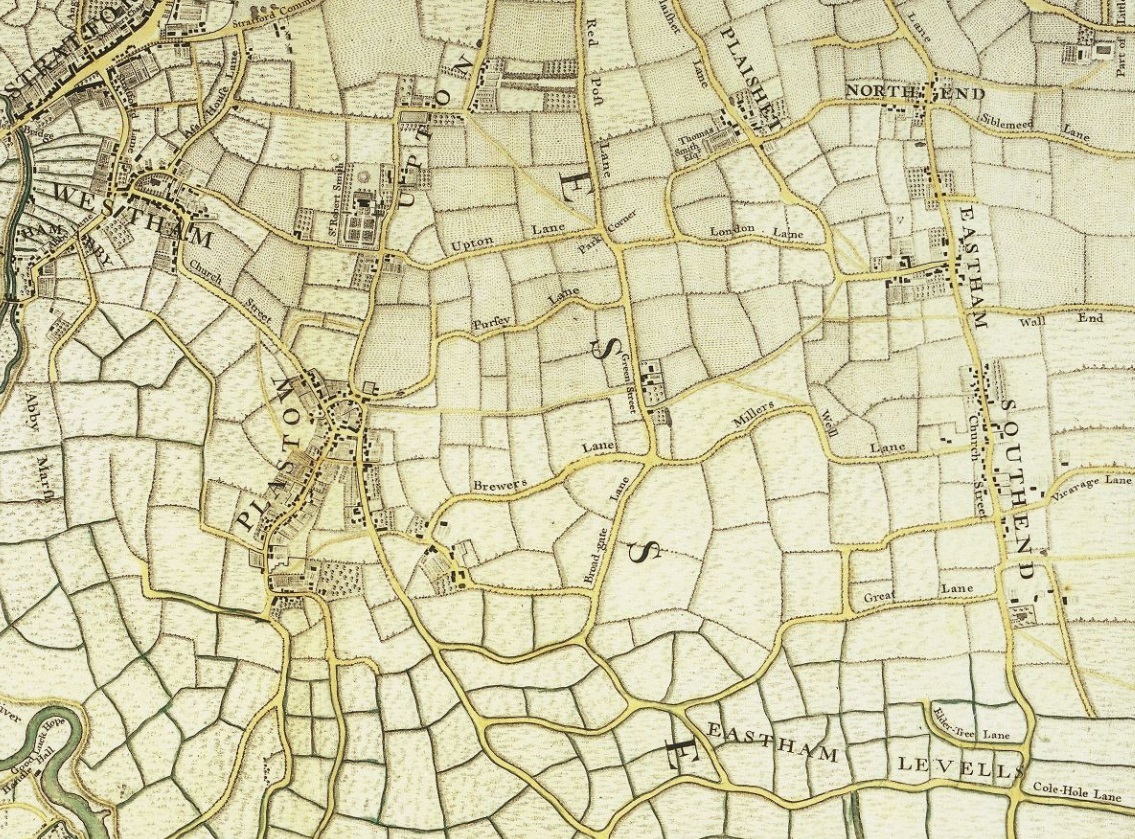 East Ham remained a small hamlet for hundreds of years until the Barking Road, essentially a continuation of Commercial Road in Whitechapel, was laid out in 1812. The real change arrives in 1858. The railway. The impact is not instantly dramatic and East Ham putters along until the 1870s, when there is sudden, rapid development centring around the railway station and the high street as farms and large gentry houses are sold to developers. By the early 1920s it's difficult to distinguish it on a map from anywhere else in London.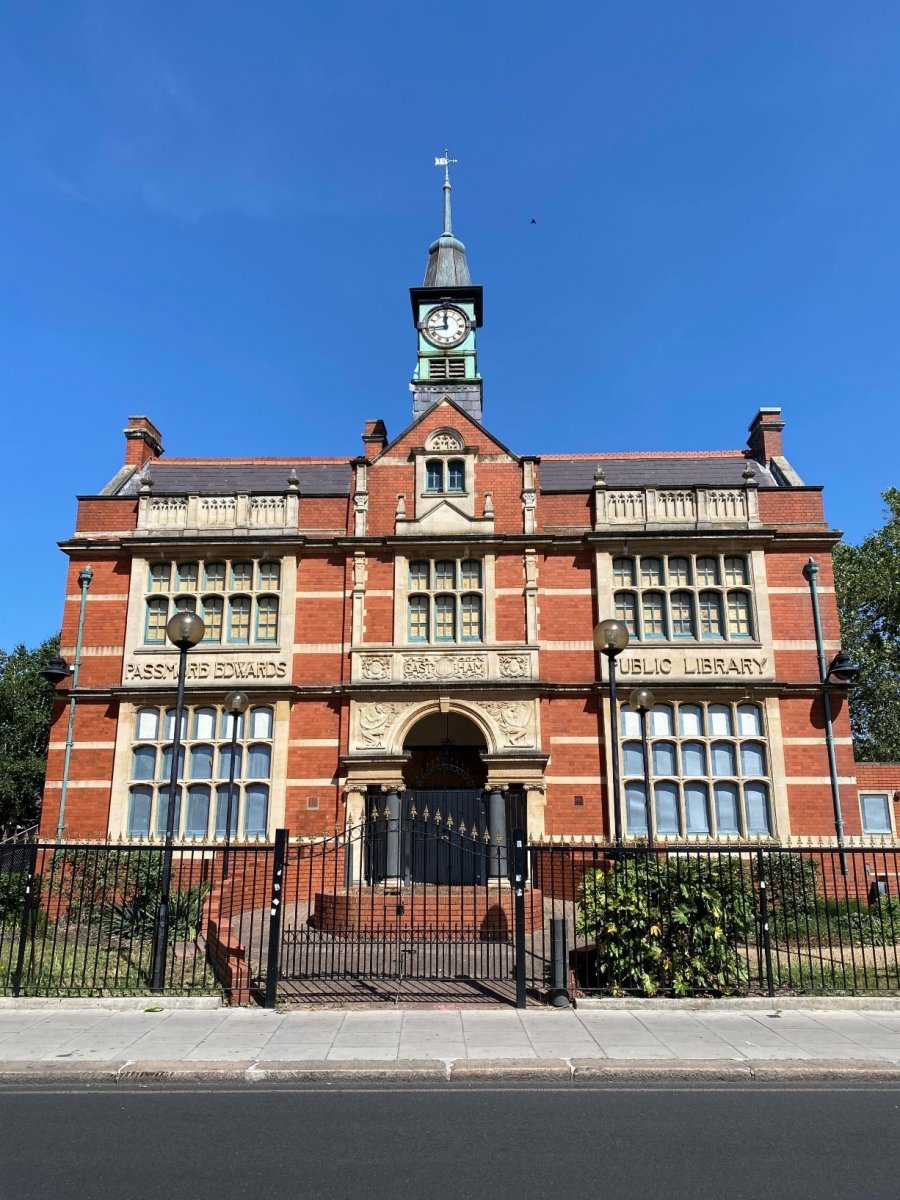 In person though, it definitely has its own character.
One of my favourite buildings is the Passmore Edwards Library. Built between 1898-9 by Silvanus Trevail, it is red brick with stone dressings, and a three-stage cupola bearing a clock. Parapets sport trefoil headed panels and the central entrance is composed like a Diocletian window with a pair of blue marble Ionic columns carrying the arch. The spandrels contain bas-reliefs of seated figures with a scroll and a book.
It was opened by Herbert Gladstone, MP in 1899 and was largely paid for by John Passmore Edwards. He was a philanthropist and funded no fewer the 70 buildings, including drinking fountains, hospitals, schools, art galleries, museums, convalescence homes, and 24 libraries. Asquith said that Edwards had done "more than any single Englishman to help the people to equip and educate themselves for civic and social duty." Edwards simply said that if he could fund the ladder, the poor would climb.
The Trebor Factory here was founded in 1907. WWI saw the rationing of sugar which had a big impact on their business, but they diversified, making sweets for the troops. The business grew rapidly after the War and in 1920, they were one of the innovative factories which went electric, ending the hand-production process. In 1930 the factory was re-built to a distinctive Art Deco design.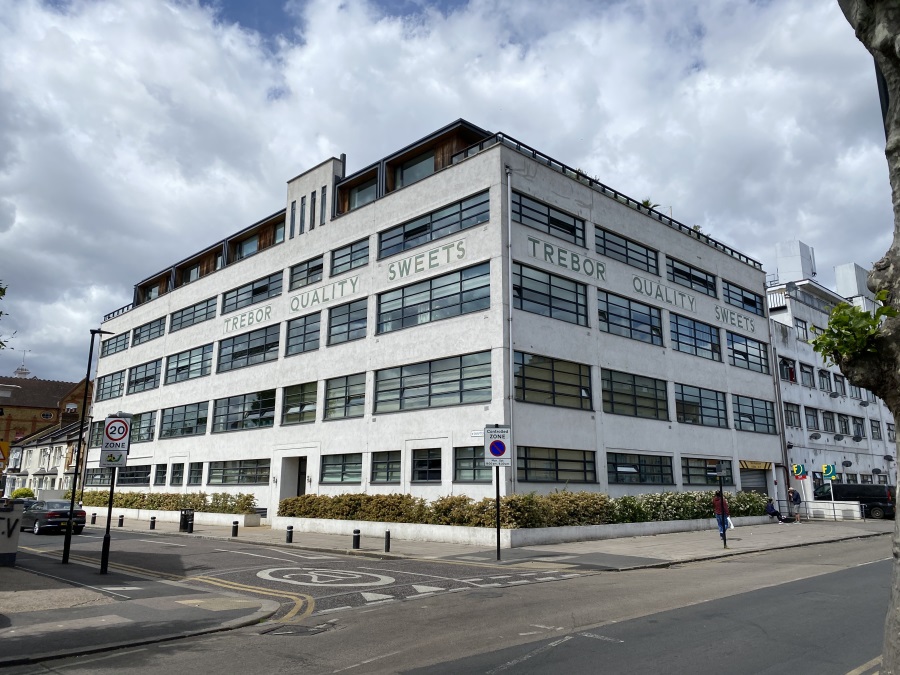 Sugar was rationed again during the Second World War and the factory was bombed in 1944. Local police had to maintain a guard over it at all times, to prevent people from looting the sugar supplies. The mosaic green writing was added after WWII and Trebor continued to be an innovative employer and business, but was eventually consumed by Cadbury's in 1989. The factory here was closed in 1981 and is now a series of luxury flats.
I couldn't write a postcard from home and not include the church. St Mary Magdalene has been quietly sitting on the edge of the East Ham levels since the first half of the 12th century.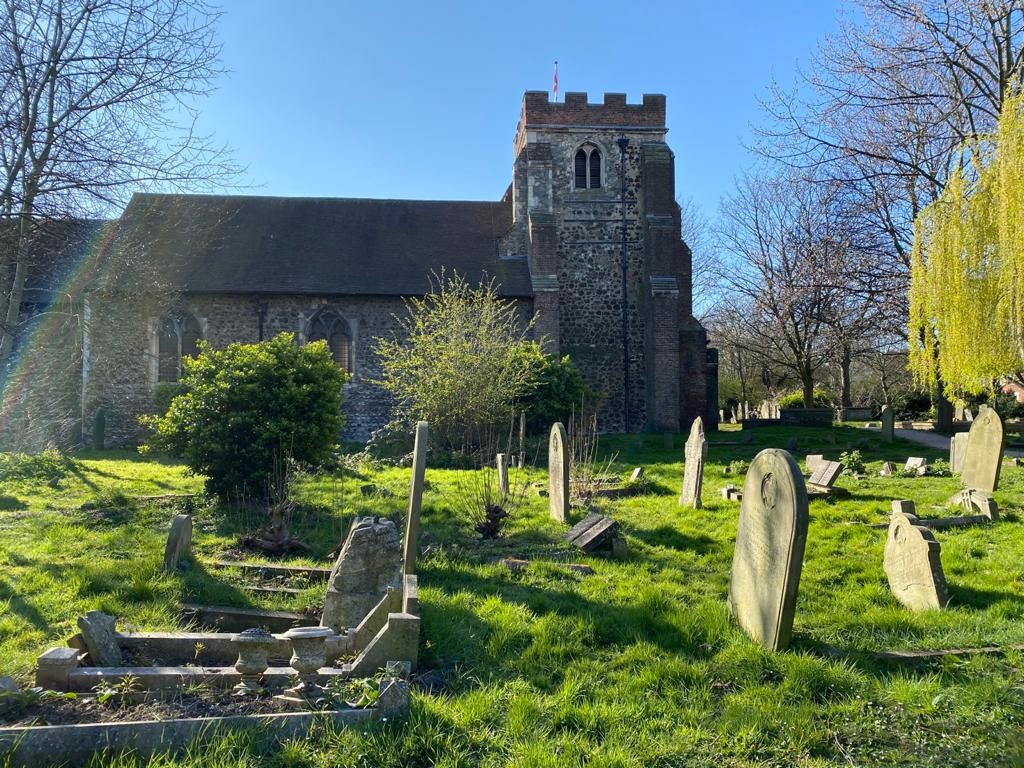 The tower probably dates to the 13th century with a partial rebuild in about 1500 which is also when the south porch was added. The tower is constructed almost entirely of the delightfully named 'pudding stone' from Norfolk. The rest of the building is built of a combination of Kentish Ragstone, flints and chalk from the North Downs, Caen Stone from Normandy, pieces of Roman tile and Purbeck Stone.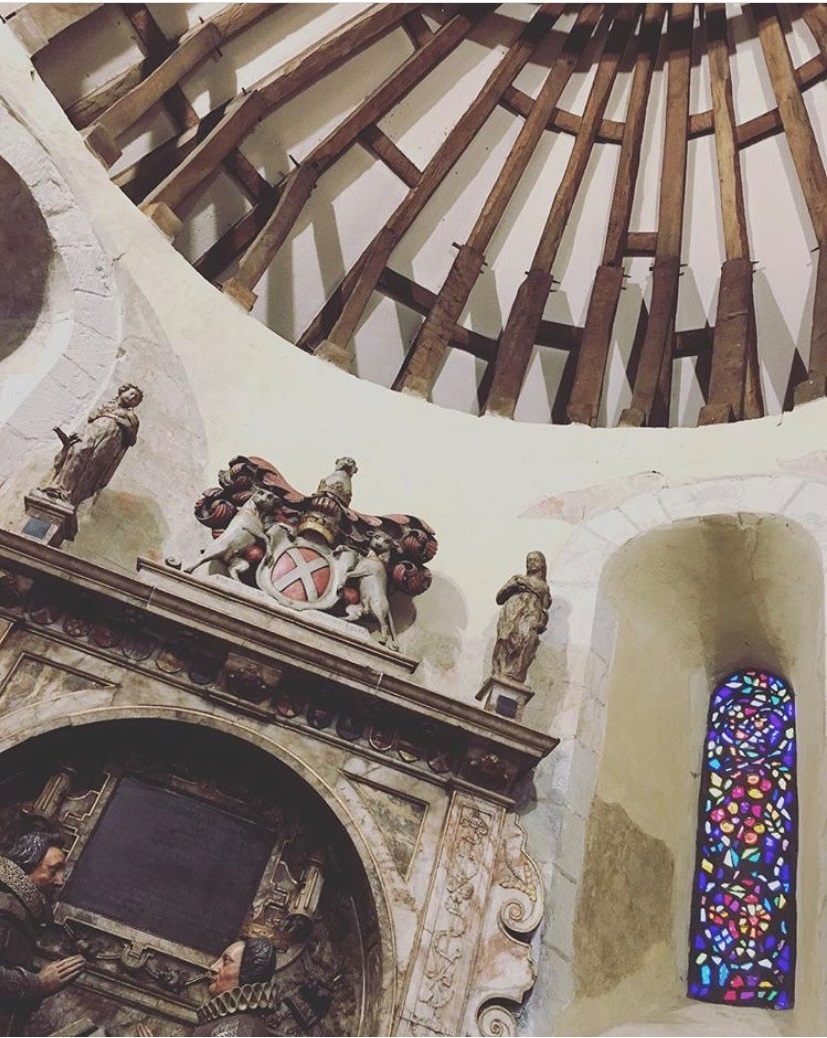 It claims to be the oldest parish church still in weekly use in Greater London. It is Grade I listed and its ten acre churchyard has been a dedicated nature reserve since 1977.
A recess containing a piscina was cut into the nave's south wall beside the chancel for a nave altar in the 13th century, faint traces of wall paintings from that century also survive on the apse. The roofs were altered in the early 17th century.
Though box pews and a triple decker pulpit were added (only to be replaced in the 1890s), the 18th century otherwise saw few alterations. A complete restoration in 1931 removed the apse and chancel ceilings, opened out the rood-loft stair and stripped the external plaster from the tower.
The London Blitz destroyed the chancel roof and all of the stained glass in 1941, along with other damage, but repairs were immediate and a permanent restoration of the nave was complete by the war's end, followed by more comprehensive restorations in 1950 and 1965-1966.
This relief gives us a clue as to what this building used to be. This was the East Ham Corporation's Tram depot for just over 30 years.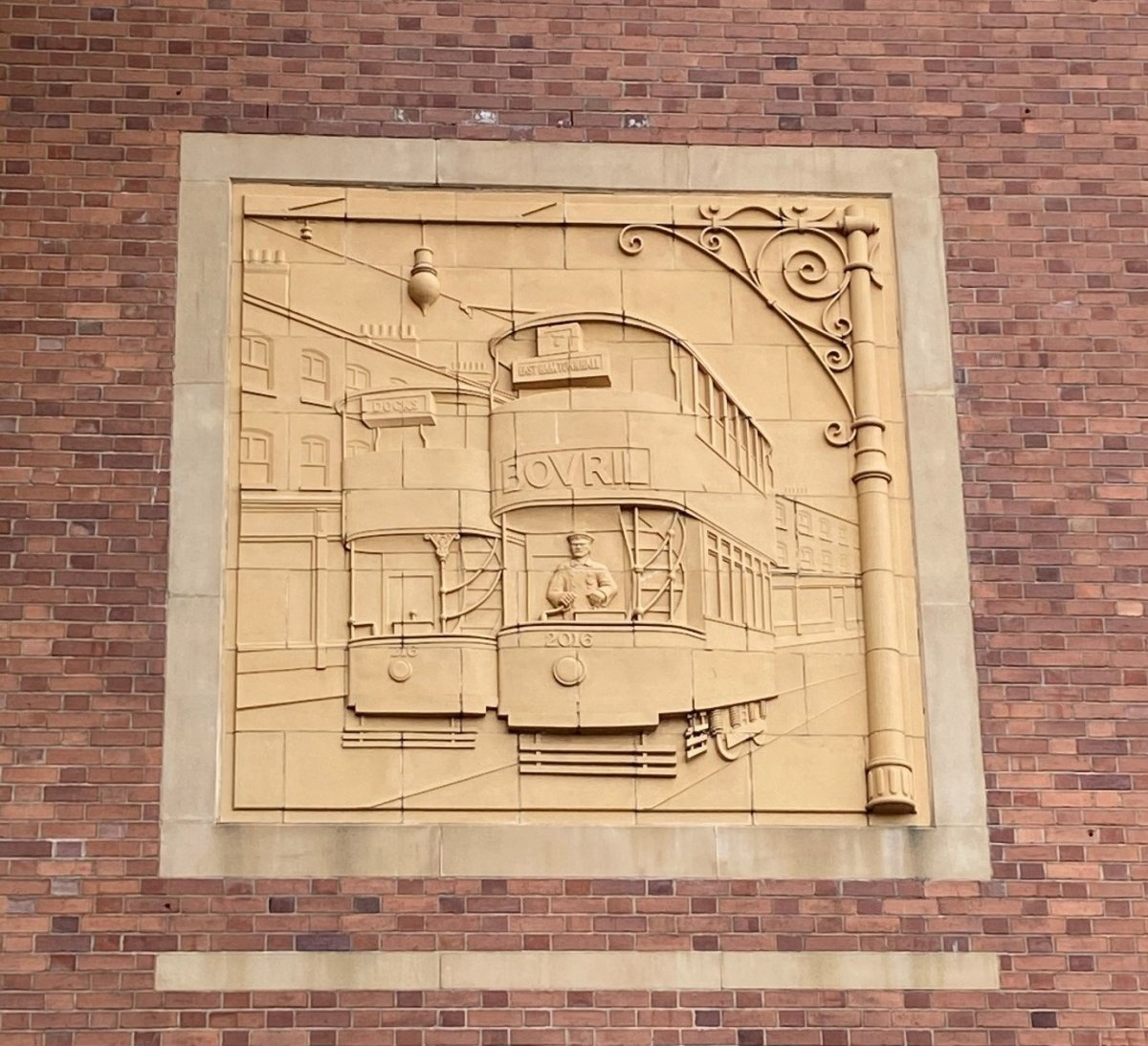 East Ham Council started operating tram services on 22 June 1901. They had never had horse trams, so it was actually the first local council in London to have electric trams. Next door to the depot was a small power station. This used to provide power for the trams and also for street lighting.
The London Passenger Transport Board was created in 1933 and inherited the East Ham Corporation Tramway system. It soon closed this depot, however, transferring most of the trams to other depots in Bow and West Ham.
The building has been used for various purposes since it was closed and the complex was turned into a leisure centre in the 1990s, though it doesn't look as though this part is used at the moment. Lots of refurbishment work is going on in the area though, so we can hope.
I hope you've enjoyed this mini tour of East Ham. I've learnt lots more since lockdown which I'd be happy to share over a pint in the local.
Images: John Rocque's Map 1761, Universitat Bern. All others by Keri. Follow her on Instagram. 
Sign up for our email newsletter