Postcards from home: Shoreham by Sea, Sussex
This 1920s postcard shows our home, Hunter's Moon, a 16th-century timber-framed house built on the Adur estuary but now a mile from the sea. The road in the foreground (naturally, it's called The Street) has pre-Roman origins. You can still easily recognise this view today, even the worker's rough perch. But the surrounding fields, recorded in the Domesday Book, are now buried under suburban developments.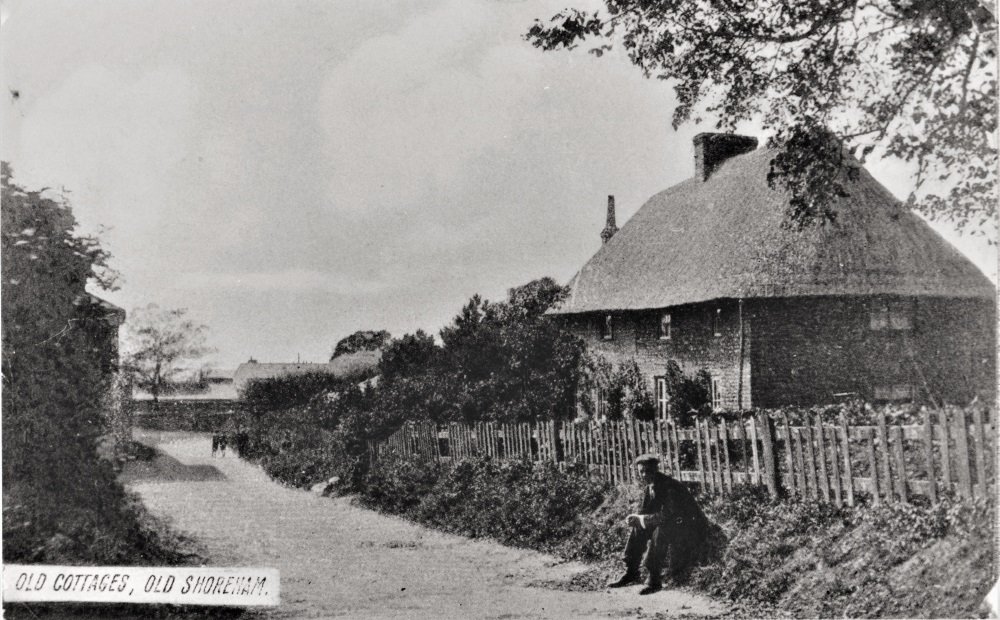 First came a couple of small country houses with large gardens to the west, then a 1930s street of semis and bungalows across the road. All of this was threatened by 1960s road-widening, but local conservationists fought a successful campaign for a northern bypass and Hunter's Moon was saved. In the 1970s the large houses were demolished and a modern estate built over their gardens, up to the cottage boundaries.
Today, the cottage looks its age, but closer inspection tells another story of change with regular makeovers to tackle decay and reflect changing tastes. In the early 1700s the framework was rebuilt in flint and brick with sash windows. In the 19th century the Victorians went for clean new interiors, adding lath-and-plaster 'cavity walls' to hide the crumbling wattle-and-daub. The 20th century saw the introduction of mains services, fitted kitchen and bathrooms, but also efforts to recover rustic character by re-exposing beams and opening-up hearths.
Hunter's Moon is now a listed building and The Street is a conservation area but we're busy writing the 21st century chapter of its story of change. Much of what we are doing will be familiar to you.  We've been removing inappropriate materials and securing the historic fabric from the weather, from fire risks and from intruders – particularly those that would like to eat the building! But we also want to marry building conservation with energy conservation and modern comforts. A modern extension will replace a 1960s garage and allow us to remove inefficient and damaging heating, cooking and laundry appliances and relocate these services away from the historic parts of the building.
This postcard moves the record forward a hundred years from the 1920s snapshot. Hopefully the work we're doing will ensure that, subject to further change, this scene is recognisable to passers-by in another hundred years.
By Brian Sayer. An article about repairs to Brian's home will be in the autumn 2021 edition of the SPAB Magazine, a benefit of membership.
Sign up for our email newsletter