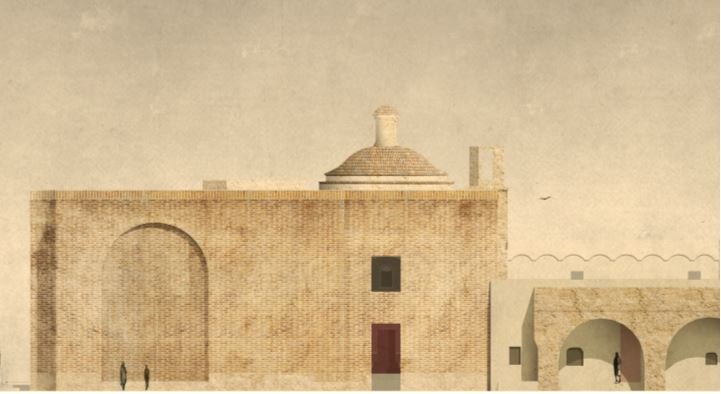 Philip Webb Award 2017 winner
Architecture students wins national design competition for a scheme that breathes new life into the abandoned Italian hill town of Craco in Basilicata. Each year, the Society for the Protection of Ancient Building's (SPAB) Philip Webb Award encourages and celebrates new design in the context of historic buildings. This year, the first prize (£1000) went to Marta Ascenso of the Mackintosh School of Architecture (Glasgow School of Art) for her scheme to breathe new life into the abandoned Italian hill town of Craco in Basilicata, re-animating it for both visitors and local people.
Alanah Honey, a graduate of Newcastle University, took second prize (£500) for her proposal to refurbish and extend redundant buildings in Zanzibar to house a new Institute of Design, as a spur to regeneration and a hub for skill development.  
The judges awarded third prize (£100) to Kate Nicholson of Sheffield University who re-imagined part of the former Spode Pottery in Stoke on Trent as a storytelling centre.
The judging panel, led by Oliver Wainwright architecture critic at The Guardian, was impressed by entrants' enthusiasm to engage with challenging buildings – from ancient monuments to twentieth century concrete constructions - and to see the potential in the relatively humble, the architecturally modest and the utilitarian, whether military, industrial or commercial.
Other judges were architect Charles Holland (principal of Charles Holland Architects and Professor of Architecture at Brighton University); Meriel O'Dowd, Conservation Projects Manager at the Churches Conservation Trust; past PWA winner, architect Niall Bird (Giles Quarme & Associates) and John Goom, an architect specialising in the conservation of historic buildings (Director of John C Goom architects).
Marta Ascenso, this year's winner, said: "I am very honoured to win this year's Philip Webb Award. My project discusses the idea of ruins as a starting point to explore the town of Craco as an artefact of cultural and architectural identity. The ruin is evocative, stimulating thoughts of what was once there and what is to come. The site's potential lies in the careful articulation of the two aspects - to understand what is still relevant from the past and to imagine what could be appropriate in the future. My scheme is certainly not trying to copy what's there, neither is it denying what the new has to offer, but it searches for an in between, a deliberate ambiguity that comes from interpreting tradition."
The SPAB was delighted to receive a record number of entries from students and graduates representing eleven different schools of architecture across the country.
Notes to editors
For more information and photos contact Alison McClary, SPAB press office, 0207 456 0908, email: alison@spab.org.uk
The SPAB
The SPAB is Britain's oldest building conservation body. It was set up by William Morris in 1877 to oppose the destructive restorations of the Victorian era and promote the alternative of "conservative repair". By law it must be notified of applications to demolish listed buildings in England and Wales and comments on hundreds each year. Today its broad remit is to advise, educate and campaign. The Society also trains architects and craftsmen; produces a range of helpful publications and campaigns on issues like VAT. It also has a separate section devoted to Mills.
Philip Webb Award
Philip Webb and William Morris were the main founders of the Society for the Protection of Ancient Buildings in 1877. From the start, Webb devoted time to teaching young architects the principles and methods of practical conservation. The Society maintains that educational tradition today and the annual Philip Webb Award is part of that commitment.
The competition is open to all students at UK Schools of Architecture who have achieved RIBA Part I and who are working towards RIBA Part II, and recent graduates. The award aims to develop students' appreciation of the unique needs and demands of old buildings by asking them to undertake a drawing-board project that strengthens their understanding of architectural and historical value along with their knowledge of the purpose, philosophy and techniques of conservation.
The Brief is to devise a scheme which sympathetically revitalises a historic building for reuse. The scheme should incorporate both careful repair of existing fabric and a significant element of new construction in a contemporary design.
Sign up for our email newsletter