Absurd, imaginative, or just eccentric? Maggie Goodall, our Education and Training Manager, explores her love of architectural oddities.
Anyone who I've ever discussed favourite buildings with over a pint will know I'm fascinated by memorials of all kinds, military and industrial remains, Nicholas Hawksmoor and those perfectly imperfect places where a change in architect, budget, century or circumstance has left its mark in the fabric. And they will probably have spotted that I'm also a fan of what's come to be known as Outsider Architecture.
By this I don't mean follies - those clever architectural 'puns' and eye-catchers that dot our landscape - though the Earl of Dunmore's 1761 Pineapple House near Stirling is undeniably wonderful. Nor those astounding buildings that occupy improbable or perilous locations: kudos is certainly due to the builders of St Michel d'Auguilhe in the Auvergne. Neither do I include here those envelope-pushing, convention-defying commissions achieved at vast expense, such as Antti Lovag's Bubble House at Theoule Sur Mer, currently owned by Pierre Cardin.
The definition of Outsider Architecture might encompass a glorious parade of informal or eccentric buildings: shell houses, garden temples, quirky teahouses, subterranean chapels, ballrooms and grottoes. And an international collection of oddities and novelties: buildings in the shape of pickle barrels, poultry, robots, teapots, gigantic footwear and fruit, binoculars, shopping baskets and flying saucers – marvellous marketing wheezes, many of them.  
However, today I'm writing in praise of the fantastical products of one person's vision - not 'designed' in any formal sense, but works of imagination, sometimes bordering on obsession. Often the work of a lifetime, self-built from basic materials, found objects or scrap (bottles, beer cans, discarded timber, pebbles), following a creative impulse rather than a coherent plan and growing organically over time. Usually made to please oneself rather than anyone else, and often achieved in private – even in secret – these places have always been a source of fascination to others. They become local legends, then landmarks; work their way onto lists of 'must see' destinations; and as threats to them emerge they prompt campaigns to save and protect them.  In these globally connected times, websites like Outsider Environments and Atlas Obscura record, classify and celebrate them (check out the Smith Mansion in Wyoming and Grandma Prisbrey's Bottle Village in California, USA).  Some have been placed in trust, become popular tourist attractions, and even been officially embraced as 'heritage' through designation. Some have been adopted by bodies like the National Trust, whose acquisition of 575 Wandsworth Road, London recognised civil servant Khadambi Asalache's extraordinary achievement in transforming a modest terraced house into a place of wonder and beauty.     
So, to mark 1 April, here's a small selection of favourites – a handful from among hundreds, and all real places. I hope they make you smile, but they're no mere architectural joke.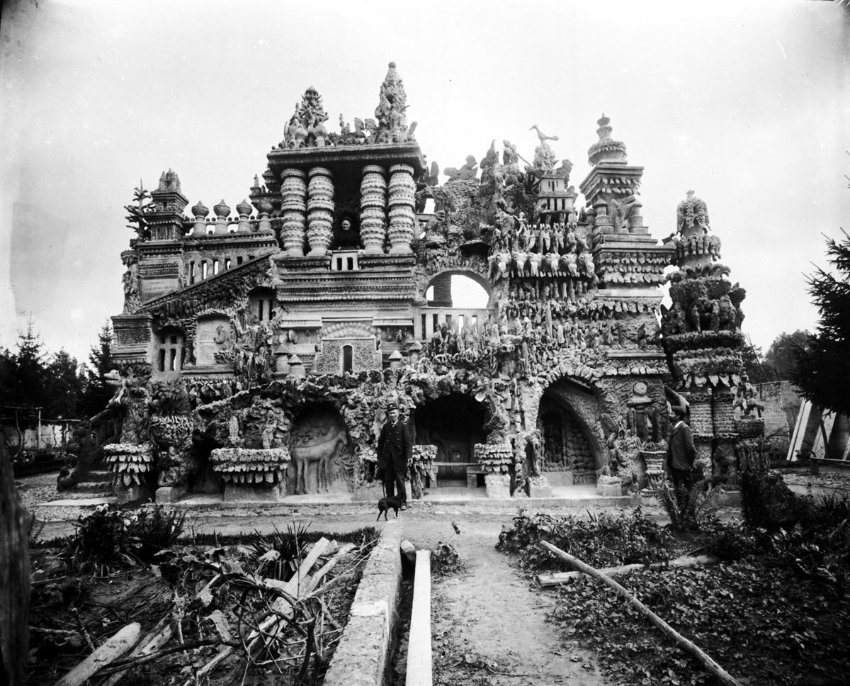 Perhaps the most famous is the Palais Idéal at Hauterives in France, begun by the local postman Ferdinand Cheval in 1879 and long open to visitors. Story has it that, whilst out on his rounds, he spotted an unusual stone, which prompted his vision of a garden temple of strange forms, exotic animals and mysterious creatures. Inspired by nature, picture postcards and the illustrated magazines he delivered, construction of facteur Cheval's dream palace occupied the next 33 years of his life. Independent of any artistic trend and obeying no architectural rules, the palace drew early admiration from the Surrealists and (in defiance of official advice) was classified as a Historical Monument as early as 1969 by the French Minister for Cultural Affairs, Andre Malraux, who recognised it as an outstanding work of 'Naïve Art'. Admired by Picasso and Max Ernst, the palace has been likened to the work of Antoni Gaudí, and the rural working man Ferdinard Cheval has been feted worldwide as an early 'outsider artist'.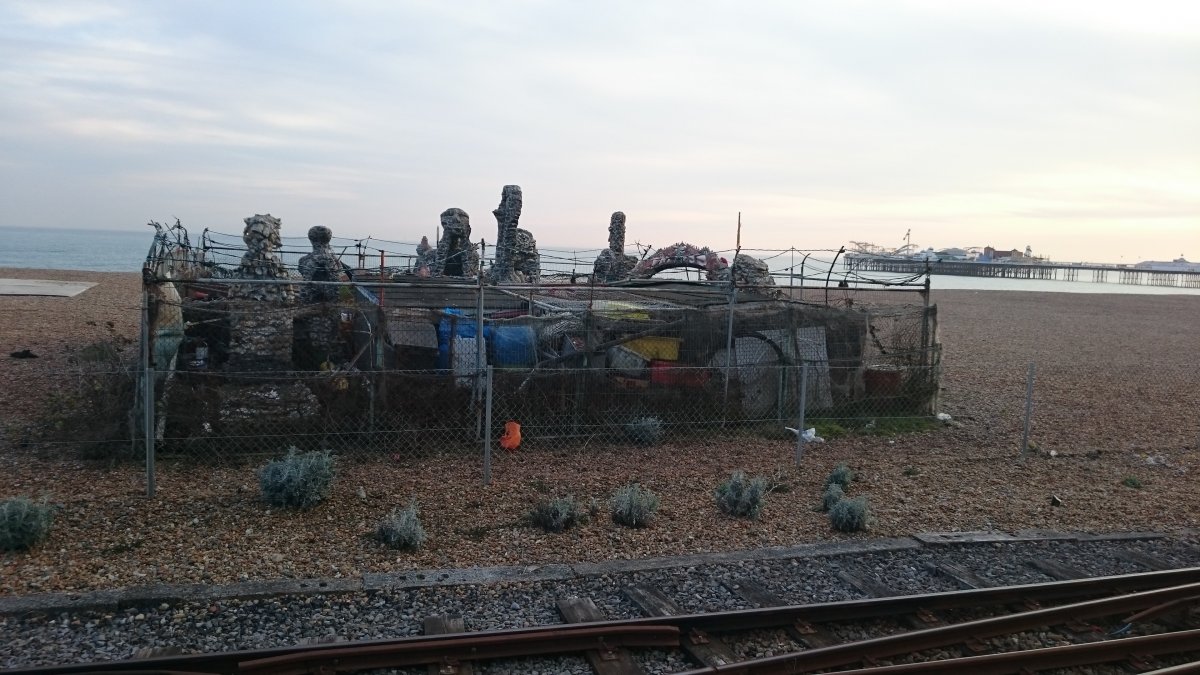 Closer to home, among the cluster of small fenced-off plots on the beach in Brighton, where local fisherman keep their boats, nets and lobster pots, sits a tiny but striking sculpture garden created by Rory McCormack. Crammed in around Rory's fishing gear, the brick and flint statues have their origin in a workbench he built from beach pebbles and decorated with shells he had collected over the years.  Armed with a set of art encyclopaedias, over time he widened his repertoire to include goddesses and other mythological figures. Popular with locals and visitors, the sculptures are periodically threatened with demolition by the Council, though Rory has set up a petition to save them.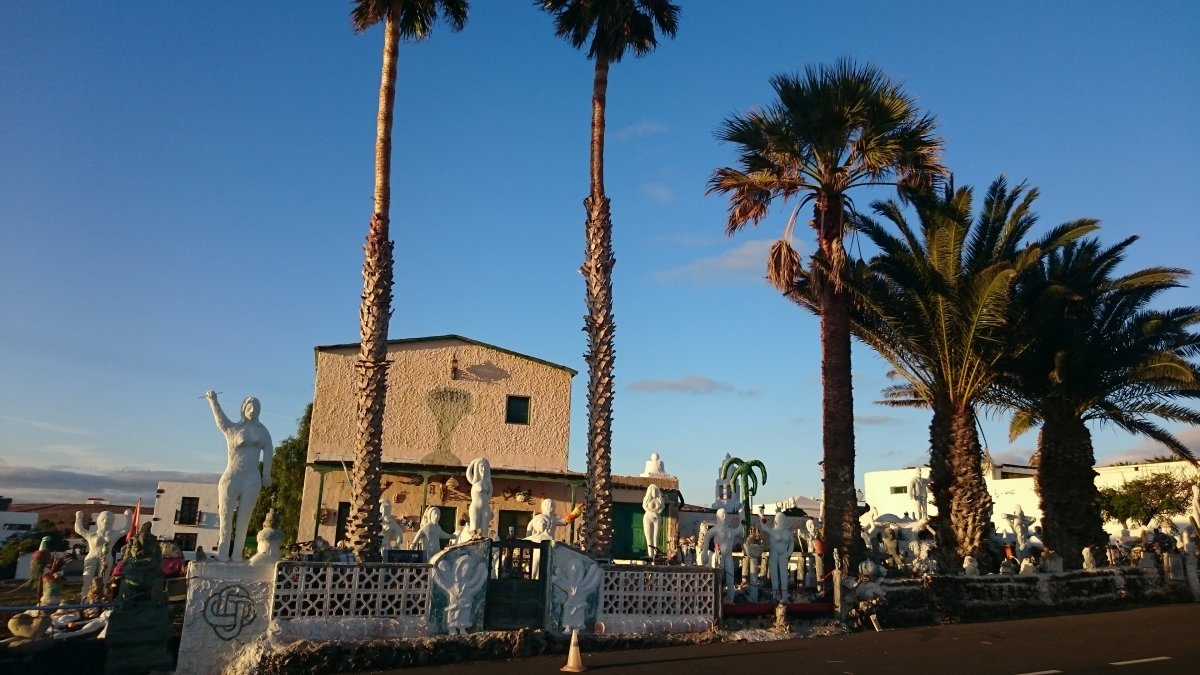 The town of Teguise in Lanzarote holds a popular Sunday market and every week visitors on their way into town are stopped in their tracks by the sight of Casa Museo Mara Mao. Surrounding this suburban house is an extraordinary collection of sculptures created by its owner, a man known as Don Pillimpo. In an ever-evolving display, he took discarded objects and recycled them into his idiosyncratic art.   Sadly, Don Pillimpo died in May 2019 and at present it's uncertain what will happen to the house and garden. No doubt Outsider art and architecture lovers are keeping an eye on it.  
A not dissimilar story is currently playing out in Liverpool, where the transformation of an ordinary flat in Oxton wrought behind closed doors by local man Ron Gittins has come to light following his death last year. His family has set up an appeal Saving Ron's Place to preserve the work and enable people to visit it.
Last, but not least, I leave you with a boat moored halfway up a hill in the coastal town of Almuñécar near Malaga in Spain.  Casa Meu Barco is the home and creation of a retired mariner who has morphed an ordinary town house into an oceangoing ship, perpetually ploughing its way through concrete waves.  The building is private but easily seen from the street.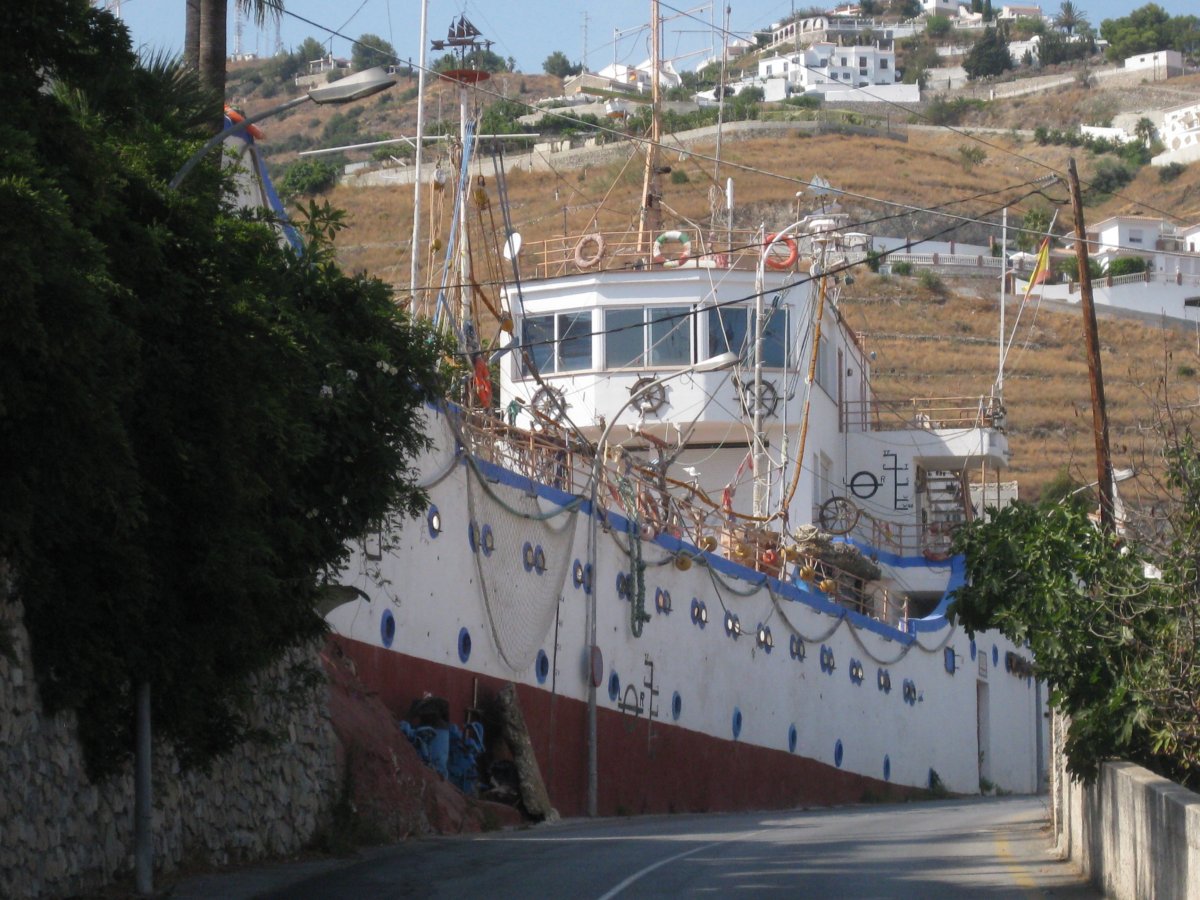 I hope this has whetted your appetite for the unusual and eclectic. Although present circumstances force us all to be armchair explorers for now, maybe you'd still like to step "Outside"?
Images
Sign up for our email newsletter