Can we pull 'critically endangered' millwrighting back from the brink?
Mildred Cookson, Chair of the SPAB Mills Section, reflects on how millwrighting has changed over the years and how we might keep this critically endangered craft alive. 
A millwright is a craftsperson or skilled tradesperson who builds, installs, repairs and maintains wind and water mills. It's a specialist job and requires a whole host of skills including engineering, carpentry and surveying.
Millwrighting is now listed as 'critically endangered' on the Red List of Endangered Craft. That means that if nothing is done, this vital trade could soon die out.
Mills are in constant need of repair – weekly, monthly and annually. There are some excellent volunteer millwrights, but without the professional millwright visiting, making reports and carrying out the major works, our mills around the country will suffer and eventually be forced to close down. This is when the real rot sets in, sometimes to the extent that the mill will never work again or will, at the last resort, be converted, removing all machinery.
This is not a scenario I want to contemplate. As a miller, I love mills above all else. They are educational, provide flour for our food, and of course are part of our industrial heritage. What could be a more wonderful sight on the landscape than seeing in the distance windmill sails turning?
How millwrights inspired my career
The first mills I saw where I grew up were either house converted or derelict. Only one had all its machinery and this is the one I helped to repair. I learned how to dress millstones and to profile wooden cogs, using the right woods for each gear wheel. Little did I know then that I would be using these skills again.
I did in fact help out at my millwrights yard, painting sails and other parts of the mill. I have two millwrights, Christopher Wallis and David Nicholla, to thank for starting me on the road of actual milling properly (but this is a story in itself!).
When I started as a miller it was all straightforward, just getting on with the job of turning grain into flour and maintaining the workings of the mill.
I was really lucky in that I had a millwright on my doorstep, and another millwright who was so wonderful and inventive. He was passionate that a working mill should stay working – and he's still maintaining mills to this day.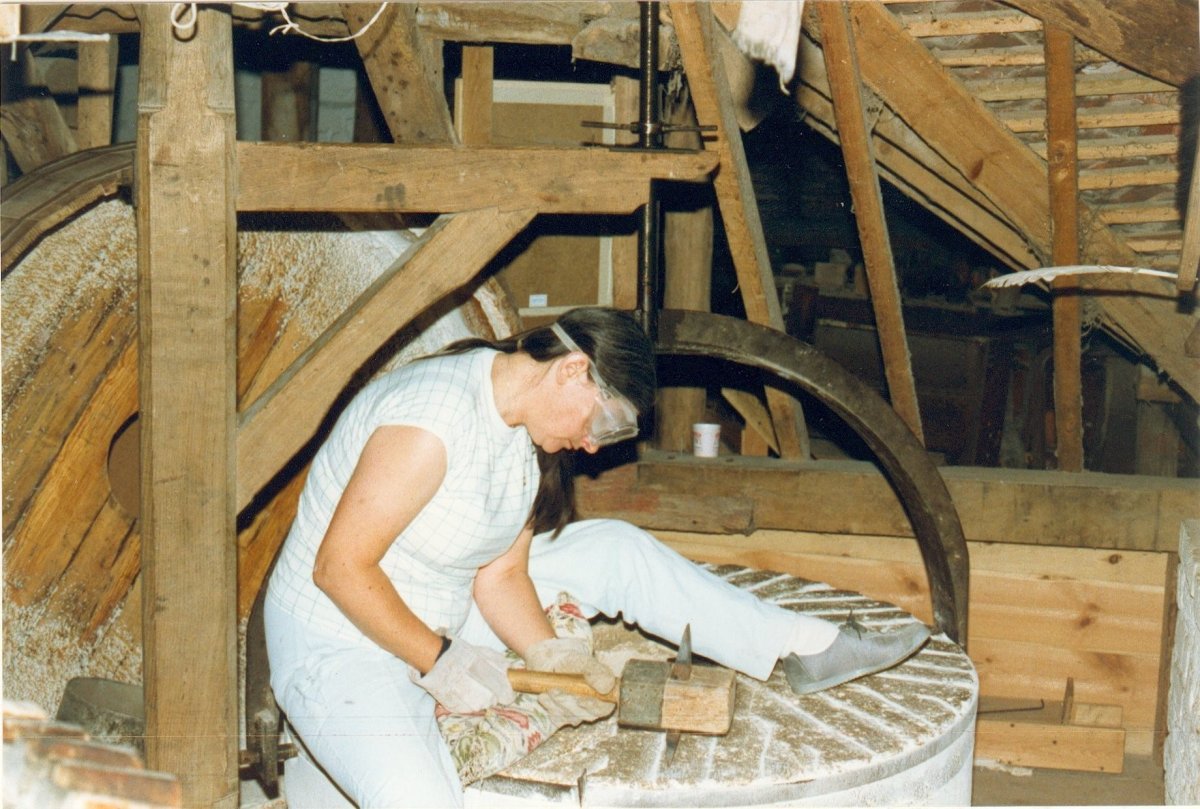 Credit: Mildred Cookson
The problems modern millwrights face   
Even in the 1970s, we had a shortage of millwrights. Today, some areas like Lincolnshire, Cornwall and the North West have many mills in need of repair but no millwrights to do the work.
Existing millwrights are having to turn down urgent repair work; their diaries are booked for the next two years. Mills suffer from many elements throughout a year, wind and rain being the most damaging. With urgent repairs delayed, the mills could eventually become beyond repair. 
As well as being overstretched, modern millwrights face other challenges. These days there's a lot of paperwork as well as the actual repairs. Costs for materials have risen sharply over the years, and this is now a serious problem. Tar for the tower mills is now not allowed, so alternatives have to be found.
Another complicating factor is that many species of wood needed for mill parts (especially sail stocks) are no longer easily sourced. The timber nowadays does not have the same longevity, so the stocks going on a mill today will last possibly only 15 years (rather than 30+).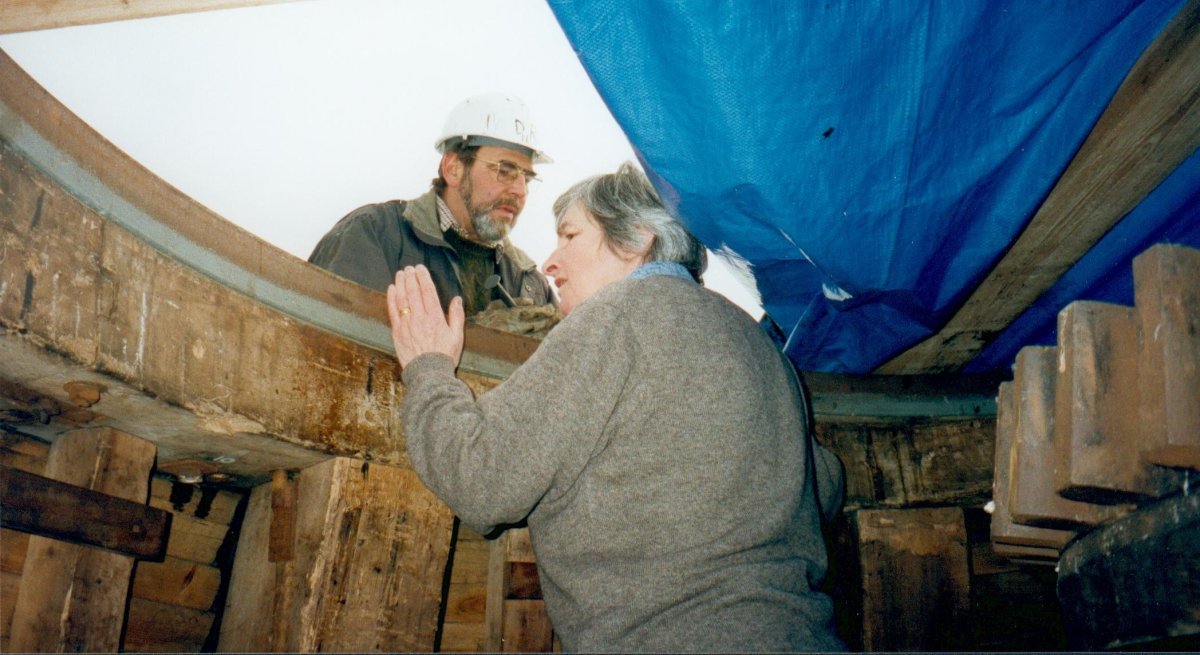 Inspecting the curb of a windmill with the millwright. Credit: Mildred Cookson
A change in the wind?
Millwrighting skills need to be passed on with 'hands on' learning, you cannot learn the job from reading books and you cannot learn the skills overnight. Many millwrights are one-man bands, which can make taking on an apprentice challenging, but thankfully some are able to do so.
We are already seeing a small change. For the past three years, the SPAB has offered one craftsperson each year the chance to gain skills through its millwright Fellowship.
Given that a traditional millwrighting apprenticeship would be seven years, this is just a taster but hopefully it inspires them to carry on up the ladder.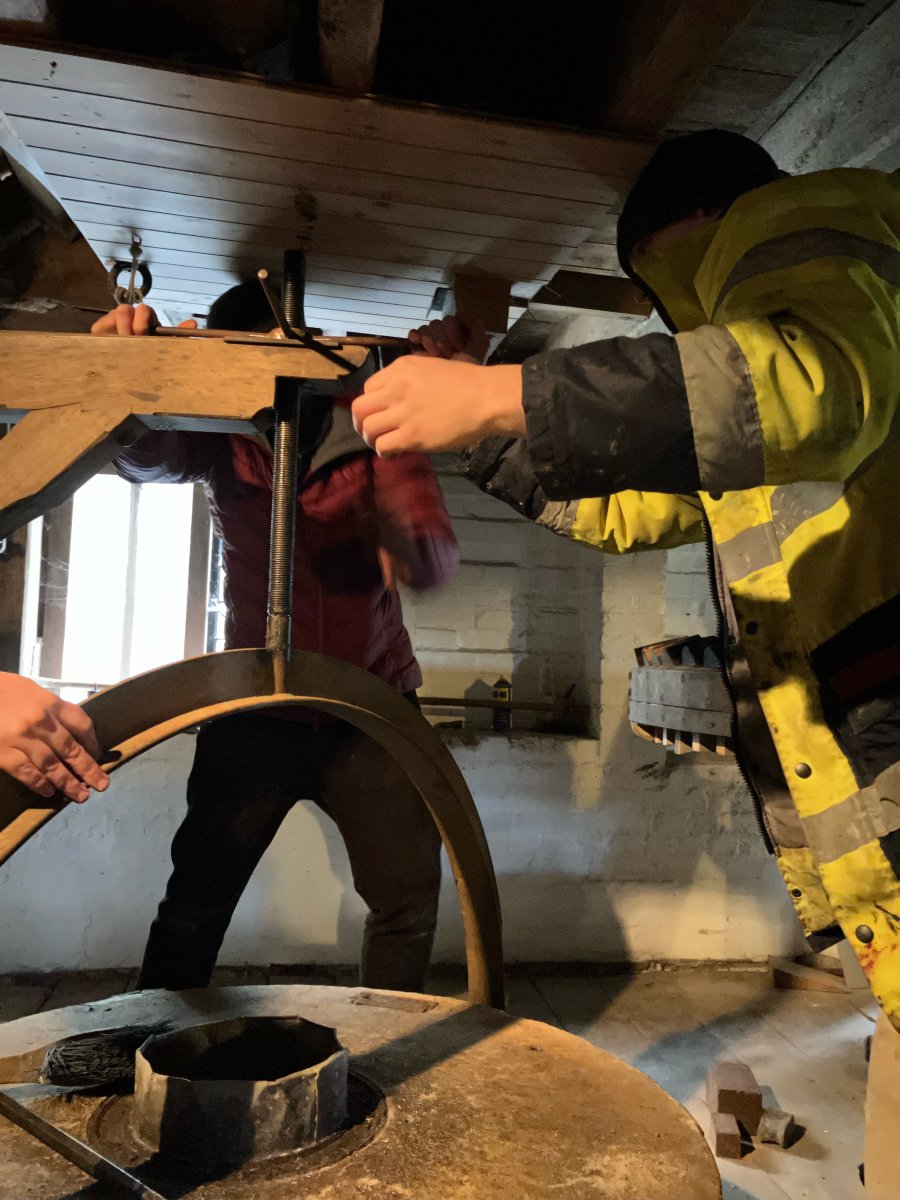 SPAB future millwright learning how to raise a millstone. Credit: Mildred Cookson 
My hopes for the future of mills
I am extremely concerned over a number of mills which have been working non-stop for over 30 years.They have been looked after with love and care, sometimes at the millers own expense. What will eventually happen to them? The less millwrights we have, the less mills will be saved.
To address this, I would like to see a programme in place for a millwrighting apprenticeship, funded by government or local authorities. I'd also like to see more awareness in schools, colleges and universities. Locals could show young people how mills fit into the landscape and how the fields around them grow crops, which are then turned into flour for our food.
We need to educate and inspire young people so they see these iconic buildings, which have been part of the UK landscape since Domesday and beyond, as being part of their future.
---
Our thanks to Mildred Cookson, Chair of the SPAB Mills Section, for contributing this article to mark National Mills Weekend. You can find out more about the history of mills and millwrighting via the Mills Archive, a permanent repository of more than three million documents and images related to mills. 
Sign up for our email newsletter