From the archive: Haddiscoe Church, Norfolk
The Grade I listed church of St Mary, Haddiscoe is a prominent landmark in south east Norfolk.
Impressive, intriguing, inviting the interest of architects, antiquarians, artists and inquisitive visitors alike, its appeal is in no small part due to its round tower – one of around 120 such towers surviving in Norfolk. Built in flint with stone bands, its base is of Saxon origin, its body Norman, and its distinctive crenellated upper stage a 15th-century chequerboard crown of grey and white. A door opening some 16 feet above ground level might hint at a past defensive function, given Haddiscoe's proximity to the east coast.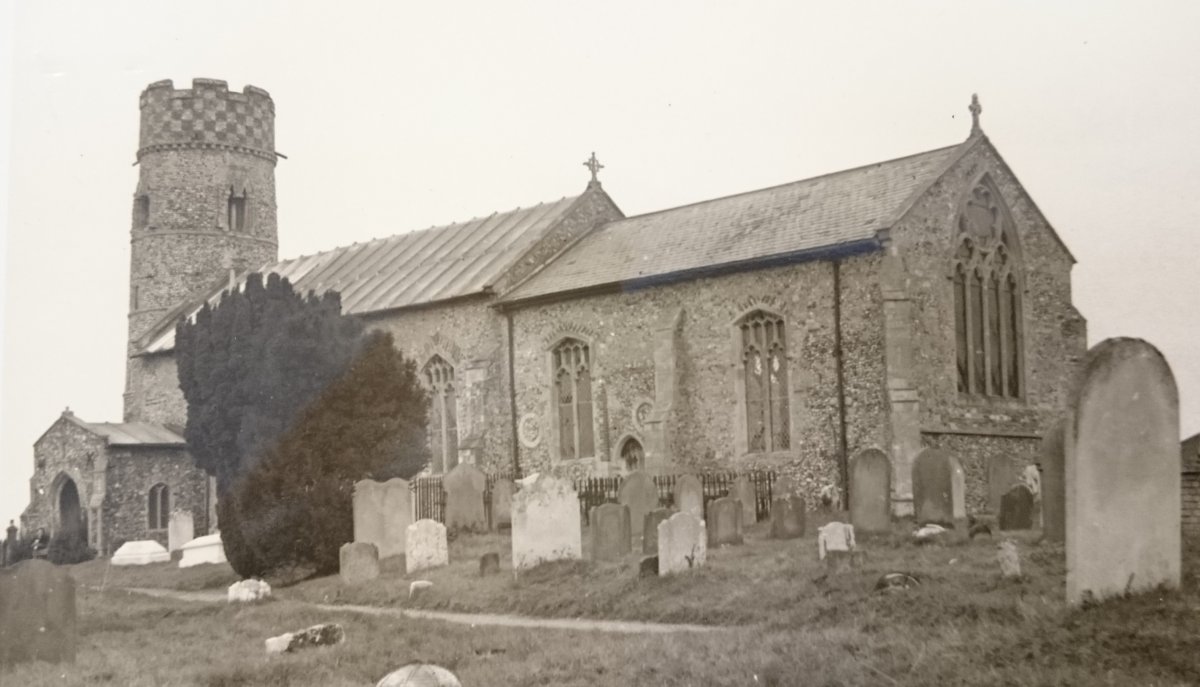 It is no surprise to find that such an historic church has, a number of times, engaged the attention of the SPAB. In November 1907 the Rector, the Revd N G Lawson, wrote to the SPAB:  "Haddiscoe is a beautiful and interesting church. The roof is in a very bad state. We are going to make as few alterations as possible, and presume to make use of every bit of the old wood work that we can." 
The SPAB promised a donation of £3, conditional upon being satisfied that "the building is being treated properly" and dispatched its architect, the indefatigable William Weir, to visit. Through 1907 Weir and the church's architect Edward Sedding exchanged letters andagreed to differ on rainwater handling, the treatment of a crack in the south wall, and the means of strengthening the roof. Weir returned to Haddiscoe in December 1908 and glumly reported thatthe builders had not carried out the repairs satisfactorily. His report was forwarded to Sedding but, alas, the casework file falls silent at this point with no indication of how it was received. We assume that, the parish did not receive the £3.
Between 1931-1933 SPAB Secretary A R Powys exchanged letters with the Secretary of Norwich Diocesan Advisory Committee (DAC), the Revd Harold Peck, discussing the condition of Haddiscoe's Norman doorway, about which an SPAB member had expressed concern. Peck wrote on 20 September 1933 to report "I found, as your correspondent stated, that some rather clumsy repairs had been made, but the stonework was secure … I was confident that no harm was being done, and I know that the present Rector… has been attending to certain structural defects under the guidance of an architect who can be relied upon to do the right thing".
Alas, in autumn 1934 Powys visited Haddiscoe with the church's new architect J E Burton to look at the impact of recent work to extend the concrete drainage channels around the church and to underpin the buttresses using brick. In a candid and rather charming exchange of letters, Powys ponders "again thinking over the conversation that passed between us and remembering the brickwork of the buttress bases and your justification of them, namely that they 'told their tale' and 'would not deceive the future archaeologist', …I think the essential thing in making repairs to old buildings is to respect their general character and not do anything that will take away that character either by way of restoration, as was the custom in the seventies, or by way of introducing different materials as seems now to be becoming the custom".  He concluded regretfully: "I visited the other day with the desire to give you support, but I find it difficult to do so". 
Burton replied: "Yes, you are quite right. I was as much shocked as you, I think, with regard to some of the channels and also at the sight of the red brick plinth. Now for my candour, privately. The red brick plinths and the channel round the tower are not of my devising, and had I been there in time they would not have been there at all. They had only just been done by the Rector and his bricklayer".  He concludes: "…you may rely on my doing something to improve that appearance which was rather a shock to both of us". Again, the SPAB file is tantalisingly silent on what Burton's next steps might have been, though a 1950s letter from the DAC indicates that further work was indeed carried out in 1936.
In October 1955 the Rector contacted the SPAB again to ask that architect D G Martin visit the church and assess its condition. Martin reported in April 1956 that overall the church was in a fair state, but drew up a schedule for works to address defects in the roof, south wall, rainwater handling, and beetle damage attributed to damp conditions in the church. Clearly, the problems that had exercised the Rector and architect in 1906 - of directing water away from the church and keeping off wind-driven rain in this elevated location – still affected the building 30 years later.
It was not so long after David Martin's visit that Haddiscoe received the equally careful attention of artist Joan Charnley, who sketched and painted extensively in East Anglia in the 1950s and 60s when she was lecturer in textiles at Great Yarmouth art school. Her painting of St Mary's (now in a private collection) joyfully captures and celebrates its beauty and special character – not least of that diaper-topped tower.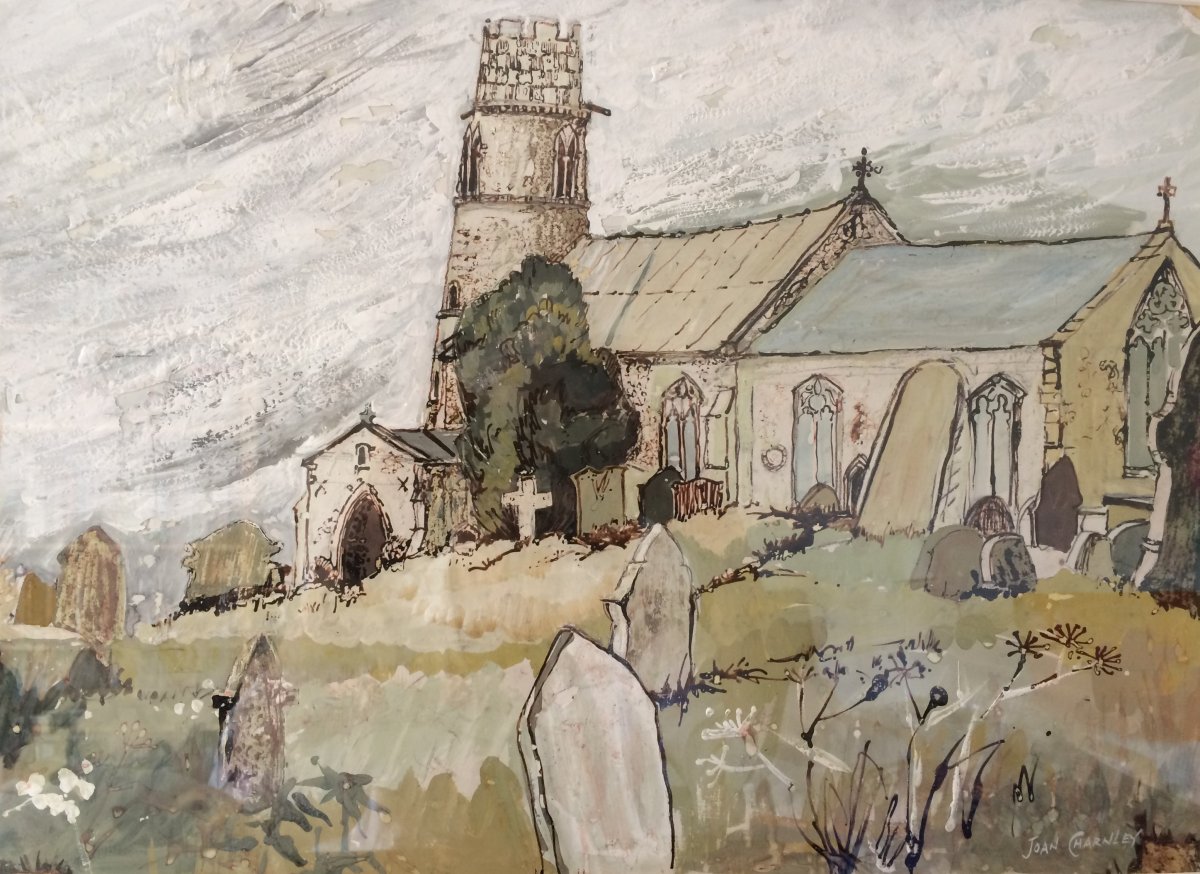 Born in Southport in 1928, Joan studied at Manchester School of Art and became a celebrated textile designer in the 1940s and 50s. Her repeat patterns of shells, leaves and birds – emblematic of what has become known as Mid-Century Modern – were printed by Edinburgh Weavers and Sanderson, although Heal's had rejected her designs as "too advanced" and (mistakenly) warned her that they'd never sell. After Norfolk, in 1963, when she married fellow artist Archie MacDonald, then Head of Oldham Art School, she moved to Saddleworth on the fringes of Manchester, and continued to exhibit in solo and group shows, also becoming a celebrated botanical illustrator and lecturer. 
Joan died in July 2016 bequeathing her house, a traditional stone-built weaver's cottage in the village of Uppermill, to her friends Julian Bovis and Nigel Durkan with the hope that they might turn it into an "art house". After more than two years' painstaking work they have succeeded in realising Joan's dream, transforming it into the Weavers Factory art space, which cleverly combines exhibition galleries with workshop and projection spaces, a tea bar and a small shop selling cards and wrapping paper reproducing her designs. In addition to showcasing Joan Charnley's own work, the gallery will focus both on up-and-coming artists and older artists who have been under-appreciated. Bovis and Durkan are also keen to involve students from Oldham College, who curated a show inspired by Joan Charnley's life for the Weavers Factory opening in April 2019.
Find out more at:  https://www.weaversfactory.co.uk/
Images: 
Photograph by D G Martin in SPAB casework file (1956)
Haddiscoe Church, Joan Charnley, private collection
Sign up for our email newsletter