Old earth-walled buildings, now relatively scarce, are a valuable part of our architectural heritage. Consequently, it is important that surviving examples are saved and any necessary repairs undertaken using appropriate materials and techniques. .
What is earth walling?
Walling made from local soil(s) mixed with straw, and built with or without shuttering. It was used extensively before c1850, in areas where the soil contained clay or chalk. Construction is in block, infill panel or monolithic form; here we concentrate on the latter. Techniques and their names vary regionally, and include cob (the South-West and East Midlands), clom (west Wales), clay dabbins (Cumbria) and wychert (Buckinghamshire).
Earth walling is often concealed behind brick, stone or render. Clues to its existence, however, can include the presence of a protective plinth, unusually thick walls and an absence externally of sharply defined corners in favour of gently rounded ones.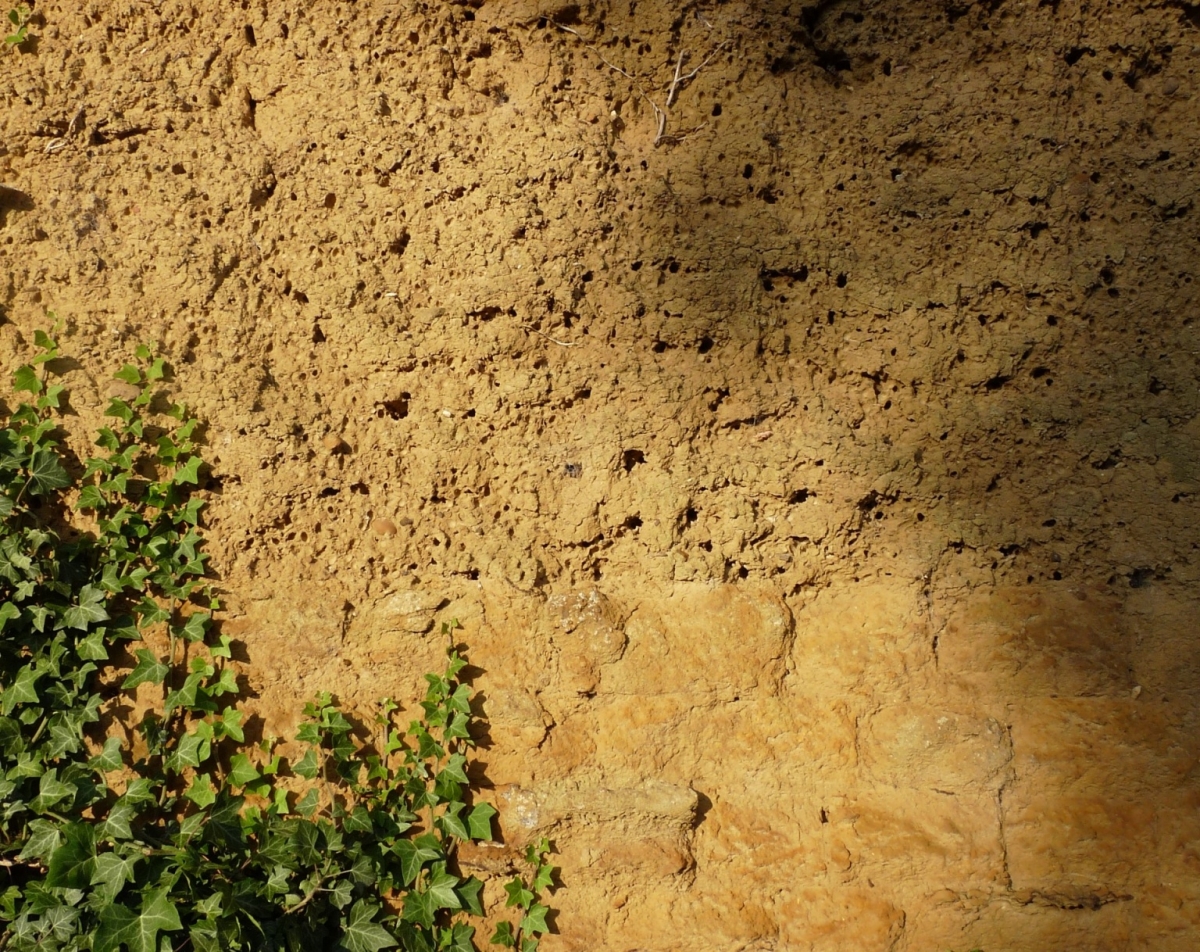 Earth wall
What problems typically arise from earth construction?
Properly cared for, earth buildings survive for hundreds of years and - despite common misapprehension – make comfortable dwellings. When problems occur they are frequently down to poor maintenance or unsympathetic repairs and fall into two categories:
Structural. This includes excessive loading arising from the ill-advised use of bricks or concrete blocks, cracking at corners because of roof thrust, and damage caused by animals (for example, rats) or penetrating vegetation.
Water-related. This covers rainwater infiltration at wall heads resulting from defective roofs, saturation of wall bases through the accumulation of debris, moisture entrapment behind inappropriate cement renders or paint films, and faulty drainage.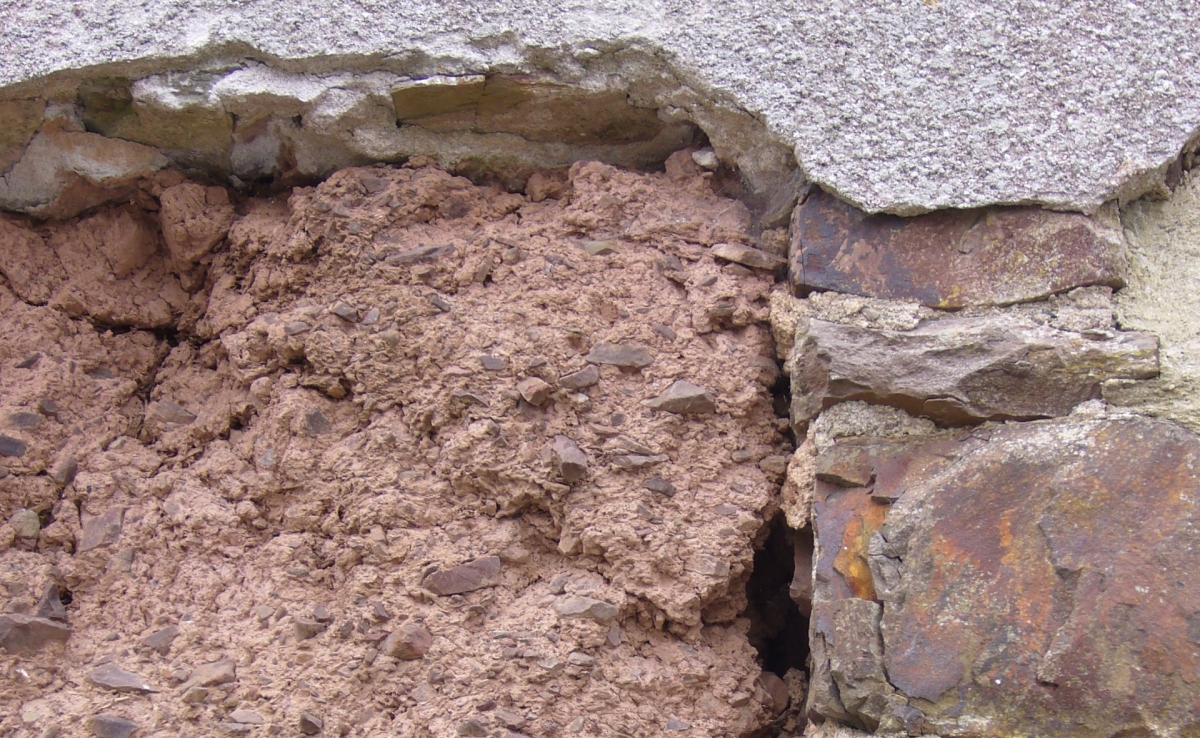 Devon cob
Can earth walling be repaired without rebuilding?
Even defects that initially appear alarming can often be effectively repaired, although a structural engineer should be consulted where there is any doubt over the stability of a wall.
Surface repairs involve cutting back defective areas and, using oak pegs, non-ferrous metal or tile slips to provide a key, patching with new or reconstituted earth. Deeper deterioration will require the removal of decayed areas and infilling with pre-made earth blocks bedded in earth mortar.
Cracks can commonly be stitched making use of pre-cast earth lintels, or non-ferrous reinforcement bedded on edge. Associated grouting is employed, whereby remaining voids are filled with liquid mortar.
What repair mix should I use for old earth walling?
Preferably a mix containing soil from the original source, otherwise one with matching constituents. Straw remains an essential ingredient, but not animal dung, which was frequently present historically (possibly only because cattle trod the mix). Other additives are sometimes included, depending on local practice. Lime has been incorporated in the recent past but is now avoided due to the unsuitably strong mix produced.
Reconstituted earth from the building being repaired can be used providing it has not been contaminated, for instance, by vegetation. Fresh straw will be required and, if necessary, the mix can be modified with the addition of aggregates at one end of the scale or clay at the other. It is sometimes worthwhile having the salvaged material analysed first.
How should old earth walls be protected and finished?
Local tradition should be respected. The application of a lime- or earth-based render and/or limewash externally will be suitable in many cases. Internally, the walls of houses traditionally had a mud or lime plaster coated with limewash or distemper. The use of impervious Portland cement renders including or excluding wire or metal lathing, gypsum plasters, waterproof masonry paints and modern emulsions should be avoided with earth buildings. Such materials prevent the walls from 'breathing'. Moisture can become trapped in the fabric and lead to serious structural damage.
Further Reading:
Society for the Protection of Ancient Buildings (2016) 'Breathable', 'Breathability' and Old Buildings, SPAB Statement 5, London: SPAB
Devon Earth Building Association (2002) Appropriate Plasters, Renders and Finishes for Cob and Render Stone Walls in Devon, 2nd edition, DEBA. Available at Devon Earth Building.
Keefe, L (1993) The Cob Buildings of Devon: Repair and Maintenance, Devon Historic Buildings Trust. Available at Devon Earth Building. 
Historic England (2015) Earth, Brick and Terracotta, 2 vols, Practical Building Conservation, Farnham: Ashgate Publishing Ltd
Sign up for our email newsletter