Vertically hung tiling is a traditional fronting. Its mellow colours and gentle unevenness provide a pleasing appearance to many old walls.
What is vertically-hung tiling?
Vertically-hung tiling is a cladding for walls and other upright surfaces that comprises plain roof tiles and decorative versions of these. Roof tiles were adapted for vertical tiling in the late 17th century, often to protect timber-framed buildings in south-east England from driving rain. Found also on brick buildings, its use spread to other parts of the country during the 19th and 20th centuries.
Historically, vertically-hung tiles were held by wooden pegs but even where plain tiles of the peg type are used on walls today they are normally twice-nailed or screwed into place. Tiles hung vertically retain their original colour better than those on roofs, where they darken under the effects of lichens, moss and soot particles.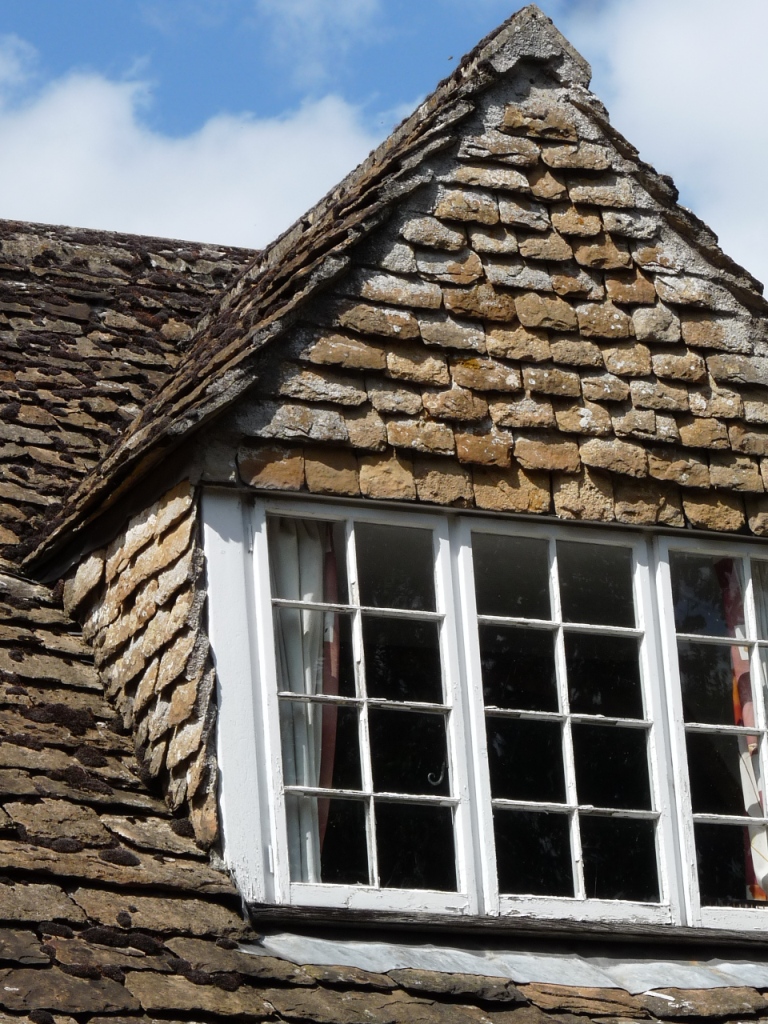 Stone hanging tiles
What might work to vertically-hung tiling entail?
The requirements for vertically-hung tiling are similar to those for tiled roofs. Broken or missing tiles will, from time to time, require reinstating. This involves removing the tiles directly above them, top downwards over a V-shaped area, and inserting suitable replacements. Fixings into existing battens should be made using new holes or larger diameter screws or nails. Any pointing or mortar fillets will also need attention periodically. Consideration is normally given to retiling when repairs are no longer cost effective. Repair or retiling should be entrusted to a reputable roofer, and the SPAB may be able to advise on suitable contractors in your area.
If bats are present, remember to seek advice from the appropriate statutory national conservation organisation before carrying out any work that could disturb a roost.
To what are vertically-hung tiles fixed?
Vertically-hung tiles are generally fixed nowadays to sawn softwood battens. Battens, like the tiles themselves, can be fixed with either corrosion-resisting nails or screws. Screw-fixing or the use of a nail gun is recommended when hanging tiles on a wall with fragile internal finishes or infill panels. Historically, a wide gauge was sometimes used, necessitating a bedding of lime mortar to fill the small gap not closed by the tile lap behind. This and pointed joints are becoming increasingly rare so are worth perpetuating wherever possible. When tiling a brick wall, corrosion-resistant fixings should be secured to timber pads set into bed joints or into drilled and plugged holes. It may be appropriate to introduce insulation behind the battens while retiling a wall.
How should tile-hanging details be treated?
The emphasis should be on matching existing details. This includes the way in which perimeters are mastered. For example, the 'Winchester cut' is commonly employed on gables and refers to an upward tilt of the tile courses where they meet the roof verge. Details such as purpose-made angle tiles rather than cover battens or mitred (butt) joints at corners are generally inappropriate on buildings predating the late 19th century. Leadwork also played little part in historic tile-hanging, with mortar fillets, for instance, being preferred to lead flashings below window cills. Occasionally, it may be acceptable to introduce modifications. When renewing mitred corners, say, it is frequently prudent to incorporate lead soakers beneath to resist penetrating dampness.
Further Reading:
English Heritage (2013) Roofing, Practical Building Conservation, Farnham: Ashgate Publishing Ltd
Sign up for our email newsletter