Helping to keep a critically endangered craft alive
Daniel Cheetham, carpenter and SPAB Millwright Fellow 2023, reflects on how he became involved with millwrighting, a critically endangered craft. 
The light blinked on my face as the silhouette of each passing sail momentarily eclipsed the sun. Harnessed onto my brother's pram, I could see the windmill that still dominates Waltham's skyline. Little did my mum realise, as she parked the pram to join for the usual post-nursery natter, that the simple skewing of a pushchair would spark a passion that bubbled away for almost 30 years, culminating with me being selected as the 2023 Millwright Fellow.
I spent almost a decade in the fire service, but my free time was dedicated to discovering and learning ancient crafts. In 2021, the pull towards craft and buildings became too strong to ignore. Despite having a stable and worthwhile career, I knew it was time to make a change.
My wife, Eleanor, showed unwavering support. We both felt it was imperative to show our son, Monty, that you should always reach for your passions, no matter how improbable they seem.
And so here I am. Immersed in an at-risk industry, helping to preserve mills which have become an inherent part of our shared history.
Mills are monuments of ingenuity that show what can be achieved by harnessing free energy from our environment. The very beginnings of what we now think of as green energy. I was lucky to grow up in a village where the mill was the heart of our community. Although they undoubtedly have played an important part in our industrial heritage, mills nationwide are just as linked to community resilience. You only have to think back to the pandemic to remember the tireless efforts of millers and millwrights to meet the increased demand for flour. Mills will remain just as integral as we coast into an unpredictable future.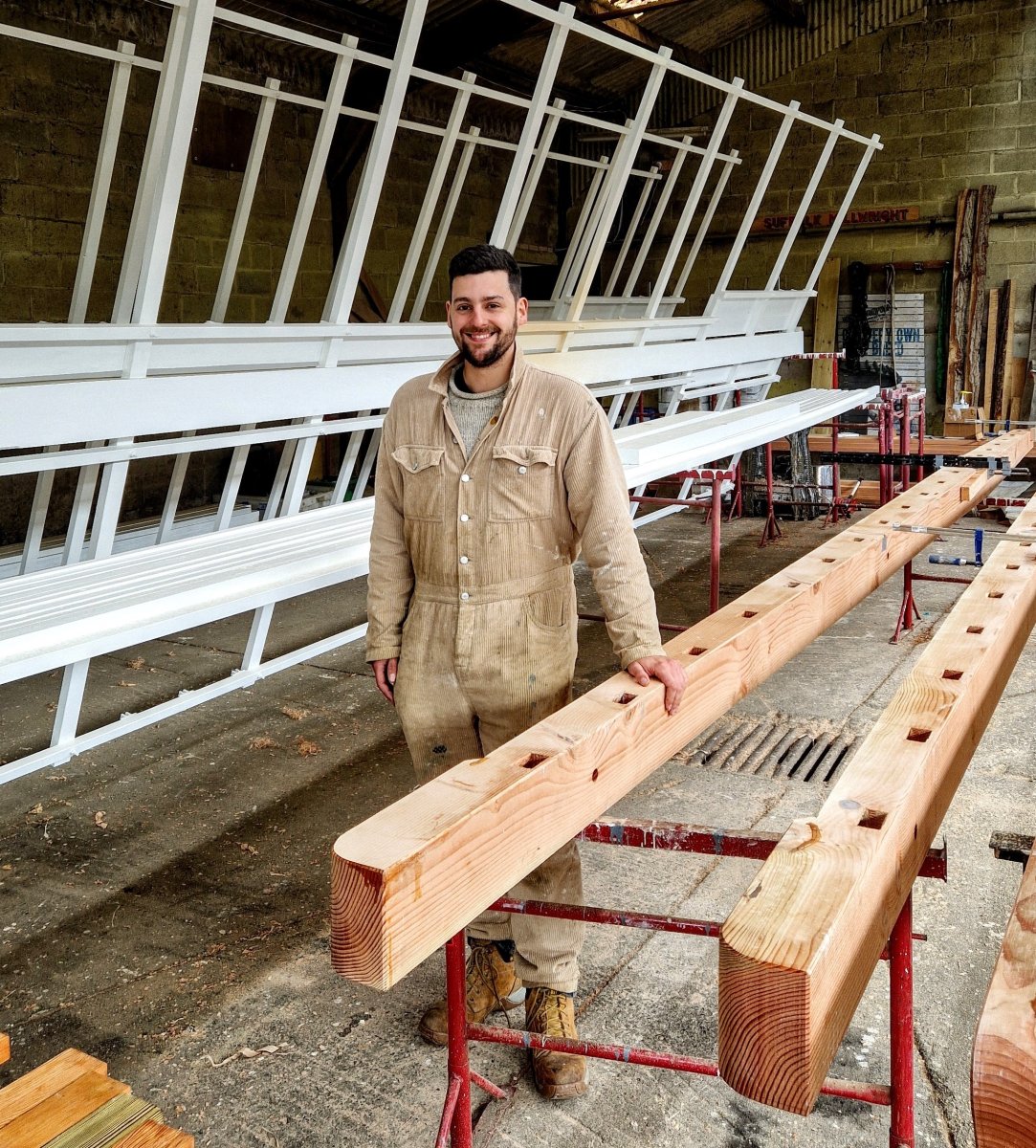 Image: Daniel Cheetham 
I feel humbled to play a part in this evolving journey. In the
SPAB Fellowship
I'll be able to tie years of reading with practical, hands-on experience. Not only that, but I'll play a part in maintaining and repairing these living, breathing machines.
I've just finished a week with
Suffolk Millwright
. I have been blown away with the knowledge, passion, and kindness shown by Tim Whiting and everyone working here. The days begin early, but time disappears quickly, working in the shadow of partially completed sails for Stracey Arms Windpump while taking part in shaping and finishing further sails.
In full circle, I return to Waltham Windmill next week. This time not as an awestruck child, but in the company of Tim, taking just a small part in preserving this machine to inspire the next toddler strapped to a pram.
Sign up for our email newsletter