Graduates win design prize for inventive schemes to revive industrial heritage
 Each year, the SPAB's Philip Webb Award celebrates new design in the context of historic buildings. This year, first place was awarded jointly to University of Sheffield graduates Nikola Yanev and Olivia Hellman, for their schemes which gave imaginative new uses to derelict former factory buildings. Both winning schemes used a range of traditional repair techniques at the same time as embracing innovative new technologies and materials. 
Olivia Hellman's scheme established an urban dairy in a former calcining mill at Middleport in Burslem, Stoke-on-Trent. Her proposed new use neatly reflects the buildings' local history; the mill was previously used to grind up cattle bones for making bone china, and the once-thriving ceramics factories in the area were historically supported by a local dairy industry.
Nikola Yanev's bold design to convert an abandoned textile mill in Halifax, Yorkshire, into an algae energy production plant and education centre impressed the judges. His innovative scheme for Old Lane Mill would conserve the 'at risk' historic structure, strengthen local identity with new opportunities in industry and produce 'clean' energy.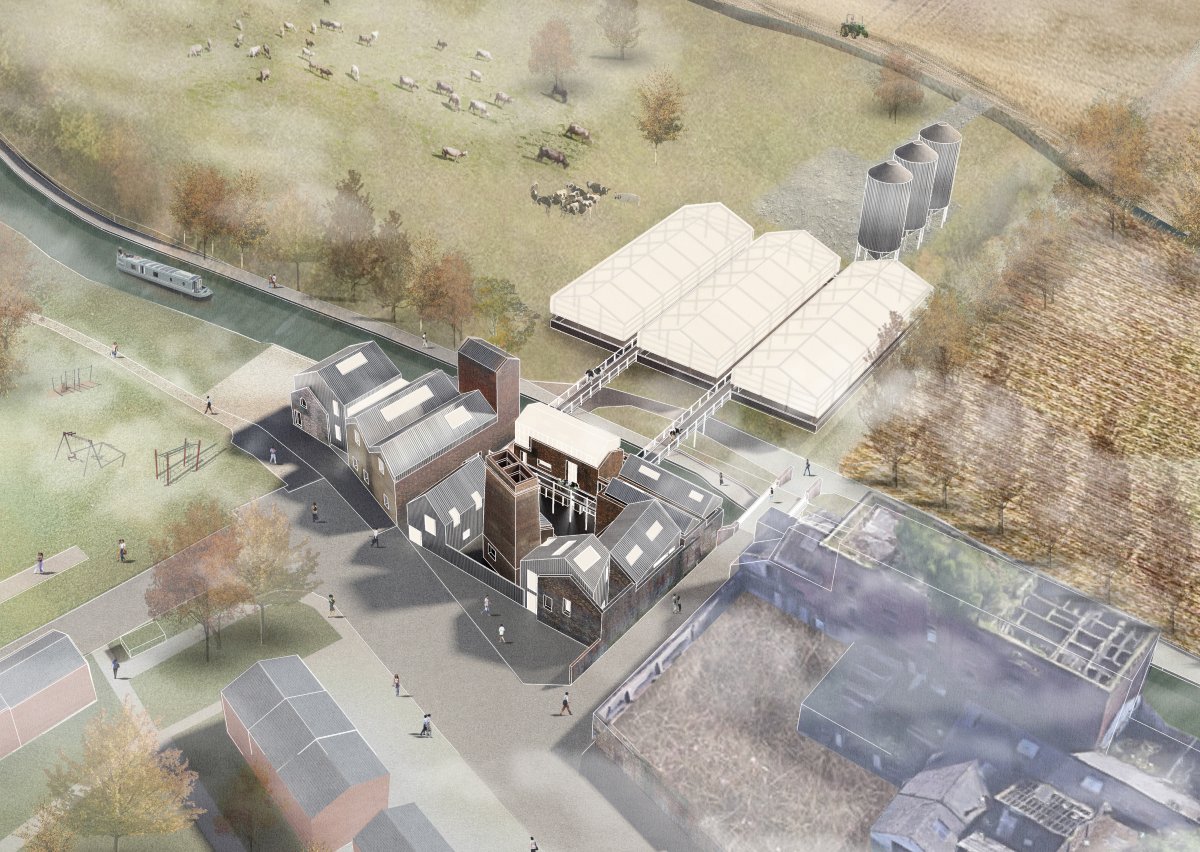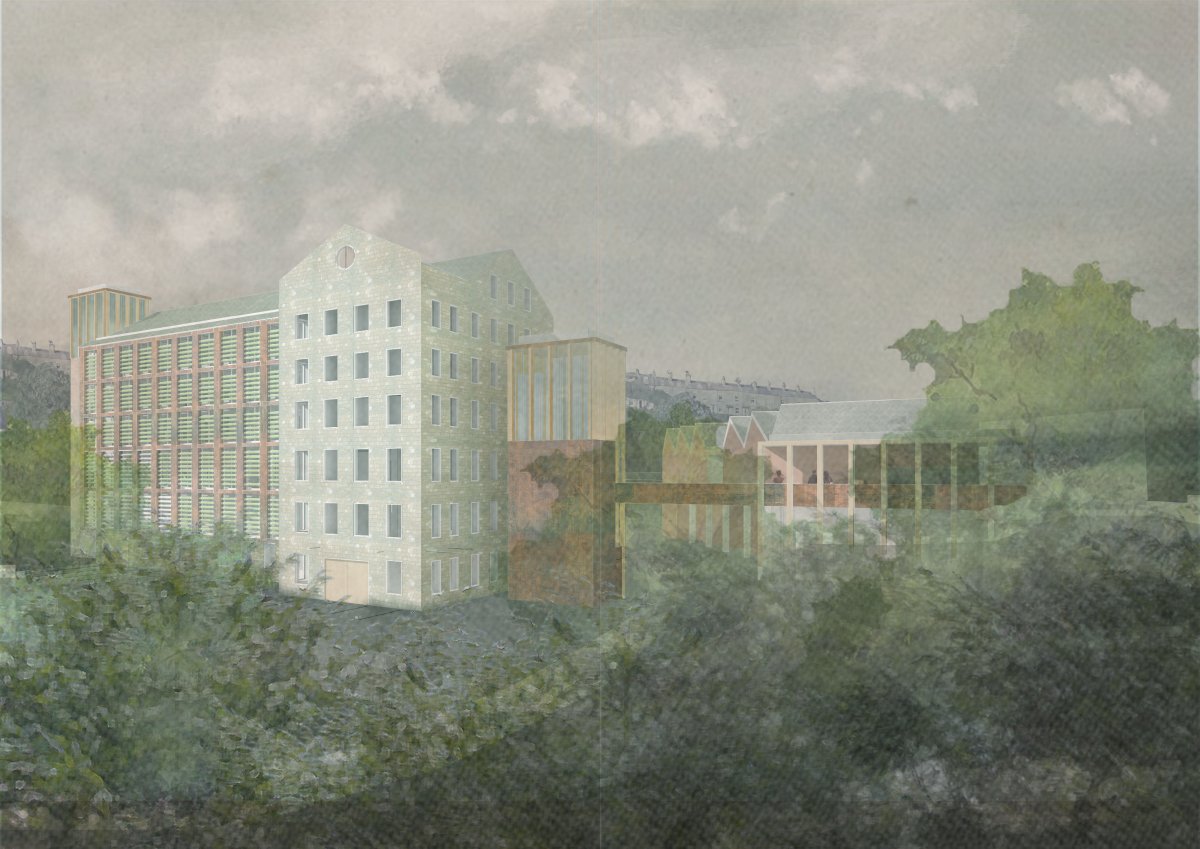 Left: A bird's eye view of Olivia Hellman's impressive scheme for an urban dairy on the site of a calcining mill in Burslem, Stoke-on-Trent. Credit: Olivia Hellman. Right and banner image: Nikola Yanev's proposals for Old Lane Mill in Halifax would produce green energy for local communities using biofuel. Credit: Nikola Yanev. 
Olivia Hellman said: "Burslem's earliest potters were also farmers, producing pottery to support Stoke-on-Trent's dairy industry. The combination of the two occupations supported each other, providing a balance. Given that the sole production of pottery is no longer a stable source of industry, the project argues for a return to the dairy farm, reimagining it in a contemporary and sustainable manner through promotion of dual production. Situated within a former calcining mill, the project offers the opportunity to mend place and the surrounding community as well as the existing built fabric and I am delighted that the project's inventive approach has been recognised."
Nikola Yanev said: "This project focuses on identifying a viable new use for abandoned heritage in order to secure its long term future and remove the risk of demolition, and the detrimental consequences of waste accumulation, disproportionate carbon emissions, embodied energy, and loss of local pride and identity. The current crisis of real estate provides an opportunity for heritage 'at risk' to be carefully and creatively repurposed rather than making completely new speculative proposals. The Grade II* Old Lane Mill in Halifax can act as a catalyst to strengthen the local area's identity and generate further economic and social benefits."
The SPAB was delighted to receive a high number of entries from students and graduates representing seven different schools of architecture across the country.
The judges were impressed with the entrants' willingness to challenge existing or consented plans for redundant buildings, and their concern for sustainability and community benefits. The judging panel this year were: Rebecca Harrison of Harrison Brookes Architects; Shahed Saleem of Makespace Architects; Charles Wellingham of Connolly Wellingham Architects; and Robert Davies of Thomas Ford & Partners.
Notes to editors
The SPAB
The SPAB is Britain's oldest building conservation charity. It was set up by William Morris in 1877 to oppose the destructive restorations of the Victorian era and promote the alternative of "conservative repair". By law it must be notified of applications to demolish listed buildings in England and Wales and comments on hundreds each year. Today its broad remit is to advise, educate and campaign. The Society also trains architects and craftsmen; produces a range of helpful publications and campaigns on issues like VAT. It also has a separate section devoted to wind and watermills.
Philip Webb and William Morris were the main founders of the Society for the Protection of Ancient Buildings in 1877. From the start, Webb devoted time to teaching young architects the principles and methods of practical conservation. The SPAB maintains that educational tradition today and the annual Philip Webb Award is part of that commitment.
The competition is open to all students at UK Schools of Architecture who have achieved RIBA Part I and who are working towards RIBA Part II, and recent graduates. The award aims to develop students' appreciation of the unique needs and demands of old buildings by asking them to undertake a drawing-board project that strengthens their understanding of architectural and historical value along with their knowledge of the purpose, philosophy and techniques of conservation.
The Brief is to devise a scheme which sympathetically revitalises a historic building for reuse. The scheme should incorporate both careful repair of existing fabric and a significant element of new construction in a contemporary design.
Sign up for our email newsletter