The Fellowship: an employer's perspective
Gary Holliday is a stonemason at Durham Cathedral and completed the SPAB Fellowship in 2018. We asked Maya Polenz, head of property at the Cathedral, to share her experience as an employer of a recruit to this advanced training scheme for craftspeople.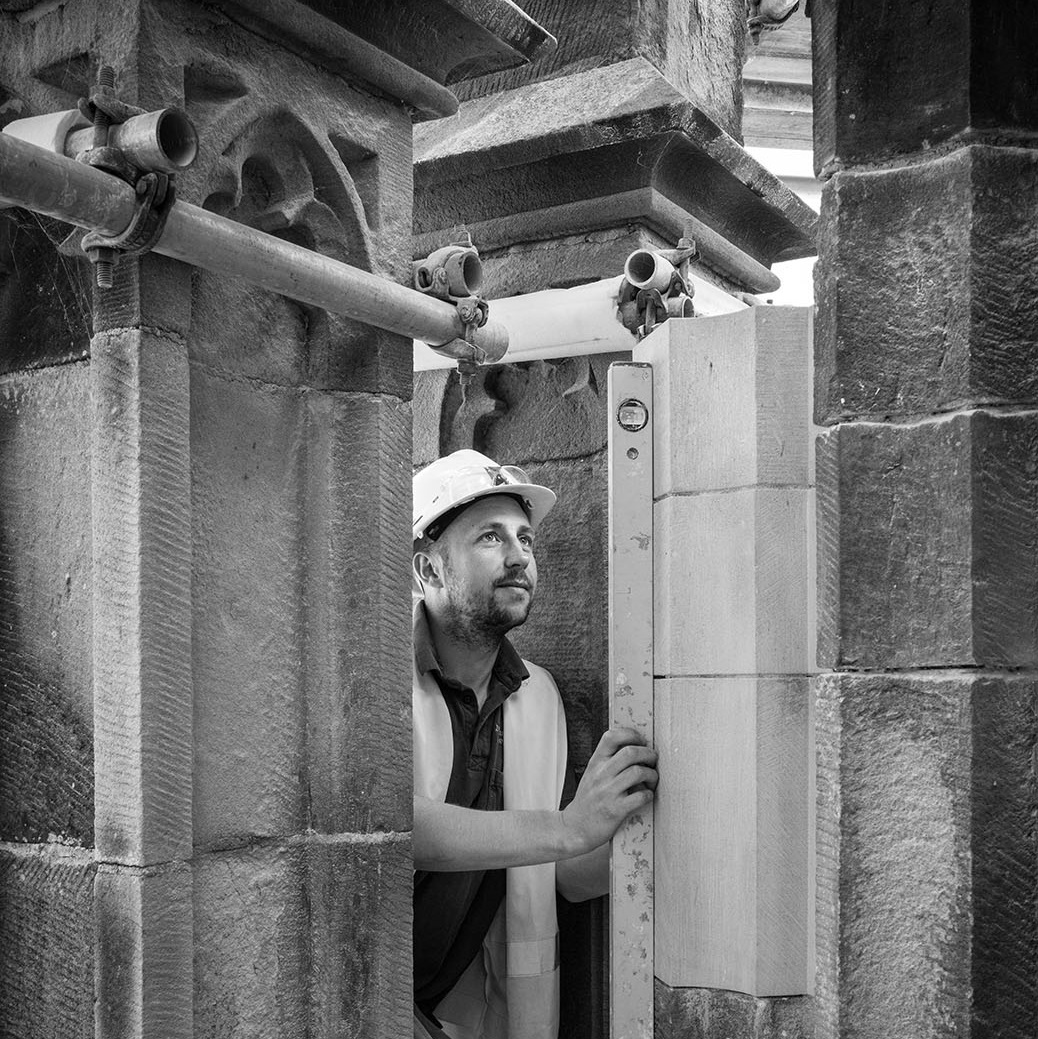 As an employers, the two main questions asked in relation to the SPAB's Fellowship programme are: How does it fit into a craftsperson's current employment? And how does it benefit us all?
Not surprisingly, the largest impact on our operations came from the programme's block structure – during the year there were the three blocks of two months when Gary was away from Durham for his Fellowship. If certainly felt like the worst possible time when Gary approached us about applying for the programme - we were just about to promote him to Acting Foreman for a large grant-aided project on the Cathedral's Central Tower. However, we all agreed that it was the right time in his career and in his life to embark on this journey.
Crucially, Gary raised this with us early, giving us sufficient time to plan our work around the Fellowship's timetable. We planned precision installations for times when Gary was on site, and kept in regular contact during his absences on the Fellowship to ensure everything stayed organised. When Gary returned to site, he was highly motivated and focussed – and he ensured that work progressed like clockwork and that it was completed before his next block release.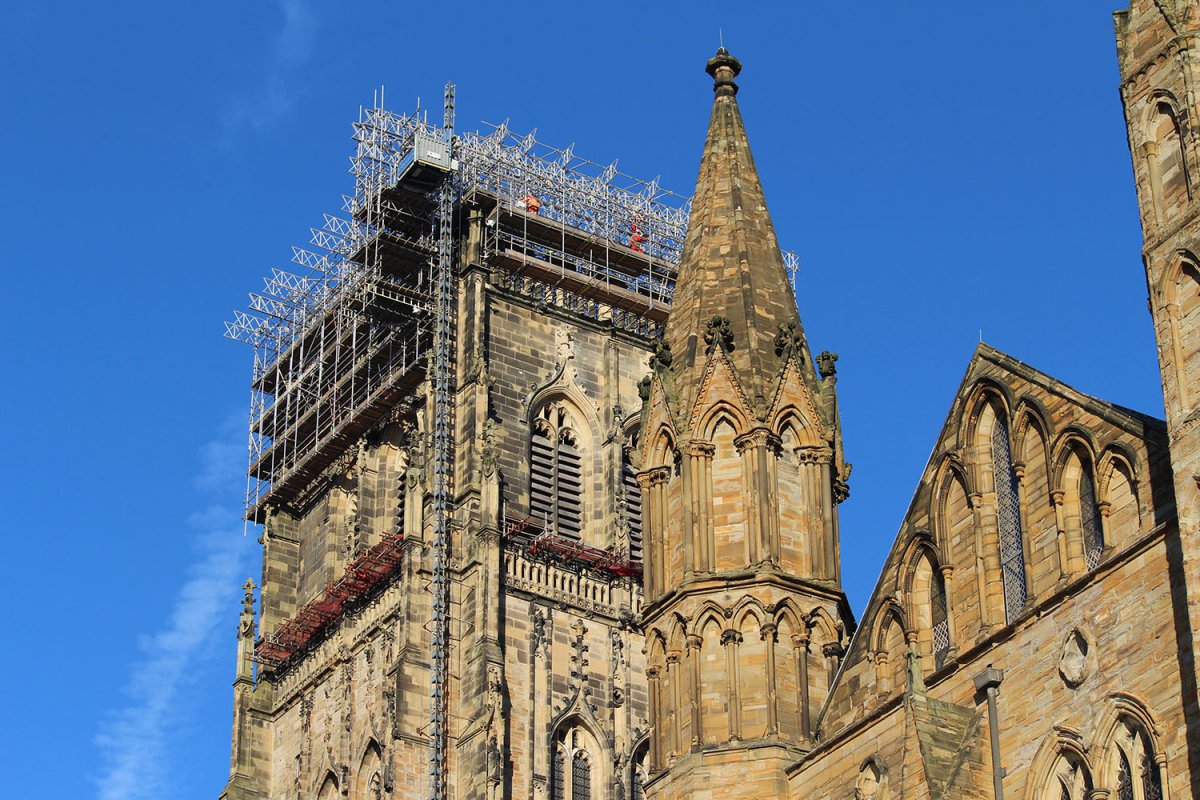 Other things we agreed with Gary in advance were adjustments to pay and timing of holiday. While there is no course fee and a basic bursary is paid to cover travel and living expenses, we were keen to help out as best we could with day to day costs. It is helpful to identify additional financial support, such as training budgets and local grants. CITB grant funding can be available to employers.
The SPAB Fellowship is a unique, hands-on learning experience and actively seeks to bridge the 'gap' between craftspeople and professionals. Key outcomes we particularly valued are:
more outward looking and better able to work with professionals
a greater understanding of project management, the project life cycle, and commercial aspects in heritage projects
awareness of the latest material research and conservation techniques
All these have direct benefits to an employer, if care is taken to bring your employee into a suitable role of responsibility: they will have learnt a great deal and will be enthusiastic to make a mark. In our case, Gary is now a supervisor and key to running our in-house masonry team. He has already been able to utilise various ideas and innovations picked up on his travels. Further, some of the experts Gary met have since held workshops and demonstrations at Durham Cathedral's Works Yard to the benefit of the wider workforce. And, through Pip Soodeen, the SPAB's Fellowship officer (who makes sure things are straightforward and easy throughout), the Cathedral has the same direct access to an unrivalled network of heritage experts.
I am grateful that Gary and his family were prepared to embark on this journey, and I am glad we supported the endeavour; both Gary and Durham Cathedral gained immensely. 
Maya Polenz, Head of Property at Durham Cathedral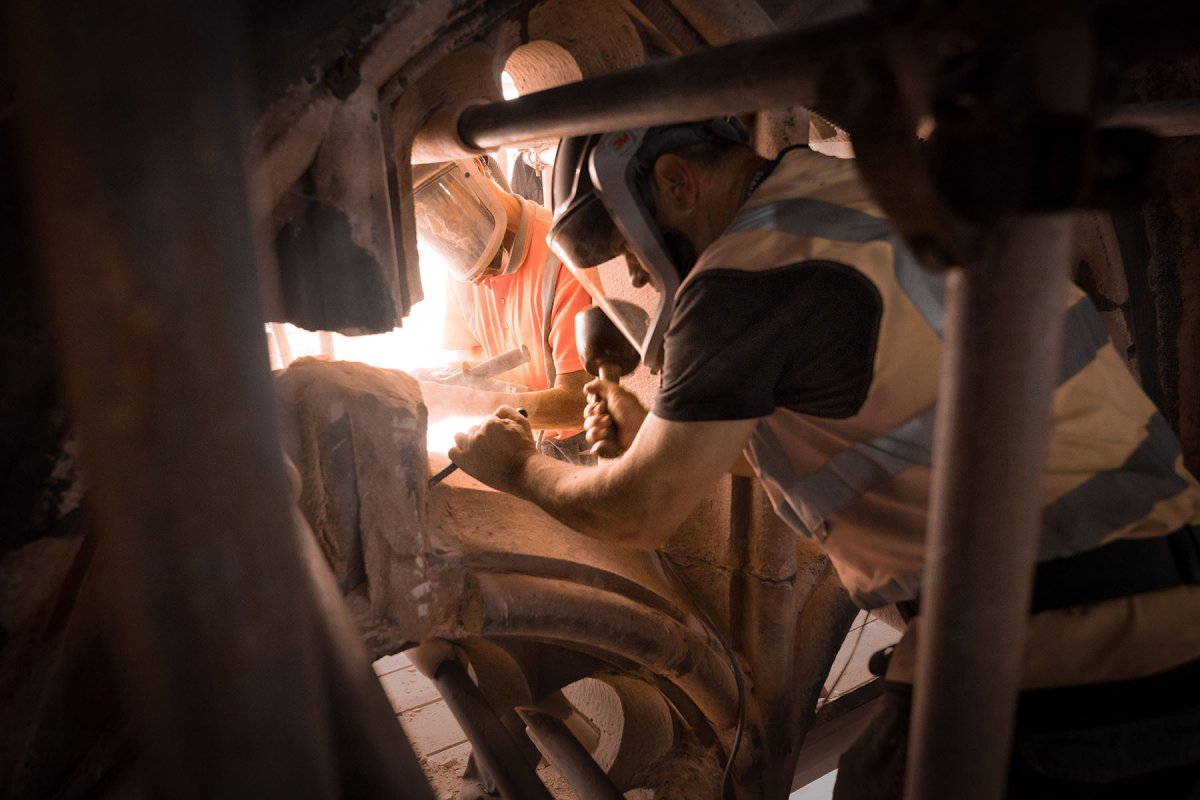 We are now inviting applications for our 2020 Fellowship. Read more about the scheme and please contact us if you have any queries via education@spab.org.uk.
Help us to inspire and train the next generation of craftspeople and conservation professionals and make a donation to support our work. 
Photos
Top: SPAB Fellow Gary Holliday at work. Credit: Joe Cornish. 
Middle: the central tower during scaffold removal. Credit: Durham Cathedral
Bottom: cathedral masons at work. Credit: Joe Cornish.
Sign up for our email newsletter