"The course exceeded expectations! I was hoping to gain some technical knowledge and get an insight into real projects and the extent of repairs/topics covered by practising professionals. Amazing programme and content, very pleased with all of it."

- Architect on the May 2015 Repair of Old Buildings course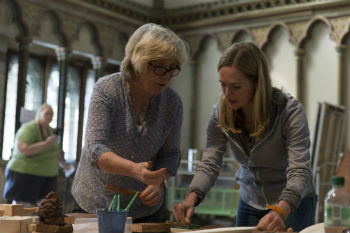 We deliver hands-on workshops, masterclasses, seminars, lectures, short courses, online webinars and other activities to hundreds of people from across the UK and overseas each year. Led by building conservation experts and drawing on the latest research, our courses provide practical guidance on the care, repair and maintenance of old buildings. Certificates of attendance for continuing professional development (CPD) purposes are available to participants and many courses are accredited for CPD by the IHBC.
Training and sharing knowledge and skills have always been an important part of the Society's work. Vist our What's On section to see the SPAB's full range of courses and other educational events.  We are constantly reviewing and developing our programme to respond to current research or training priorities.