The SPAB receives many enquiries about what constitutes good practice when it comes to repointing old masonry. This article sheds some light on the main issues.
What is repointing and why does it demand care?
Repointing is the process of taking out and replacing the mortar ('pointing') from the face of a masonry joint. Done properly, this helps exclude the weather and retard deterioration of the wall. Regrettably, repointing is commonly undertaken unnecessarily or unsatisfactorily. Unnecessary repointing, however carefully done, risks damage to the edges of bricks or stones, as well as the loss of valuable clues to a building's construction and history. Unsatisfactory repointing can not only be visually disturbing but harmful to the actual fabric it is intended to protect.
SPAB Fellow Emily Hale repointing
When is repointing necessary?
Repointing is premature until mortar has weathered back to a depth equivalent to the joint width or is very loose. The lime mortar used widely for pointing on older (pre-c1919) buildings is more permeable than the brick or stone, concentrating frost and salt action in the joints. Unlike hard cementitious pointing, this protects the masonry units because the mortar erodes preferentially (ie is sacrificial). Irregular weathering means only localised repointing is usually required. Repointing is not justified simply because mortar is soft.
Should I remove inappropriate hard cementitious pointing?
The routine use of weather-struck cement pointing on old buildings is a common mistake. Not only is it disfiguring, but it leads, more seriously, to faster deterioration of bricks and stones as they become the most permeable part of the wall and suffer the greatest frost and salt action. Removal should only be attempted if a trial indicates this can be achieved without further damage. Otherwise, repointing is best left until the mortar has worked loose.
Should I normally match the existing pointing on an old building?
Almost always if possible, the principal exception being where inappropriate repointing has taken place. Old pointing is often best observed in sheltered areas, such as under eaves, and should be matched in terms of material and finish.
Where it is necessary to design a new mortar mix instead, this must be weaker than the bricks or blocks and take into account site exposure. If in doubt about the joint profile, a flush or nearly flush finish is frequently appropriate.
The production of mortar samples and trial panels is strongly encouraged.
What pointing mortar might be suitable on an old building?
The most appropriate mortar will normally be of lime (or occasionally clay). The constituents should be selected to ensure the existing mortar is matched in colour, texture and strength. In most cases, existing mortar can be adequately assessed from visual inspection coupled with local knowledge.
A weakly hydraulic binder was preferred historically for lime-based pointing, but, if unavailable, purer local, non-hydraulic mix was used (sometimes with brick dust or another 'pozzolan' to compensate). Recently, cement has been added to modify lime mortars, but this is discouraged now a wider range of limes is obtainable.
The local aggregates used for lime mortars varied widely historically. Normally, however, a well-graded sharp sand is suitable for new mortar. The largest particle size should not exceed one-third of the joint width.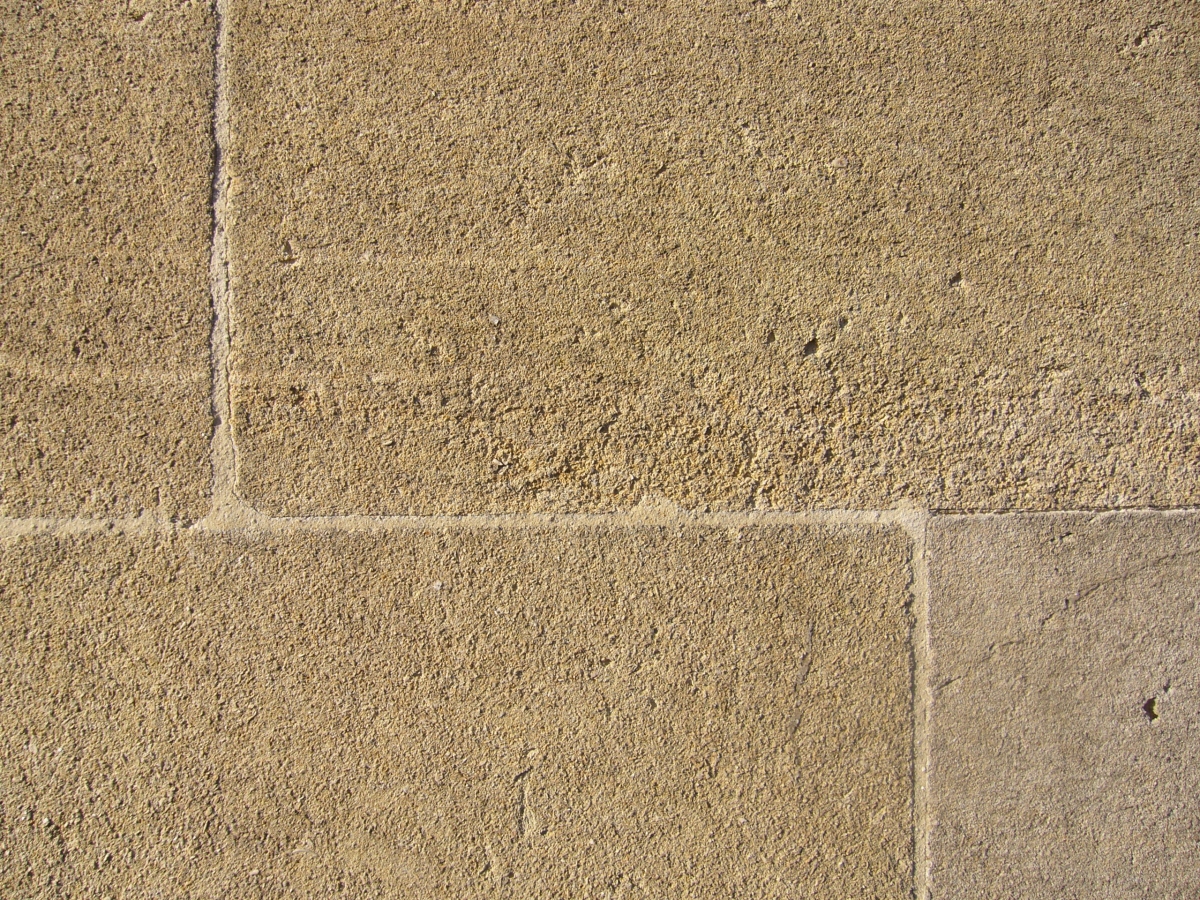 Fine lime pointing to ashlar stone
What joint finish might be suitable on an old building?
Unless a specialised form of pointing exists, a flush or nearly flush finish will often be sympathetic. Many now favour finishing joints with a fuller profile than in recent years, following historical precedent and providing better protection to the wall. Consequently, recessed pointing, particularly with stonework, is now considered a late-20th-century fashion. Sometimes, though, there may be a case aesthetically for pressing the mortar back, as when repointing very localised areas or where bricks and stones have heavily eroded edges and joints would otherwise appear excessively wide.
How do I minimise the risk of pointing failure?
A high proportion of failures occur because adverse weather is ignored. Where possible, avoid repointing in winter. Whatever the time of year, ensure new work is adequately protected from frost, rapid drying (by the wind or sun) and rain. Poor preparation also causes failure. Existing mortar should normally be raked out to a depth equivalent to twice the joint width (and deeper with wide joints).
Further Reading:
English Heritage (2011) Mortars, Plasters and Renders, Practical Building Conservation, Farnham: Ashgate Publishing Ltd
Hughes, P (2017) The Need for Old Buildings to 'Breathe', SPAB Technical Advice Note, 2nd edition, London: SPAB
Society for the Protection of Ancient Buildings (2016) 'Breathable', 'Breathability' and Old Buildings, SPAB Statement, London: SPAB
Sign up for our email newsletter