William Morris & Philip Webb
William Morris
"We are only trustees for those that come after us"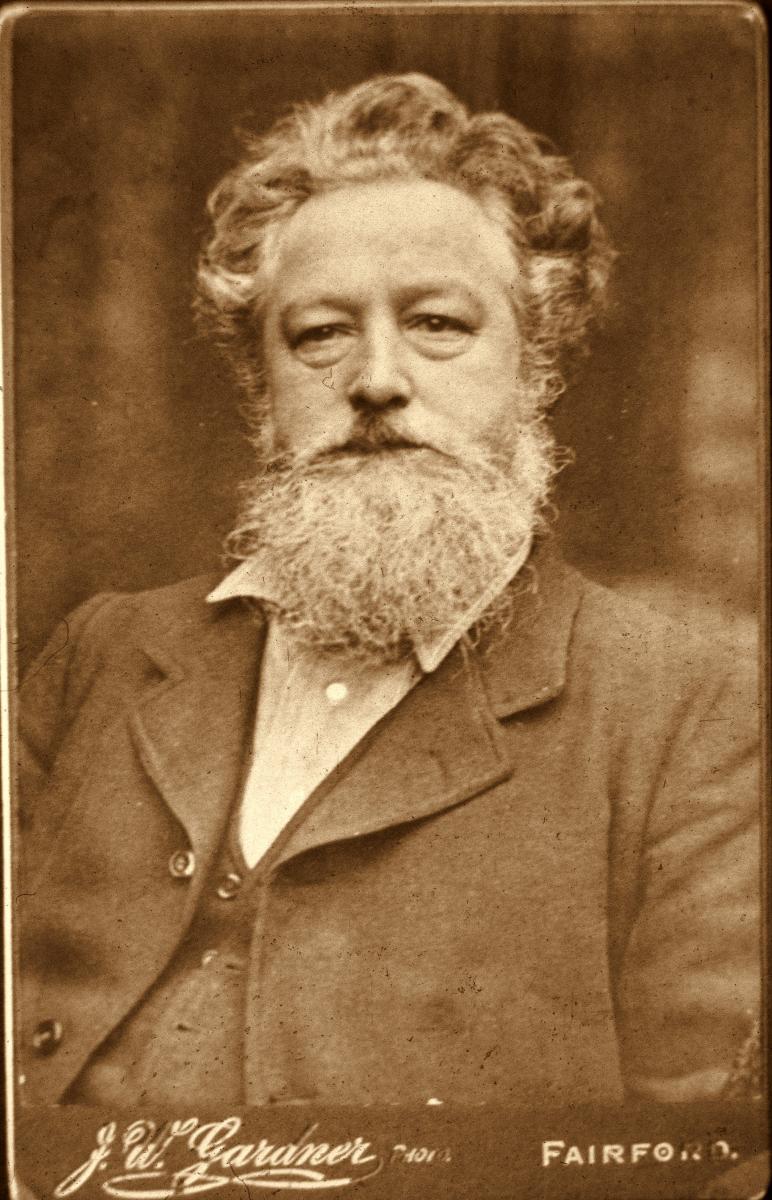 A textile designer, writer and active Socialist, William Morris was associated with the Pre-Raphaelite Brotherhood and the Arts & Crafts Movement. One of the key figures of the Victorian era, Morris was also an early building conservationist and co-founded the SPAB in 1877.
On 24 March 1834, Morris was born at Elm House in Walthamstow to a wealthy middle-class family. He cultivated an early interest in books and the natural world, and would spend hours roaming the Essex countryside. He would visit the churches scattered across Essex with his father and was often taken further afield to visit cathedrals, his particular favourite was Canterbury Cathedral. These trips ignited his love of architecture. After the death of his father in 1847, Morris began boarding at Marlborough College in Wiltshire. This was mostly an unhappy time for Morris but it gave him the opportunity to explore the prehistoric sites of Wiltshire, such as Avebury and Silbury Hill.
It was at Oxford University where Morris developed the keen interest in medieval history and architecture that would influence so much of his writing and design work. During this time Morris met fellow first-year undergraduate Edward Burne-Jones, who became his lifelong friend. Morris discovered the writing of art critic John Ruskin; it was the extended essay The Seven Lamps of Architecture that sowed the seed for the creation of the SPAB.
After receiving his BA, Morris began to apprentice for an Oxford architect, George Edmund Street. He was placed under a young architect, Philip Webb. Morris abandoned his apprenticeship but remained close friends with Webb and asked Webb to design his first home, Red House. It was a unique building, a Neo-Gothic collaboration between Webb and Morris. Morris described it as "very mediaeval in spirit" and Edward Burne-Jones thought it 'the beautifullest place on earth'.
Out of the desire to decorate and furnish the house collaboratively with friends who were artists and designers developed the concept of the design firm (of which Webb was one of the original partners) Morris, Marshall, Faulkner & Company, later Morris & Company. Webb played a major part in the operation of the firm - designing or contributing to the design of furniture, stained glass, textiles and sometimes other objects. Morris & Co. influenced the interior design of homes and churches into the early 20th century.
His involvement with the Pre-Raphaelite Brotherhood and his interest in medievalism inspired Morris to write poetry and fiction. His best-known works include News from Nowhere (1890), The Defence of Guenevere and Other Poems (1858), The Earthly Paradise (1868–1870). Morris' only completed painting La Belle Iseult (1858) is currently displayed in the Tate, London.
A key figure in British Socialism, Morris founded the Socialist League in 1884 and was the editor of the party's official journal, Commonweal. Morris left the League within ten years following philosophical disputes within the organisation.
By 1877, Morris and his friends had become alarmed by the destructive "restoration" of ancient buildings that was occurring in Victorian England. The case that gave the Society its momentum was the restoration of St Alban's Abbey, Hertfordshire. Morris pleaded for "Protection in the place of Restoration"; he thought all restoration was a "feeble and lifeless forgery." He proposed that ancient buildings should be repaired, not restored, so that their entire history would be preserved. Morris and Webb wrote the Manifesto to guide the Society's mission.
Philip Webb
"My business consists chiefly in trying to put up buildings in this country      wh' shall be free from art vulgarity"
Philip Webb (12 January 1831 – 17 April 1915) is often referred to as the Father of Arts & Crafts architecture. He was an architect and designer, and was instrumental in the founding of the building conservation movement. Webb was an extraordinarily modest man. He was noted by his contemporaries for his self-deprecating remarks, claiming that he was 'not so much an architect as a drains man'.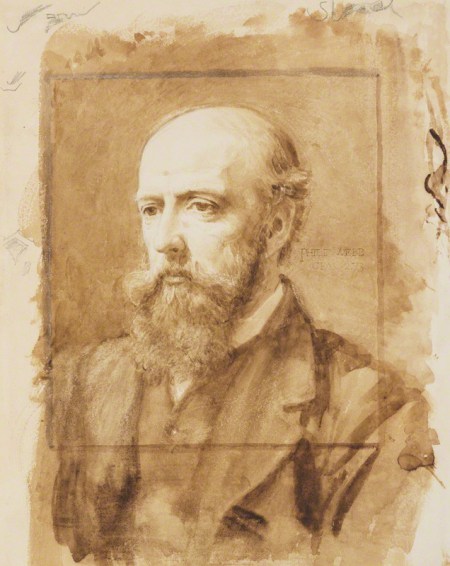 Webb was born and grew up in Oxford. He developed a love of architecture, the natural world and drawing very early on. From 1849-54 Webb served a successful apprenticeship in Reading with architect John Billing. Here Webb learnt the daily work of repairing and adapting old buildings and designing new ones. Webb returned to Oxford, after a brief and unsuccessful position in highly-industrial Wolverhampton, to become chief assistant to Diocesan Architect, George Edmund Street. During his time working for Street, Webb made one of the great friendships of his life, with William Morris
Morris gave Webb his first independent commission, to design and supervise the building of Red House, Bexleyheath, in 1858-60 for himself and his wife Jane.
Following the success of Red House, Webb pursued a career as an architect. He put his principles into practice and something like fifty houses, from modest to spectacular, were achieved; plus a chapel and one church (Brampton, Cumbria) and many memorials. The most famous houses are Clouds, at East Knoyle, Wiltshire, which was described by Henry James as 'The house of the age', the finest of country house, and Standen, East Sussex, now a National Trust property.
In 1877, Morris and Webb together founded the Society for the Protection of Ancient Buildings (SPAB). Webb, Morris and George Wardle (manager of Morris & Co) were charged with writing a Manifesto for the SPAB – a set of principles which still underpins the Society's activities today. (Philip Webb drawing: © National Portrait Gallery, London)
Sign up for our email newsletter
Related links
The William Morris Society - Founded in 1955 to make the life, work and ideas of William Morris better known
William Morris Gallery - A public gallery dedicated to William Morris at his childhood home in Walthamstow
Kelmscott Manor - Kelmscott was the inspirational Cotswolds retreat of William Morris, his family friends
Red House - The Arts & Crafts house designed by Philip Webb for William Morris