By Lilian Tuohy Main
As we enter the third month of our conservation tour, a theme that continues to arise is the importance of observing before acting.
A unifying trait of historic buildings is their numerous 'unknowns'. It is this intangible mystery that often makes a place compelling. However, for carrying out repair works to such buildings, the importance of knowing their history, and as much as practically possible about their existing fabric and condition can not be underestimated. Without fail, investing time in the early stages of a project proves to be in the best interest of the building and also results in more economic and time-efficient outcomes, as on-site 'surprises' are greatly reduced.
As Scholars, we spent two days surveying 47-49 High Street, Eton, affectionately known by locals as 'The Cock Pitt'. Here we were set the task of surveying the principal frontage to the High Street, which appears to have been constructed in the first half of the 15th century, and it has been altered and extended on numerous occasions since, most notably in the 19th century.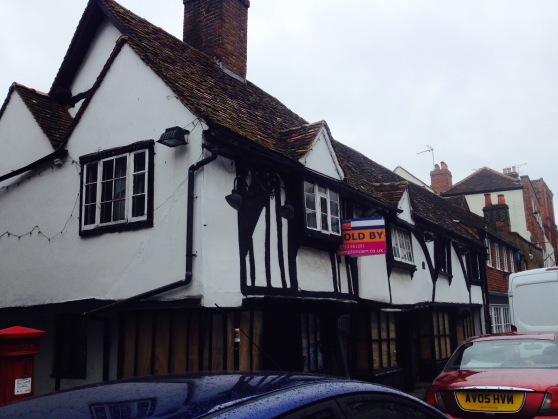 West Elevation view of 47-49 High Street, Eton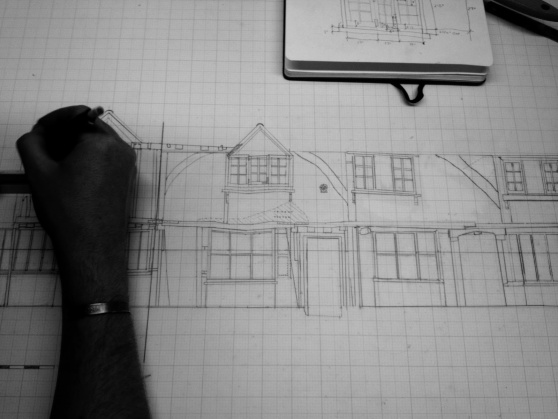 Drawing up of the High Street elevation, which retains much of its 15th century character
As with any building of it's age, 47-49 has many interesting and unique features. One that has continued to evoke a reaction is that of the knuckle bone floor at the eastern end of the site. The building was leased by John Rayne, a butcher, before 1551, and another butcher, William Russell also occupied one of the cottages in 1660 (HER Monument Record MRM16551). The floor may have been laid by either of these men – the arrangement being a typical feature of butcheries where bones were not in short supply, and the gaps between bones allowed blood to drain away (The Cock Pitt' 47-49 High Street Eton, Heritage Statement, August 2015, Built Heritage Consultancy). In the 1930s, nos. 47 and 48 High Street were tearooms called 'The Cock Pitt'. Allegedly the name was inherited from speculations in the 20th century that the vertebrae floor was a survival from a medieval cockpit, i.e. a venue for cock-fighting.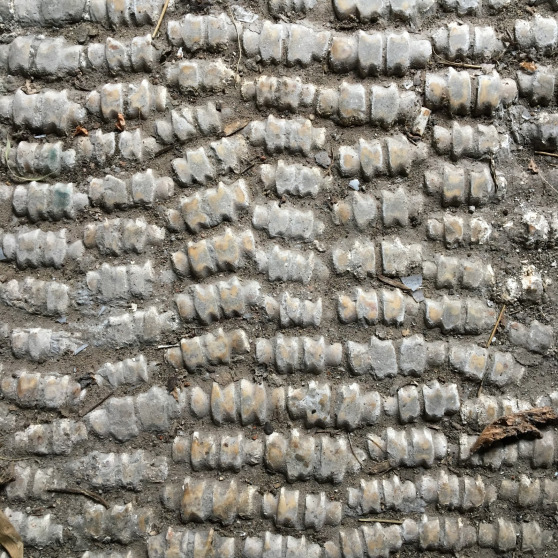 Knuckle bone floor
Spending time on the busy High Street with tape measures and sketch books in hand, we were greeted by countless interested locals, thrilled and intrigued to know of future happenings to the building, now dilapidated and in need of repair.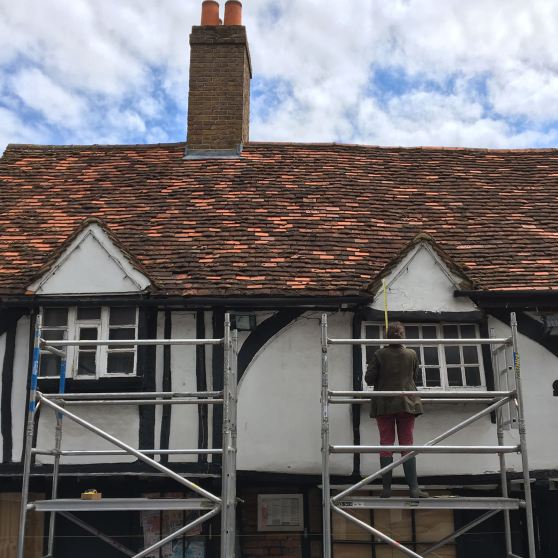 Surveying the timber frame
When surveying the timber frame, all measurements were taken in imperial. The investigations and recording showed that the building had been rebuilt after having a Georgian or Victorian shopfront added, and that there was a steel beam hidden behind the jetty and sections of contemporary, hard cement render.
 
Timber expert Daniel Miles, mentored us over the two days spent at the building. Through observation and survey we identified evidence of a previous arrangement of a pair of half-Wealdens (a typical medieval timber-framed hall plan). With time, similar discoveries will, no doubt, come to light.
To be granted this time to look with and listen to knowledgeable craftspeople and professionals is proving to be an invaluable experience. The process of taking the time to look carefully and considerately is something we will take forward with us, as we continue the fortunate task of caring for such interesting and treasured buildings.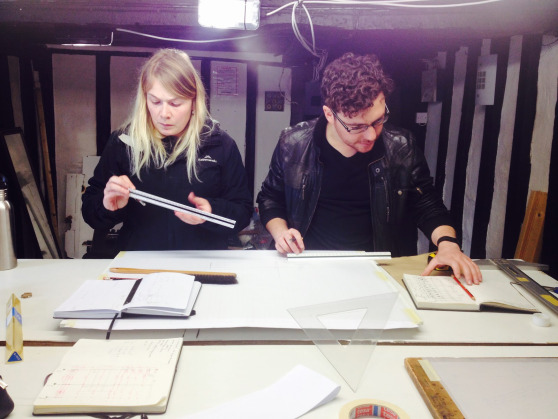 Scholars conducting the hand-measured survey on-site
Sign up for our email newsletter