The SPAB Old House uncovered at working party
In November we held a working party at St Andrew's, our Old House Project in Kent. Over 30 keen volunteers and experts came to the site to help us carry out some final works before the end of the year. Thanks to their efforts the building and its garden have been rediscovered. Watch a time lapse video on our YouTube channel to see the transformation.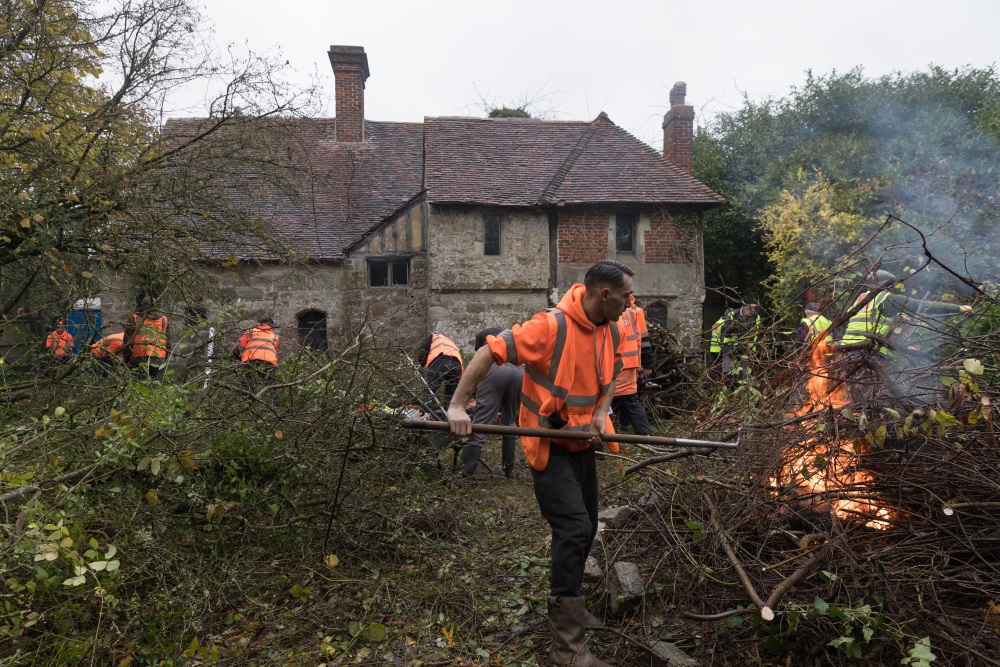 Over two days the group worked hard to remove the ivy which was covering a large part of the medieval building, clear the overgrown garden, carry out a roof survey and prop the outward-leaning west wall. We were also joined on site by specialists carrying out an infra-red survey and paint and surface analysis to help us learn more about the building and its current behaviour.
The event was particularly special because we enjoyed a visit from Andrew Macpherson, whose grandmother had been the building's last occupant in the 1960s. His family lived in the house for two generations when it was a family home and the village post office. He also showed us photographs and shared his memories of the time he spent in the house and its garden as a boy. He said: "The house was a time warp even back in the 1960s, it felt very Victorian, and my grandmother lived very frugally and simply there, with no central heating and only one source of running water."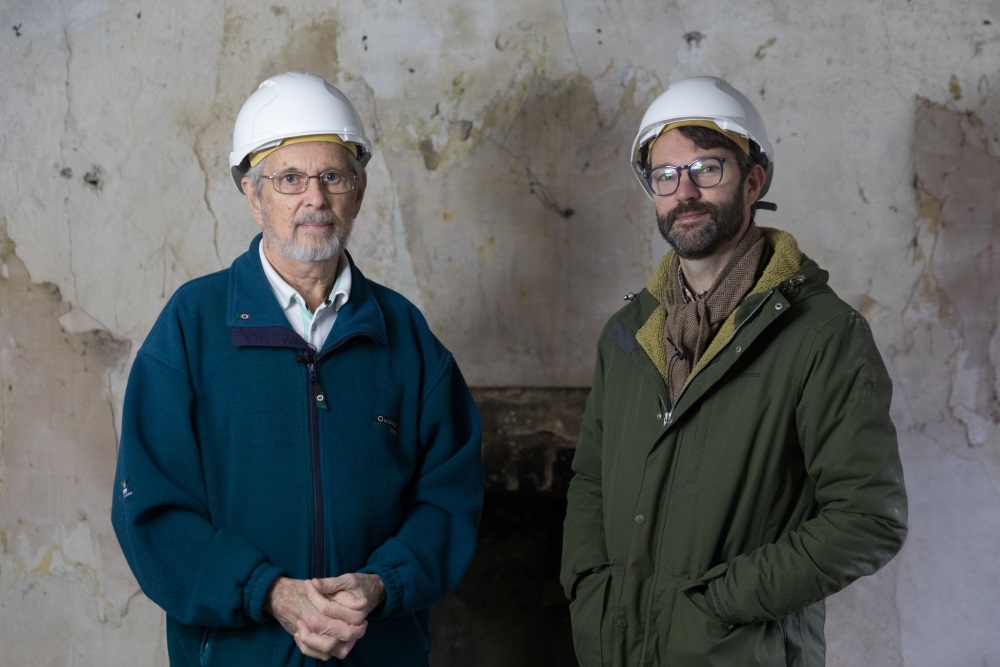 We are so grateful for all the volunteers who worked tirelessly to complete an ambitious programme of work over two days in cold weather. Thanks also to lead specialists from: Beales Fencing & Paving; Malcolm Fryer Architects; Ashford and Cranbrook Roofing; The Royal Engineers; Hockley and Dawson Consulting Engineers; Conker Conservation Ltd; and Heritage Testing Ltd.
2019 has been a record-breaking year of hands-on volunteer help, with the highest ever number of SPAB working parties ever. With your support we've held 11 events to help historic buildings in need across the UK and Ireland, from Devon to Cumbria, from the Isle of Lismore to Co. Offaly.
Want to give us some hands-on help? Sign up to our Practical Volunteering list and we'll contact you when opportunities come up. 
Images
Volunteers working on garden clearance at St Andrews. 
Andrew Macpherson with SPAB director Matthew Slocombe. Credit: Ralph Hodgson/The SPAB. 
Sign up for our email newsletter