Ruskin and draughtsmanship
We began our spring lecture series celebrating the work and influence of John Ruskin in his bicentenary, with a talk by Professor Peter Burman exploring Ruskin and craftsmanship.
Professor Burman explained how, whilst Ruskin believed passionately in supporting craftsmanship and local skills, he was also a dedicated draughtsman and teacher himself.
Ruskin travelled widely throughout his life, commissioning artworks and studying the buildings and landscapes he visited. As Professor Burman suggested, Ruskin was a keen recorder of places, which he drew with reverence and feeling - "Fine art is that in which the hand, the head, and the heart of man go together." (The Unity of Art, 1859).
He was a certainly a busy educator on the subject. He taught drawing at the Working Men's College in the 1850s, published a manual Elements of Drawing (1857) and was the first Slade Professor of Fine Art at Oxford University, where he also founded the Ruskin Drawing School in 1871. The School was intended not for art students, but for ordinary people so that they "might see greater beauties than they had hitherto seen in nature and in art, and thereby gain more pleasure in life". 
Often referred to as a polymath, Ruskin was also very interested in geography and nature, and he encouraged his students to draw cloud formations. Important to study, he believed, not only as a beautiful subject, but their transience meant that practice and skill was needed. He apparently recommended 15 minutes' contemplation of the dawn clouds each morning. 
His drawings of architecture, it could be argued, helped him to form his arguments about conservation. Professor Burman quoted Ruskin's Modern Painters (1856): "To see clearly is poetry, prophecy, and religion, — all in one."
Book your place for the following talks in the series at St Botolphs-without-Bishopsgate in London. Each Thursday in March: Ruskin and conservation; Ruskin and the land; and Ruskin and Venice.
You can look at John Ruskin's teaching collection of drawings on the Ashmolean's website: ruskin.ashmolean.org/welcome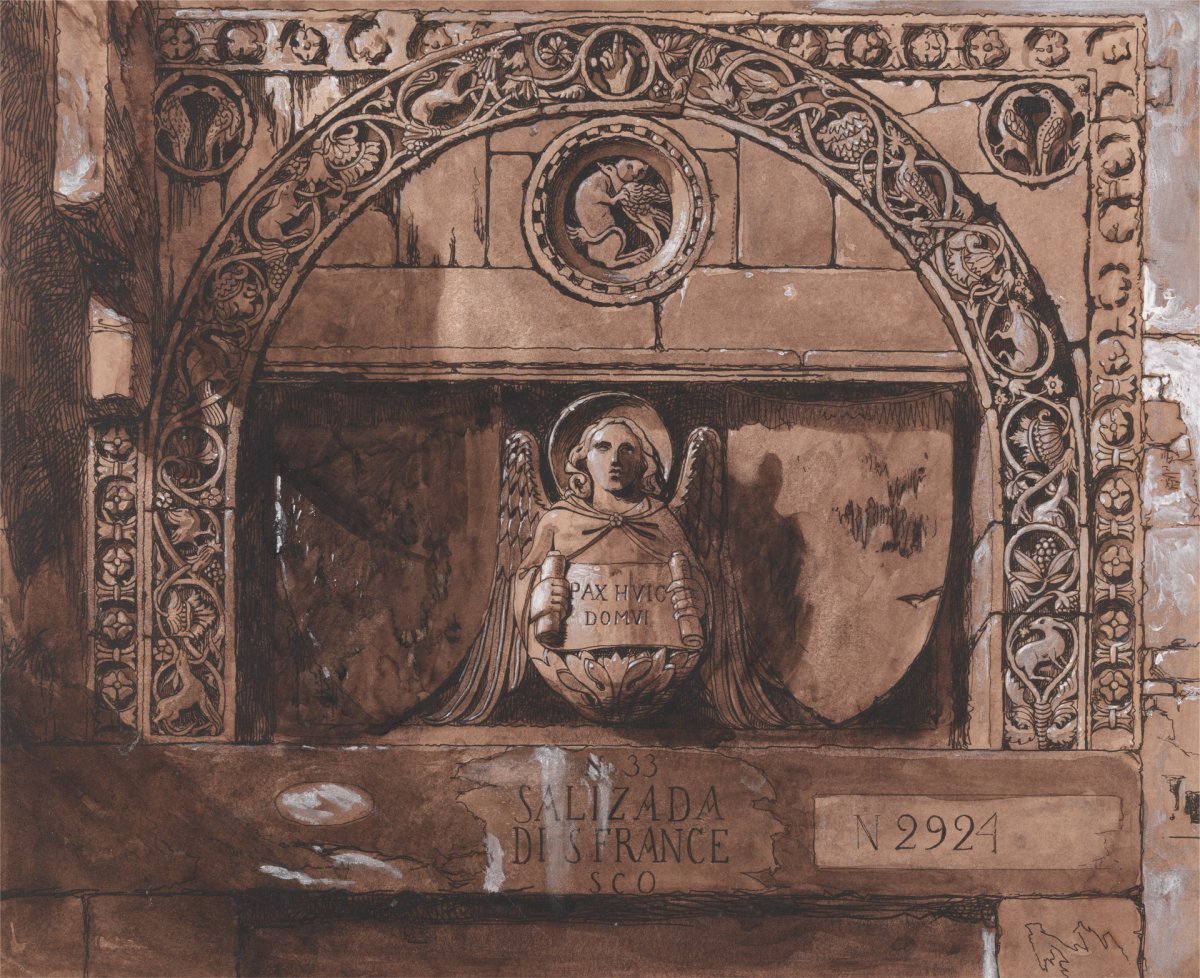 John Ruskin, 1819–1900, Doorhead of the Palazzo Contarini della Porta di Ferro, undated, Pen and black ink, brown wash and white gouache on medium, slightly textured, cream wove paper, Yale Center for British Art, Yale Art Gallery Collection.
Sign up for our email newsletter