The Old House Show: hands-on conservation with Lizzy Hippisley-Cox
ICON member and stained glass conservator, Lizzy Hippisley-Cox explains why she will be taking part in the SPAB's Old House Show at the Old Royal Naval College, Greenwich (7-8 September)
When the opportunity to demonstrate stained glass conservation at the Old House Show arose, I was delighted to take part. SPAB events have always been very positive experiences for me; a chance to reconnect with colleagues in building conservation and talk to each other and the wider public about our passions.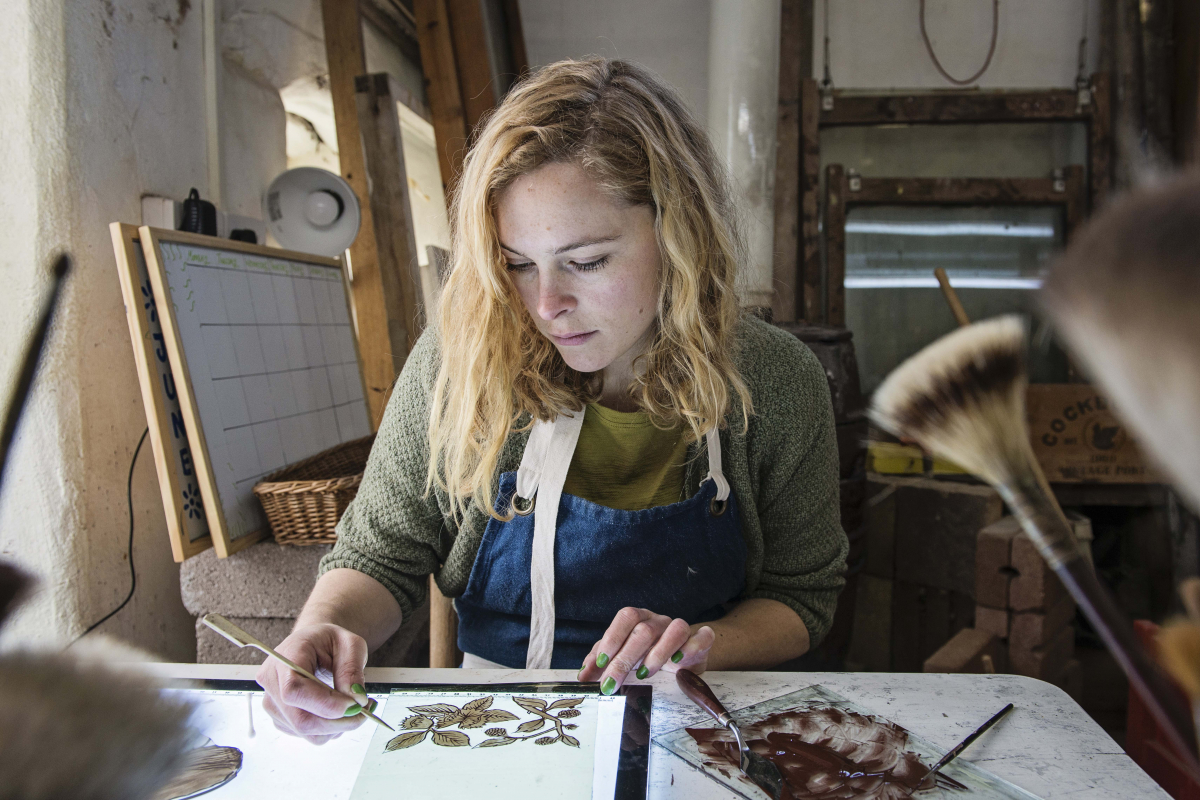 Image credit: (Left) Fiona Smith Photography
Demonstrations are always a good way to communicate what we do and why it is worth caring about. Highlighting the importance of traditional skills and conservation is an important part of my studio's day-to-day business and is a key aim of the SPAB's Old House Show. Giving people hands-on conservation opportunities is infinitely more effective than a power-point presentation!
I became an ICON member when I graduated in 2009. I had just finished a degree in Medieval Studies at Manchester University and was looking at a career in conservation. At that stage I had very little practical experience, just an evening class making stained glass. The timing worked out perfectly and I was lucky to get a 12 month ICON Skills in Practice internship hosted by the York Glaziers Trust. In 2015 I qualified with ICON's CTQ programme, and I served as Early Career Liaison Officer on the Stained Glass Committee between 2015-2017.
The SPAB was on my radar fairly soon after I arrived in York. My colleague, Helen Bower had been the first (and at that stage the only) glazier to undertake the William Morris Craft Fellowship with the SPAB. The breadth of her conservation knowledge and fond recollections of her travels were a big motivation in my applying for the programme when I finished training.
I find the SPAB the most liberal and open-minded conservation organisation with regards to working with people- they welcome folk from many different walks of life. The SPAB attracts a wide range of professionals, craftspeople and conservation practitioners, homeowners, and custodians – it is very inclusive. Their events are always well attended and often oversubscribed so one can expect to see and meet lots of different people doing interesting things in on and around old buildings at the Old House Show in September.
Register for your free ticket to the Old House Show.
Sign up for our email newsletter