Historic Pembroke Dockyard under threat
Chair of the Naval Dockyards Society, Dr Ann Coats writes of their campaign to save listed industrial heritage at Pembroke Dockyard in south-west Wales.
Pembroke Dockyard has suffered neglect and degradation since the Second World War, but if Milford Haven Port Authority's Planning Application 20/0732/PA is passed, Pembroke Dock Conservation Area and its historic buildings will suffer almost total loss.
Pembroke Royal Dockyard is unique: the only one in Wales on Britain's west coast, created solely for shipbuilding. It built over 260 of the most prestigious naval warships and five royal yachts, many on these slipways. Pembroke Dock's 1809–1926 unique assemblage of thirteen slips, graving/dry dock and timber pond exemplified 19th-century technological innovation.
Under the planning application, the Grade II* Graving Dock and the Grade II Timber Pond will be infilled and partially built over; Grade II listed Building Slips Nos 1-2 will be partially demolished, and the setting of the adjacent Grade II Carr Jetty damaged.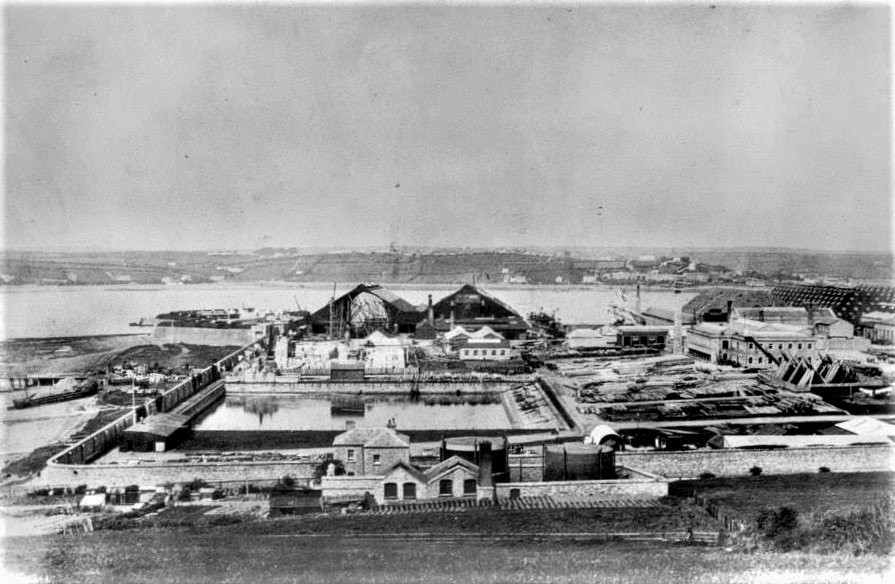 The western section of a large panoramic view of the dockyard, showing the Timber Pond in the centre, with Slips 1 and 2 to the north and the Graving Dock to their east, taken by a Pembroke Dock commercial photographer c.1895 before Carr Jetty was built.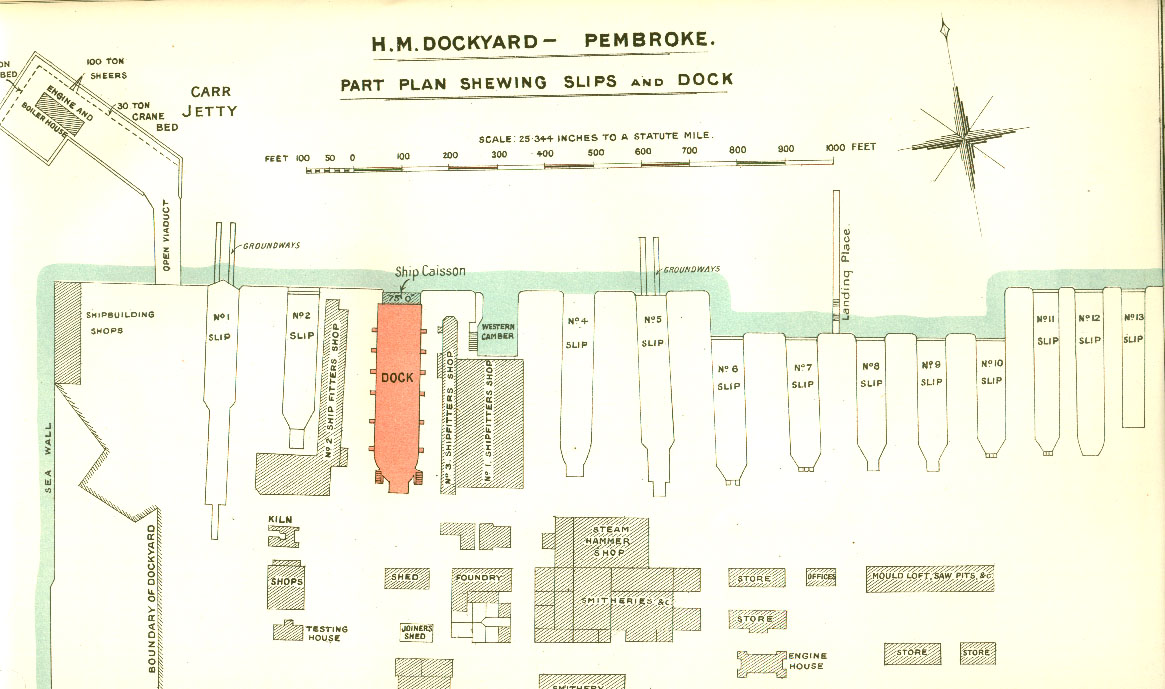 The Admiralty Dock Book, June 1909, shows all thirteen building slips, the Dry/Graving Dock with the caisson in place and nearby workshops. Credit: The Great War Primary Documents Archive.
From 1931 the RAF utilised the dockyard as the largest global flying boat base to sustain the Battle of the Atlantic. Royal Marine and Army garrisons defending Pembroke Dockyard also bequeathed a rich character. The Dockyard represents the core of this heritage.
The eastern slips were sacrificed in 1979 for the Irish ferry terminal and Quay 1. Such valuable community assets now merit more accountable planning protection. The Timber Pond Heritage Access Statement (2.7) states: 'The principle of the reversible infilling of heritage dock structures is well-established.' Indeed, infilling has occurred many times, but reversibility has not yet been demonstrated.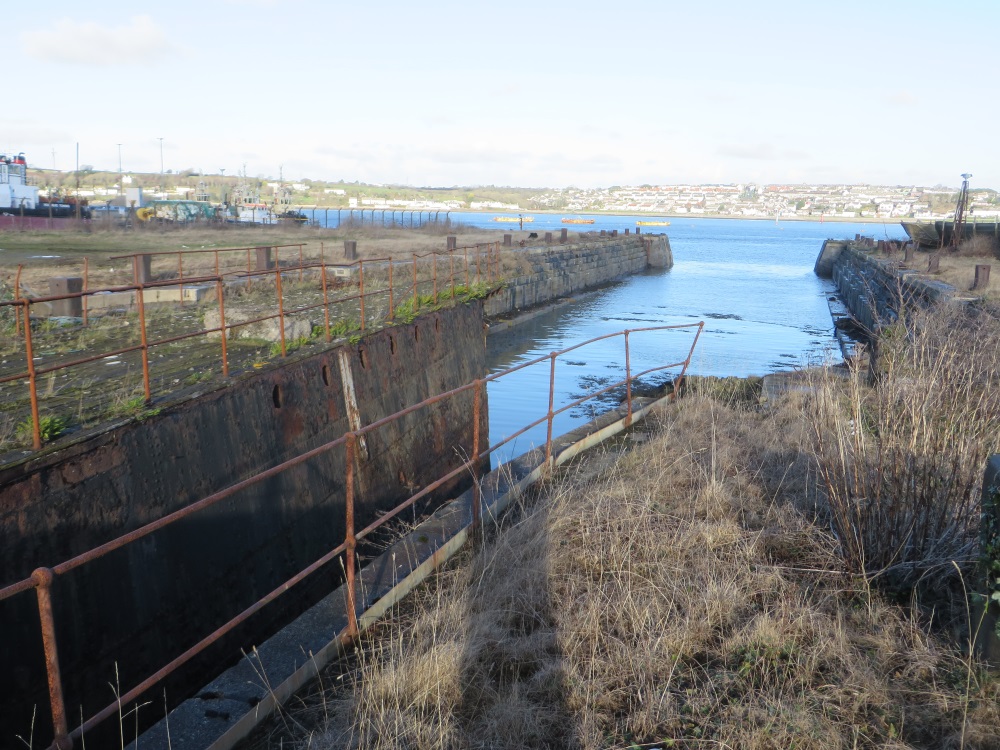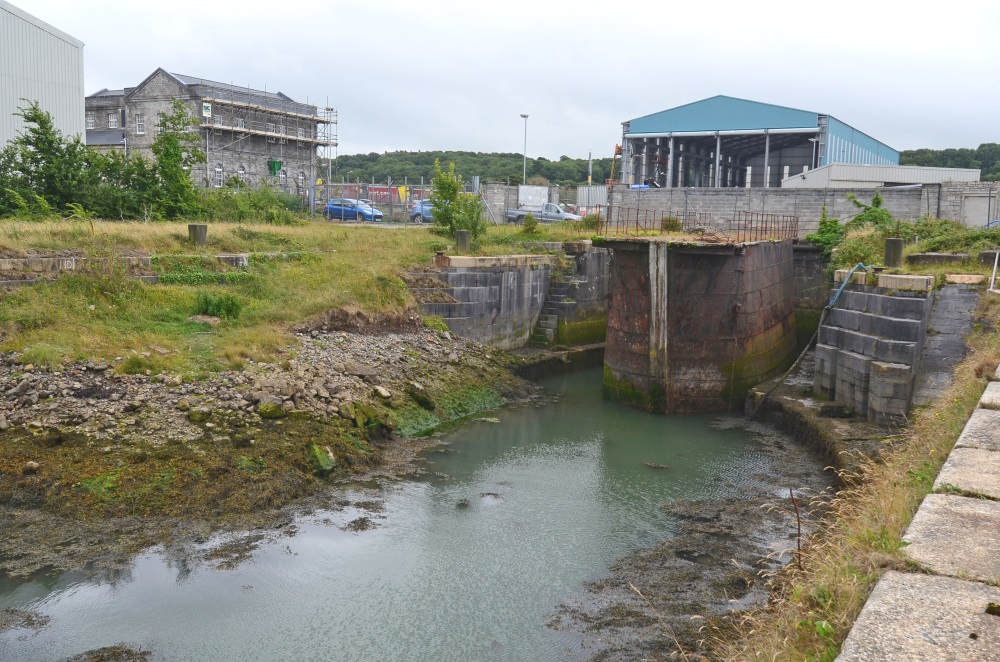 The Caisson within the flooded Graving/Dry Dock. With permission of Adrian James and Martin Caveney.
Our response to this application was the final opportunity to rescue this rare assemblage of 19th and 20th-century tructures from almost total loss. Together the SPAB, the Georgian Group, SAVE, the Victorian Society and NDS recognised the prodigious weight of the Milford Haven Port Authority within Pembrokeshire County Council, as three Pembroke Dock wards are ranked within the most deprived wards: Central, Llanion 1 and Monckton. Jobs and green energy are desperately needed, but how many will go to residents? The Timber Pond Heritage Access Statement (Feb 2021, 4.15) indicates imprecisely that this development will generate 288–975 full time equivalent jobs for 'Pembrokeshire', not Pembroke Dock.
Existing marine industries in the dockyard comprise a powerful lobby. Why have other brownfield sites not been considered equally? The Design and Access Statement states that MHPA owns none of the proposal site; and that it 'does not lie within any statutory designations' (pp.10, 16). Yet it includes six designated structures and lies within a Conservation Area. Why does MHPA not deem Pembroke Dockyard's heritage a worthy income generator? Why is it ignoring heritage's ability to drive economic benefits for the community, such as Portsmouth's £610.3m and Chatham Dockyard's £4.54m annual income?
The Welsh Local Government Association supported Baroness Andrews' recommendations on how culture and heritage bodies can help reduce poverty. Heritage Counts Wales reported that the historic environment sector, heritage tourism and heritage construction together support 40,000 jobs, nearly 3% of Wales's total employment, and directly support 40,670 jobs, 2.9% of Wales's total employment.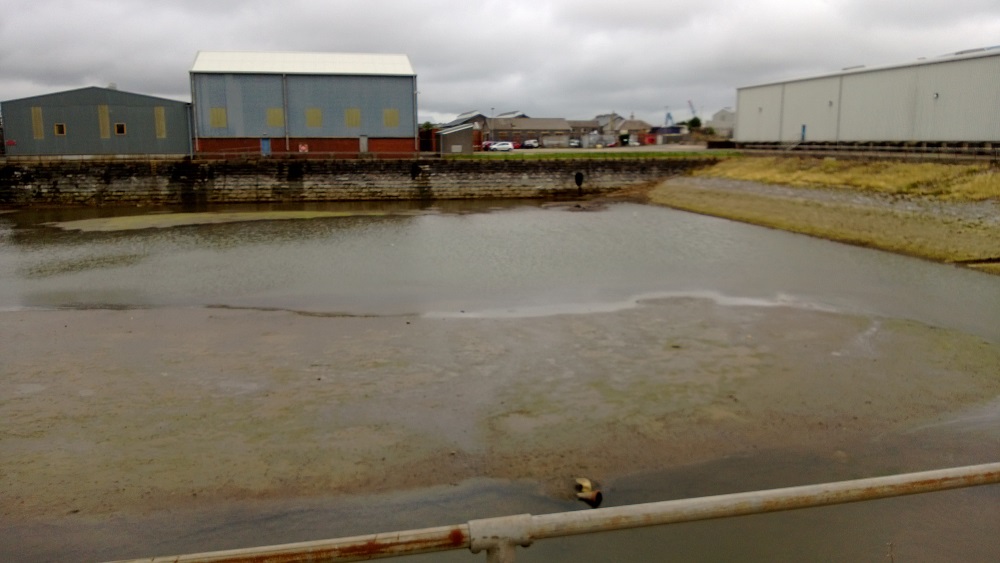 This Grade II Timber Pond image shows its water leisure potential. With permission of Adrian James 2013.
The Royal Dockyard founded Pembroke Dock town. Despite its significance, the heritage of the dockyard and its community have arguably never received a deserved respect, nor comprehensive and accessible interpretation.
The Naval Dockyards Socierty contends that this is the final chance for an alternative site to be found for sustainable marine engineering facilities and a fresh lens to be directed at conserving, interpreting and making Pembroke Dockyard's rich heritage publicly accessible.
by Dr Ann Coats FRHistS, FSNR.
Read the planning documents on Pembrokshire County Council's website, and search using the application reference 20/0732/PA. Find out more about the Naval Dockyards Society. Find them on Facebook and on Twitter.
Sign up for our email newsletter