National Maintenance Week
The SPAB's annual National Maintenance Week campaign reminds anyone who looks after a building - regardless of its age, type or purpose - of the simple, achievable steps they can take to prepare for the worst that winter can bring.
Running since 2002, National Maintenance Week always finishes with National Gutters Day, a gentle, light hearted reminder for everyone to spare 10 minutes to make a simple check on the condition of any property they care for. A little time spent on a basic building 'MOT' can save people from having to spend a great deal of money at a later date. Find more information about maintenance in the Knowledge Base.
In 2020 National Maintenance Week wil run from 20-27 November. #NationalGuttersDay will be on 27 November.
In past years National Maintenance Week has been supported by Kevin McCloud, Griff Rhys Jones, Jonathan Foyle, Loyd Grossman, Phil Spencer, Laurence Llewelyn-Bowen, Neil Oliver and Jules Hudson.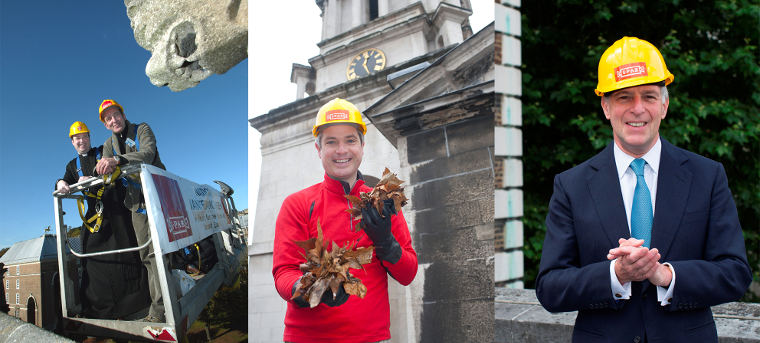 The SPAB top ten tips for National Maintenance Week:
Look for blocked downpipes (best done during heavy rain to see water coming from any leaky joints – in dry weather look for stained brickwork)
Check ground level gullies and drains to make sure they are clear of debris like and have them cleaned out if necessary
Every autumn, clear any plants, leaves and silt from gutters, hopperheads, flat roofs and drainage channels. It's a good idea to do this in spring too to deal with anything that might have found its way into the wrong place
Remove potentially damaging vegetation from behind downpipes by cutting back or removing the plant altogether
Use a hand mirror to look behind rainwater pipes as splits and cracks in old cast iron and aluminium often occur here and are not easily noticed
Fit bird/leaf guards to the tops of soil pipes and rainwater outlets to prevent blockages
Have gutters refixed if they are sloping the wrong way or discharging water onto the wall
If sections are beyond repair, make sure that replacements are made of the same material as the originals (on older houses, this is sometimes lead, but more usually cast iron)
Regular painting of cast iron is essential to prevent rust
Don't undertake routine maintenance work at high level unless you are accompanied and have suitable equipment. If in doubt always seek help from a professional
Call our free technical advice line if you need further advice on how to maintain your old home. The line is open Monday to Friday between 9.30am and 12.30pm on 020 7456 0916.
Sign up for our email newsletter