Working Party 2019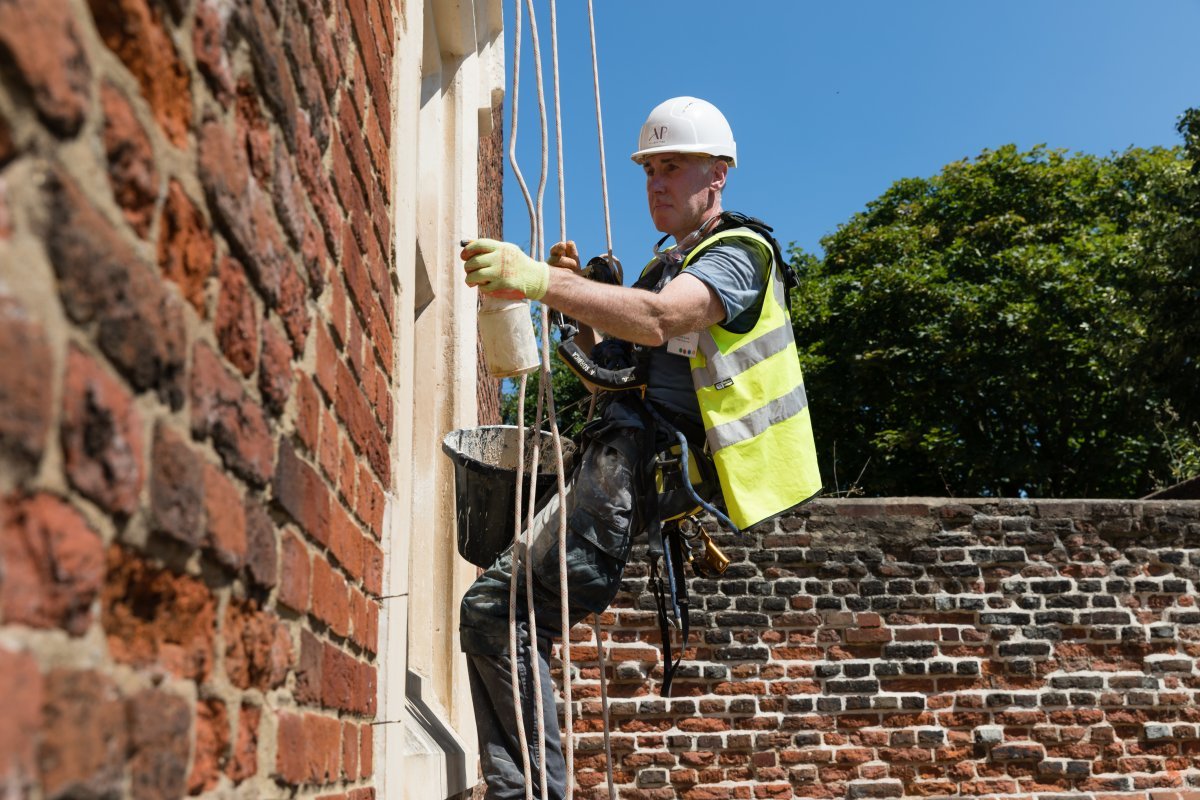 Working Party 2019
Boxley Abbey, near Maidstone in Kent
The hands on experience offered by the working party really helped to support the theoretical aspects of my course as well as the opportunity to meet with lots of like minded people from such a wide range of conservation fields.
Date:
10/07/2019 - 17/07/2019
Audience:
Introductory, Intermediate, Advanced, CPD
Location:
Boxley Abbey
Sandling,
United Kingdom
Required Equipment:
Camping equipment, PPE, steel-toe capped boots. Further equipment might be needed once volunteer places are confirmed.
Price:
£60 half week / £120 full week volunteer contribution
Event details
When will the working party take place?
Wednesday, 10 July to Wednesday, 17 July 2019. Half week and full week attendance options are available.
What is the working party?
Each year the SPAB decamps from its London HQ to put its advice and expertise into practice at its annual summer working party. Putting our efforts to helping work on a specific building is where the SPAB community demonstrates its approach to the conservation and care of old buildings, allowing us to combine well proven principles with practical repair techniques. An increasingly popular event, it offers the chance for volunteers, ranging from informed amateurs interested in buildings and history to heritage and architectural professionals, to work alongside the country's best craftspeople.
Where will the working party take place?
This year's event will be held at medieval Boxley Abbey, a former monastic site near Maidstone in Kent. The abbey is a remarkable survival and one of the most complete of the group of Cistercian abbeys which were established as daughter houses by larger monasteries. Above-ground remains include fragments of the church and cloister, the high stone wall and gateway surrounding a 23 acre inner precinct, and the intact 200ft-long 'hospitium'. The whole inner precinct, aside from the Abbey House and its garden walls, is a scheduled ancient monument. 
Excitingly, the working party will also partly be held at St Andrew's (former) Chapel, a fascinating building just within the abbey's outer precinct and recently purchased by the SPAB. Although the role and history of this structure is still being explored by the Society, it seems to date from the 15th century and to have been built as a reliquary chapel. We hope to uncover some of this building's secrets as part of the working party and to get volunteers involved with our larger Old House Project, which is based at St Andrew's.
Scope of work
The working party this year will focus on the repair and consolidation of the masonry garden walls at Boxley Abbey, which will provide a unique opportunity for building professionals and enthusiasts alike to learn traditional conservation building skills through hands-on experience. We also plan to build a temporary field kiln on the SPAB's site at St Andrew's, in order to burn local limestone to determine the correct mortar to use on site. Also at St Andrew's we will be led by the Kent Archaeological Society to undertake a number of archaeological investigations. 
We also hope to run an oral history project in parallel with the working party which we hope volunteers will participate in.
Place allocation, costs and free places for students
The SPAB is running a number of working parties around the country this year. The summer working party at Boxley Abbey will therefore be smaller than previous working parties and volunteer numbers are very limited. Registration is not a guarantee of a place on the working party, but we will let you know as soon as we can if you have a place. Please ensure you explain why you would like to attend the working party and what you would learn from attending when you register, as this will help us to fairly allocate places.
To cover materials, catering (breakfasts and lunches) and camping facility costs, we're asking volunteers to contribute £120 for a full week / £60 for half week attendance. We'll send you further details on how to pay when we confirm your place.
There are a number of free places available for the full week or half week for student volunteers. Please indicate if you would like to be considered for a free volunteer place when completing the question 'Why would you like to attend the working party?' on the registration form.
Accommodation
The accommodation options for this year's event are camping on the Boxley Abbey site or self-organised accommodation. We're sorry that this year we are not able to organise hotels, B&Bs or other local accommodation for volunteers.
Please note that the deadline to register for the working party is 12 May 2019. If you would like to get in touch with the organisers please email working.party@spab.org.uk.
SPAB Events Terms & Conditions apply.
Accessibility: please contact the SPAB before submitting your registration form to discuss any special access requirements.