Repair of Old Buildings Course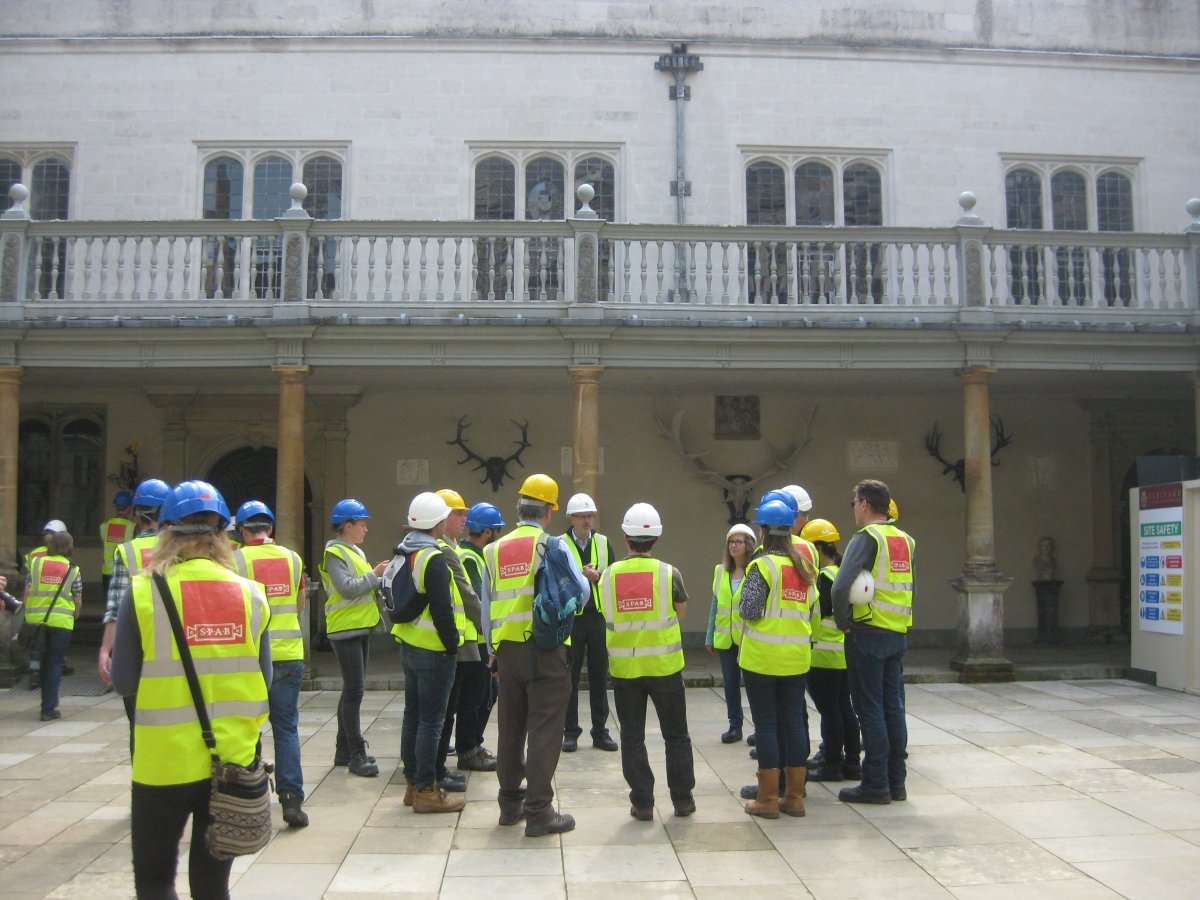 Repair of Old Buildings Course
Our popular short course combines three days of lectures with two days of site visits to live conservation projects
Date:
14/05/2018 - 18/05/2018
Course Type:
Repair of Old Buildings Course
Audience:
Intermediate, Advanced
Location:
St Andrew Holborn, St Andrew Street
London
United Kingdom
Required Equipment:
Steel toe capped boots for site visits
Price:
Full fee £805; Deposit £300
Event details
14-18 May 2018, 9.15am
THIS COURSE IS SOLD OUT. The next course will run from 8-12 Oct 2018, and will open for booking in early June. If you would like to be notified when bookings open, sign up for our Monthly Courses Newsletter.
This popular short course has been presented by the Society for the Protection of Ancient Buildings since the 1950s. Run over five days, this course delivers an intensive programme of lectures and visits to building repair projects. It runs twice a year - in the spring and the autumn.
Presented by leading building conservation professionals, the Repair Course considers British and international approaches to the conservation of old buildings.  The SPAB philosophy of repair and maintenance - established by William Morris in 1877 - underpins the course programme of case studies, presentations and site visits.
 
WHO IS IT FOR?
The course welcomes students and professionals interested in deepening their understanding of old buildings, and who may be interested in developing work in this area.
Past delegates on this course have included:
Architects
Architectural Technologists
Builders
Building Surveyors
Buildings Archaeologists
Conservation Officers and Planners
Craftsmen and women
Project Officers and Managers
Structural Engineers and others
Not sure if the course is suitable for you? Contact us at education@spab.org.uk, 020 7377 1644 and we will be happy to give you a steer.
ACCESSIBILITY
Please contact us before booking a place to discuss any special access requirements: education@spab.org.uk, 020 7377 1644
 
WHAT WILL BE COVERED?
The Repair Course offers a five day programme of lectures and site visits. The course delivers three days (Monday, Tuesday and Friday) of presentations by practicing building conservation professionals and SPAB staff. The first day focuses on approach, with lectures on conservation philosophy, legislation, traditional construction methods and materials, structural appraisals, and lime. Day two starts with a talk on dealing with damp and then moves onto look at practical repairs to different materials in more depth , including brickwork and stonework, timber, metalwork, and roofs. The final day of the course looks at the finishing touches; inserting and maintaining services, windows and glass, plasterwork and other surface finishes. Speakers draw on their own practical experience and use case studies to illustrate their points.
From churches to stately homes and historical gems, two days of the course (Wednesday and Thursday) are dedicated to visiting buildings under repair in London and further afield. Previous visits have included the Tower of London, Bletchley Park, Ely Cathedral, Hampton Court Palace, Royal Hospital Chelsea, Winchester Cathedral and Wilton's Music Hall. These visits are a key part of the course, allowing delegates to see how the principles discussed in the lectures are applied, or not, in the real world.
Importantly, the course provides an opportunity to meet like-minded professionals to share information and experiences with. There is plenty of time for questions and discussion as part of the programme.
For a sample of the course programme, download the PROGRAMME OVERVIEW from the October 2017 Repair Course.  
COURSE TUTORS
The course is taught by SPAB staff and a variety of experts from across the field.
ASSESSMENT
There is no formal assessment for this course; delegates will receive a Certificate of Attendance upon completion.
The Repair of Old Buildings Course is recognised by the IHBC for Continuing Professional Development (CPD).
REQUIRED EQUIPMENT
Steel toe capped boots for site visits
REPAIR COURSE BURSARY
The SPAB has a small fund to allow it to award bursaries to individuals who might not otherwise be able to afford a place on the Repair Course. The bursary places for May 2018 have now been filled.
See our here for our booking T&Cs.