Building of the month: Icomb Place, Cheltenham
We have recently objected to an application for listed buildings consent to remove the late-Victorian bay windows in this medieval house in Gloucestershire.
Icomb Place is a Grade I listed manor house, believed to have been rebuilt c.1420 on the site of an earlier moated house. It was altered in the mid-17th century, and after a long period of dereliction in the 18th and 19th centuries, the building was repaired and renovated in the late-19th century. The early origins and phases of the house are undoubtedly key to its significance, but the period of dereliction and subsequent repair, are also an important part of the building's story.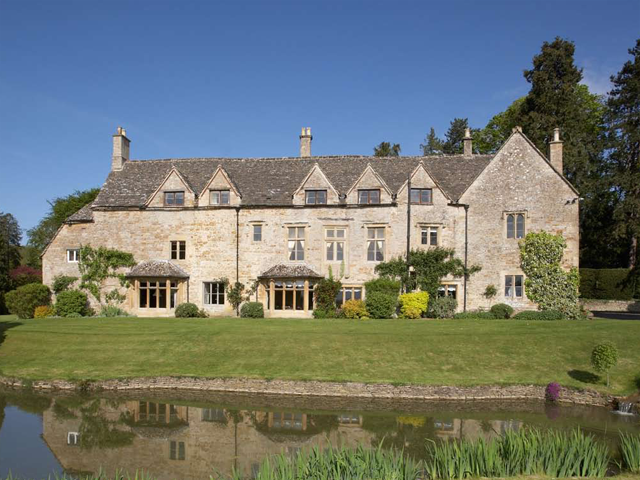 The proposed removal of the windows intends to restore the eastern façade of the house to its 17th-century appearance. It is understood that the bay windows replaced 17th-century ones.
The bay windows help to illustrate the change in the late-19th century of Icomb place from use as farmhouse to a gentleman's residence. They were installed on the ground floor of the East wing in 1888-9 by Frederick William Waller as part of some new reception rooms. The windows look onto the grounds, once a field for grazing cattle, which were transformed to a garden with the introduction of a lawn and Ha-Ha, and then a "Rockery". The addition of the bay windows created a symbiotic relationship between the newly renovated house and a new designed landscape.
The applicant stated that the loss of these windows would facilitate a restoration of the East elevation to its 17th century appearance. However, the SPAB has always been opposed to the restoration of buildings in this way. As the SPAB Approach advises, we believe that a building's fabric is the primary source from which knowledge and meaning about a place can be drawn. Materials and construction methods embodied in building fabric illustrate changes in people's ideas, tastes, skills and the relationship with their locality. We do not believe that it is possible or worthwhile to restore/return a building to its original — or imagined original — form. Buildings are the product of decisions made at the time of their construction and in every era since, and these deserve our protection for future generations.
While we commend the quality and detail of the application, we believe the works would result in the loss of important historic fabric, and cause harm to the building's special interest.
You can read the application for listed building consent on the Cotwold's Planning portal and our full response, using the application ref: 20/01382/LBC. You can view the casework of the SPAB and other amenity societies on the JCNAS casework hub.
Image credit: Icombplace via wikicommons
Sign up for our email newsletter